Crimea Is Not the Endgame: Moscow Bent on Regime Change in Kyiv
Publication: Eurasia Daily Monitor Volume: 11 Issue: 44
By: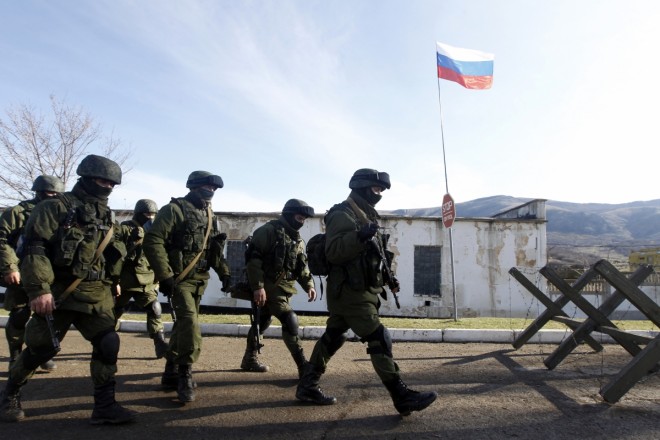 On March 4, when President Vladimir Putin broke his public silence on events in Ukraine and Crimea, to many in Russia it seemed that the worst-case scenario of possible open hostilities and annexations was over. Crimea was, of course, occupied by Russian troops, but it could become one more disputed territory, like Karabakh, Transnistria, Abkhazia or South Ossetia: a de facto Russian protectorate, though still recognized by the world as a Ukrainian province. Putin insisted the Kremlin is not considering making Crimea part of Russia and, while reminding of the autonomy's "right of self-determination," declared: "we will in no way provoke or induce such decisions." Putin repeatedly insisted there was no threat of Russo-Ukrainian military confrontation since Ukrainian garrisons in Crimea had all switched sides and repudiated Kyiv, and there was "no need to introduce Russian troops in Ukraine at present." Putin told journalists he ordered the 150,000 troops mobilized for massive snap military maneuvers last week in the Western and Central Military Districts to return to their bases (https://news.kremlin.ru/transcripts/20366).
Putin continued to refuse to recognize the new government in Kyiv as legitimate; he insisted that deposed president Victor Yanukovych was "legitimate," but could not "realistically" return to power. Putin complained that the Western leaders he was constantly on the phone with could not provide a clear explanation to his question: "Why did they organize and continue to support an unconstitutional military coup [in Kyiv]?" Putin explained that Moscow wants a broad-based coalition government in Kyiv "also representing the south and east"—the so-called Russian-speaking regions. Putin insisted the troops occupying strategic points in Crimea were not Russian servicemen, but "local self-defense units" (https://news.kremlin.ru/transcripts/20366).
The announced ending of the snap military exercises does not necessarily mean that a military disengagement in the Russo-Ukrainian crisis is indeed under way, or that it will be permanent. Massive Russian military maneuvers Kavkaz 2008 (Caucasus 2008) on the borders of Georgia officially ended on July 31. The invasion of Georgia by Russian troops began on August 8. Exercises create a pretext to mobilize military units into a heightened state of battle readiness in peacetime, while at the same time test their ability to move out of bases into action. After the so-called "active phase" of maneuvers is over, units may, for some time afterward, be under orders to retain a heightened state of readiness and ability to go into snap action if ordered.
Putin's promise not to "consider" annexing Crimea lasted less than two days. On March 6, the local Crimean legislature—the Supreme Council—voted to join Russia immediately as a member of the Federation and to hold a snap referendum in the peninsula in ten days on March 16. The city council of Sevastopol decided to join the vote and to become a separate (from the rest of Crimea) member of the Russian Federation. Under de facto Russian occupation, the result of the snap referendum is a forgone conclusion, though the ethnic Ukrainians and Tatars in Crimea do not seem to be enthusiastic about joining Russia (https://www.interfax.ru/print.asp?sec=1446&id=363143).
Russian officials embraced the idea and the leadership of both houses of parliament promised they will accept Crimea and Sevastopol as new members of the Russian Federation without delay. It was announced in Moscow that, on March 21, the Duma will vote for a constitutional amendment, currently being rushed through parliament, to allow for the annexation of Crimea (https://www.interfax.ru/print.asp?sec=1448&id=363460). All Duma parties fully support the incorporation of Crimea. Moreover, an official mass rally was organized near the Kremlin on March 7 to support Putin, and its participants declared: "Crimea—Russian land" (https://www.interfax.ru/print.asp?sec=1448&id=363462).
The formal annexation of Crimea will be a watershed moment in the post-Soviet space—the first time a breakaway region is formally incorporated by its patron state. Karabakh, Transnistria, Abkhazia and South Ossetia may follow. In Russia, Crimea was always considered by the majority of the population as "Russian," and the decision to annex it seems to be highly popular. The liberal press discusses not the principle, but the price of integrating Crimea—a rundown, former Soviet recreational region—and how much it will cost to rebuild its infrastructure, connect it to the Russian electricity grid, and so on (https://www.kommersant.ru/doc/2425287).
The apparent annexation of Crimea is in full swing, but this does not seem to be the end of the story: Moscow is telling the West it will not stop until the present post-Yanukovych regime is dismantled in Kyiv. Russian officials are using strong words and increasingly offensive propaganda to describe the present Ukrainian regime as "illegitimate" and absolutely unacceptable. The Russian permanent representative to the United Nations in New York, Vitaly Churkin, announced Moscow has "severed all political relations with Ukraine" (https://www.un.org/russian/news/story.asp?newsID=21248#). Some media in Russia and Ukraine interpreted Churkin's comments as Moscow's initial declaration of the severing of diplomatic relations; but at preset this has not yet happened, according to diplomats in both Moscow and Kyiv (https://lenta.ru/news/2014/03/07/churkin/).

On March 4, Putin explained that Russia does not consider itself bound by any previously signed international agreements recognizing Ukrainian sovereignty and territorial integrity. In a long phone call with President Barack Obama, Putin apparently rejected an offer to begin Russo-Ukrainian talks under international supervision. According to Putin, the present leadership in Kyiv is forcing "absolutely illegitimate decisions" on southern and eastern regions of Ukraine. Russia cannot ignore those regions' calls for help and "is acting adequately, in full compliance with international law." Putin reportedly called on Obama not to sacrifice the United States' relations with Russia simply on account of Ukraine and Crimea (https://www.interfax.ru/print.asp?sec=1446&id=363296).
Moscow wants a coalition government to be created in Kyiv—which it must approve. The Russian-sanctioned government would not include the disgraced Yanukovych, but would comprise of more reliable pro-Russian figures like Viktor Medvedchuk, a Putin-connected Ukrainian politician and business oligarch, who has been campaigning for Ukraine to join the Russian-led Customs Union and for the country to be transformed into a loose confederation. If Russia is not satisfied with the composition of power in Kyiv, it seems bent on continuing to destabilize Ukraine. The national elections in Ukraine planned for May 25 will not change anything: According to the speaker of Russia's Federation Council, Valentina Matviyenko, the elections will be seen in Moscow as "illegitimate and senseless" (https://itar-tass.com/politika/1028504). A decision seems to have been made to meet Western pressure with counter-pressure by grabbing more Ukrainian land and countering feeble Western threats of sanctions with preventive Russian ones. Gazprom has already announced it may stop pumping gas to Ukraine and, by doing so, deprive the European Union of supplies (https://www.interfax.ru/print.asp?sec=1446&id=363469).