Crimea's Role as Russian Bastion for the Ongoing War in Ukraine
Publication: Eurasia Daily Monitor Volume: 19 Issue: 48
By: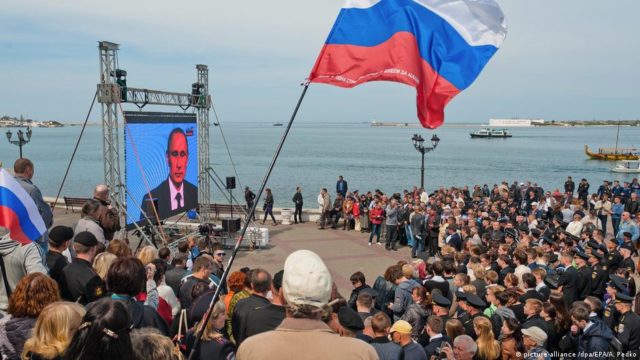 In September 2016, the chief of the General Staff of the Russian Armed Forces, General Valery Gerasimov, announced the creation of an anti-access, area-denial (A2/AD) zone over the Black Sea, centered on occupied Crimea (TASS, September 13, 2016). This A2/AD bubble, which has come to be known as the "Crimean Bastion," is based upon the principle of forming a "fortress of the fleet" using an echeloned approach. As such, it offers immense power-projection capabilities for Russian forces that are now being employed against Ukraine in the ongoing Russian invasion.
Specifically, Moscow has utilized the Crimean Bastion as a platform from which to carry out landing, amphibious and air-mobile operations to capture territories in southern Ukraine. On February 24, 2022, the opening day of the massive re-invasion, Russian forces had concentrated 25 battalion tactical groups (BTG)—made up of forces from the 22nd Army Corps, the 810th Naval Infantry Brigade (both belong to the Black Sea Fleet) and the 58th Army—in this strategic peninsula for offensive operations against Ukraine's adjoining Kherson and Mykolaiv districts. This combined, 35,000-strong group of Russian forces in Crimea was larger in number than the armed forces of most Balkan countries. The Russian units in Crimea were equipped with some modern or upgraded weapons, including combat aircraft, missiles, multiple-launched rocket systems (MLRS), tanks and artillery (Defence.org.ua, January 17).
As the war heated up, an additional 12–15 Russian BTGs from the 49th Army and 7th Airborne Division were deployed to southern Ukrainian territory via Crimea to enforce the creation of a land corridor from the occupied peninsula to Russia proper, along the Sea of Azov coast. Russia achieved this goal in the first week of March, taking control of a 100-kilometer-wide strip of land from Kherson all the way to Russia's Krasnodar district. Crucially, most of these units had to be deployed by land, from Crimea; alternative deployment methods into this theater, such as cross-border railways or maritime transport to the captured port of Berdyansk on the Sea of Azov, were denied to the Russian side by Ukrainian shelling. On February 26, Russian forces advancing out from the Crimea Bastion also seized the critical water supply infrastructure of the North Crimean Canal and later established full control over the canal, starting from the city of Tavriysk (Kherson region). These forces blew up the dam that had been blocking the flow of water to Crimea since 2014. By March 15, 2022, Russian authorities reported that stolen water from Ukraine was reaching central Crimea (Krym.Realii, March 19).
Another threat posed by Russia's Crimean Bastion is its significant missile strike potential against not only Ukraine but even other European countries. Four ground-based and five naval-based missile systems are located on the occupied peninsula. Additionally, Russian strike aircraft, such as the Tu-22M3, Su-30, Su-24 and MiG-29, which operate from Crimean airfields, all carry various missiles designed to fire on sea, land and air targets. To date, Russian submarines, surface warships, strike aircraft and ground-based missile systems operating from Crimea launched at least 400 missiles against Ukraine. Just on April 3, Russia fired around 50 missiles from naval ships and ground bases in western Crimea, targeting the Ukrainian cities of Odesa, Mykolaiv, Kremenchuk and Ochakiv. The Crimean Bastion's accumulated air-defense and electronic warfare assets are intended to defend the above-described offensive capabilities against possible Ukrainian counterstrikes.
From the beginning of the current war, the Russian Black Sea Fleet (based out of Sevastopol) has used the Crimean Bastion to fully block the economic activities of all Ukrainian ports located on the Black and Azov seas. To show Moscow was serious about this blockade, Russian warships fired missiles or artillery at several civilian vessels trying to head out of Ukrainian ports. The Panamanian-flagged cargo ship Helt, for example, sank on March 3, after being hit by two rockets launched from a Russian missile boat (UNIAN, March 3). This attack occurred within 14 miles of Odesa. Russia also has had on patrol anywhere from one to four warships on blockade patrol in the vicinity of Serpent Island, which they captured on February 25. Approximately 80 commercial vessels are waiting in Ukrainian ports, unable to leave due to the Russian naval threat (Interfax, March 3).
Russia still plans to conduct a major amphibious landing on the Ukrainian coast in the Odesa area. Three earlier such attempts—on March 1, 13 and 22, respectively—all failed. After approaching the Ukrainian coast to within visual contact, Russian warships turned around and suspended their landing operations. At least during one of those landing attempts, on March 1, there were reports of a mutiny onboard a ship by Russian naval infantry from the 810th Brigade, based in Sevastopol (Hromadske, March 12). Perhaps six or seven Russian landing ships remain on high readiness to conduct an amphibious assault with at least one to two BTGs on board. Another 10–12 warships and auxiliaries are standing by to support future amphibious operations (these include fire support, mine countermeasures, and search and rescue).
Ukraine has so far successfully deterred all Russian amphibious attacks. Ukraine's principal sea-denial capability is performed by its 152-millimeter coastal artillery, MLRSs, drones and sea mines. The maximum effective range for these weapons, however, is limited to 15–20 kilometers. Nonetheless, by April 3, Ukraine had reportedly taken out three Russian landing ships (one completely destroyed and two severely damaged). Ukraine also hit three Raptor-class patrol boats (one of which was reportedly damaged using a shore-based anti-tank guided missile, possibly a Ukrainian-made Stugna-P—Twitter.com/Osinttechnical, March 22) and disabled one missile ship. Ukrainian forces also conducted a unique ballistic missile strike on March 24, during which the landing ship Saratov (Alligator-class) sank, along with 2,000 tons of military cargo it was carrying on board. Two Ropucha-class landing ships were also damaged during this attack (Thepage.ua, March 26). Finally, Ukraine deployed a defensive mine-laying vessel close to its coastline, from Odesa to Skadovsk, to counteract Russian amphibious landing forces. Merchant marines were informed about the closures of these navigation areas.
In sum, Russia's use of its Crimea Bastion has many common features in terms of the tasks, capabilities and structure with Moscow's two other strategic Bastions—the Baltic Bastion, in Kaliningrad, and the Barents Sea Bastion, located around the Kola Peninsula. Ukraine's experience fighting against the Crimean Bastion from 2014 to 2022 should offer valuable lessons and insight as to how Russia uses its A2/AD zones for power projection (see EDM, November 1, 14, 2017). By studying this experience, war planners in both Ukraine and the North Atlantic Treaty Organization (NATO) can sharpen their strategies for how to deter future Russian aggression against its regional neighbors.