CSTO Exercise in Belarus Reveals Unsustainable Character of Post-Soviet Military Cooperation
Publication: Eurasia Daily Monitor Volume: 17 Issue: 154
By: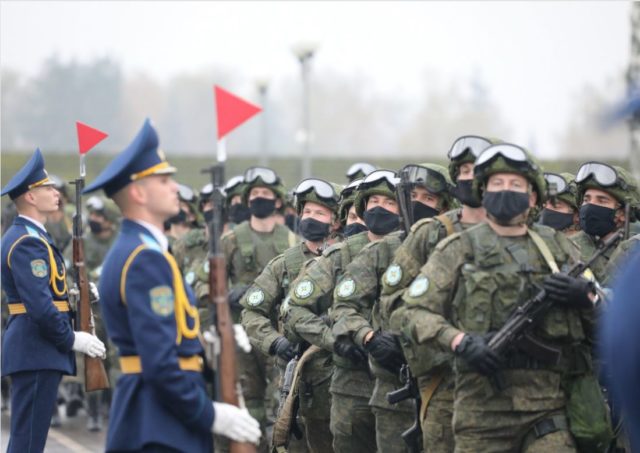 On October 12–16, peacekeeping forces of the Russia-led Collective Security Treaty Organization (CSTO) conducted the military exercise Unbreakable Brotherhood 2020, in northern Belarus (Mil.ru, October 12). Moscow and Minsk have dramatically augmented the extent of their military cooperation in response to the political upheaval that has embroiled Belarus since the disputed presidential election of August 9; yet the recent CSTO exercise illustrates noticeable shortcomings in Russia's regional ambitions beyond Belarus. A comparison of Unbreakable Brotherhood 2020 and the joint Slavic Brotherhood exercise, also conducted on Belarusian soil but one month earlier, clearly demonstrates the glaring contrast.
After encountering large-scale, continuous post-election protests beginning in August, Belarusian President Alyaksandr Lukashenka reversed his rhetoric, from blaming Russia for interfering in the presidential campaign to calling for Moscow's help, up to a Russian military intervention. On September 14, the Belarusian leader met with his Russian counterpart, Vladimir Putin, in Sochi, after which the latter announced that, henceforth, the Russian military would conduct almost monthly joint drills on Belarusian territory (Vedomosti, September 14; see EDM, September 17).
The intensity of military interaction has, indeed, grown, and the latest Slavic Brotherhood exercise is a case in point. The maneuvers took place on September 14–25, near the Belarusian cities of Brest and Hrodna. Officials initially announced that Slavic Brotherhood 2020 would be conducted under the command of the chief of the Belarusian Special Operations Forces and involve up to 1,500 troops and 150 pieces of equipment from Belarus, Russia and Serbia. The figures remained unchanged as the event opened (Mil.by, September 8, 15), even despite the fact that Serbia eventually dropped out of the exercise under pressure from the European Union.
A subsequent visit to Minsk by Russian Defense Minister Sergei Shoigu, on September 16, changed everything. Immediately afterward, the scale of the drills quadrupled. Some 6,000 military personnel and about 500 pieces of equipment and vehicles ultimately participated, including some 1,000 men and 100 pieces of equipment from Russia (Mil.by, September 29). Furthermore, command was taken over by Belarusian Defense Minister Viktar Khrenin, with the head of the Russian Airborne Forces (Vozdushno-Desantnye Voyska—VDV), Colonel General Andrei Serdyukov, personally attending the drills (Mil.by, September 22)
Slavic Brotherhood 2020 included some sensitive as well as offensively directed elements—unprecedented for these exercises, regularly held since 2015. According to the head of the Chief Directorate of Battle Training of the Belarusian Armed Forces, Andrei Nekrashevich, drills imitating an operation against a "paramilitary band" were conducted "next to the state border"; and after the operation was concluded, the Belarusian and Russian troops deployed "in defensive order along the state border," he added. Furthermore, "one of the battalion tactical groups of the Russian VDV arrived via an Il-76 aircraft. It took the Russian personnel only an hour and a half to relocate to the training grounds on Belarusian territory, despite traveling almost 1,500 kilometers. They landed by parachute, fully equipped and without lengthy preparation; these troops then immediately entered the "battle" in an organized manner (Mil.by, September 25).
The Belarusian and Russian forces participating in this year's Slavic Brotherhood executed a mass landing of troops and equipment—a first in the history of Belarusian-Russian joint exercises (Mil.by, September 23). In another novel event, Russian strategic air force assets were deployed to the military drills, with six Tu-22s bombing targets on a training range in the vicinity of the Ukrainian and Polish borders (Mil.by, September 23).
The CSTO drills in October differed substantially from Slavic Brotherhood 2020 in every comparable regard. According to official information, participants of this year's Unbreakable Brotherhood included "[military] contingents of the alliance's member states, operational groups of the Joint Staff and the CSTO Secretariat, [as well as] police forces and units of the ministries for emergency situations" (Mil.by, October 9). But notably, the scale was lower than in previous years, totaling just 900 personnel and 120 pieces of equipment (Mil.by, October 12). The organizers, apparently, tried to bring in more forces but largely failed: the initial announced participation was an only slightly smaller 700 men and 100 pieces of equipment (Mil.by, October 9). In addition, uncharacteristically for these annual exercises conducted since 2012, no information was published on the involvement of specific countries, strongly suggesting that, in fact, only Belarus and Russia participated. In the previous three years, all six CSTO members reportedly sent their forces to take part, with the numbers of troops and pieces of military equipment topping out at 3,500 and 600, respectively, in 2019 (Odkb-csto.org, October 19, 2017 and October 31, 2018; Interfax, October 21, 2019).
Table. The Scale of the CSTO "Unbreakable Brotherhood" Drills
| | | | | |
| --- | --- | --- | --- | --- |
| Year | Venue | Number of Participating Nations | Participants | Pieces of Equipment |
| 2020 | Belarus | Two (?) | 900 | 120 |
| 2019 | Tajikistan | Six | 3,500 troops | 600 |
| 2018 | Russia | Six | 1,300 (troops?) | 320 |
| 2017 | Kazakhstan | Six | 1,500 troops | 200 |
(Sources: Mil.by, Interfax, Odkb-csto.org)
Like every year, Unbreakable Brotherhood 2020 dealt with training for a CSTO peacekeeping operation. However, probably because of the poor attendance, last month's exercise for the first time was scaled down to "command and staff drills" (komandno-shtabnoe) and did not form part of a larger "operative strategic exercise" (operativno-strategicheskoe) (Mil.by, October 16). As could thus be expected, no significant Russian officials attended the event.
The comparison and analysis of this year's Slavic Brotherhood and Unbreakable Brotherhood exercises bring to light two important conclusions. First of all, Moscow has clearly achieved some success in pressuring Minsk to revise its military policies away from multidirectional interactions and elements of neutrality and toward tighter, more exclusive links with Russia. The dramatic increases in frequency, scale and other features of their latest joint drills prove this point. But on the other hand, those trends have not translated to the broader CSTO alliance, which remains a relatively neglected project for Moscow. Although Russia dominates the regional military organization and largely unilaterally defines its activities, the CSTO's conduct outside Central Asia remains limited in scope and significance.