CSTO Will Help Guard the Tajik-Afghan Border, While Putin Helps Rahmon Win the Election
Publication: Eurasia Daily Monitor Volume: 10 Issue: 171
By: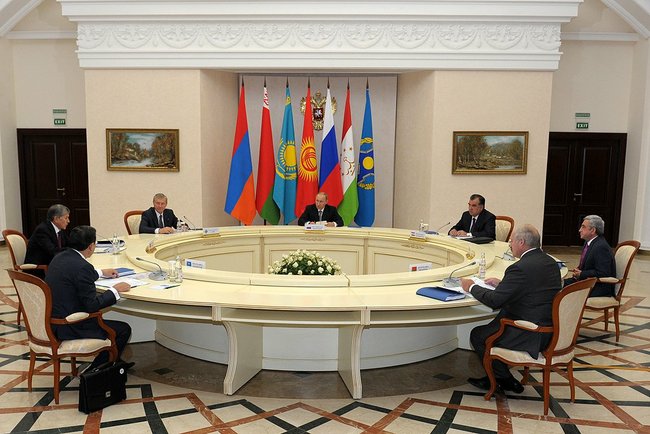 At a summit in Sochi, on Monday, September 23, Russian President Vladimir Putin warned leaders of the six-nation Collective Security Treaty Organization (CSTO) that Islamist militancy, such as that fueling the war in Syria, could reach their countries, particularly those with Muslim majorities. He pointed out that the CSTO nations agreed to draft a plan to protect the border between Afghanistan and Tajikistan. "We will consider all possible scenarios of events, to take preventive measures. We will render additional collective assistance to Tajikistan to strengthen the Tajik-Afghan border," Putin said (https://www.interfax.by/news/world/138015). Putin's remarks came in response to Tajikistan's President Emomalii Rahmon, who requested help with border security from fellow CSTO member states, saying that the terrorist threat from his country's southern neighbor was growing (Interfax, September 24).
Leaders of the CSTO countries discussed the situation in Afghanistan in connection with the planned withdrawal in 2014 of the International Security and Assistance Force (ISAF). In particular, Putin emphasized the possibility of terrorism spilling from one country to another, which "could directly affect the interests of any one of" the group's members (https://www.kremlin.ru/transcripts/19268).
The CSTO is a Russian-led security alliance, which also includes Armenia, Belarus, Kazakhstan, Kyrgyzstan and Tajikistan. Of its members, Tajikistan is the only one that borders on Afghanistan. Russian troops guarded this 1,300-kilometer-long frontier until 2005, when Dushanbe asked them to leave. Recently, the Russian ambassador in Kabul, Andrey Avetisyan, said that because of the projected deterioration of the situation in Afghanistan following the withdrawal of Western forces, Moscow "is considering transferring its border guards [back] to the Tajik-Afghan border" (https://kommersant.ru/Doc/2302837).
The threat posed by the porous border was illustrated just recently. On the eve of the CSTO summit in Sochi, Tajikistan's authorities claimed that they foiled a terrorist plot in Dushanbe and detained ten young men allegedly responsible. "They were preparing a series of blasts on government facilities in four districts of Dushanbe […], a hostage siege and, subsequently, the presentation of ultimatums to the authorities during the presidential elections," an official from Tajikistan's Ministry of the Interior declared (https://www.thenews.com.pk/article-119217-Tajikistan-arrests-10-suspected-attack-plotters:-official).
The suspects were Tajiks but were believed to have been trained in Waziristan, a stronghold of militant activity in Pakistan's northwest by the Islamic Movement of Uzbekistan (IMU). They reportedly entered Tajikistan through the border with Afghanistan (https://www.ozodi.tj/content/terrorist-group-wants-to-burnt-government-buildings/25114336.html).
The country's State TV channel launched special coverage of the news story on September 19, broadcasting a teaser in which some of the arrested, desperate-looking suspects are confirming the official reports. The group's leader, Allamurod Makhanov, says his men know 72 different ways to prepare poisons. Whereas, the narrator of the televised teaser clip reports on an arsenal of weaponry and explosives, which was confiscated from the arrested suspects. Despite the heavy coverage, the news nevertheless resulted in some confused reporting. A source in the interior ministry told a Radio Ozodi correspondent on September 19 that about 20 suspects were arrested in Dushanbe. Later, the number was reduced to just six (https://www.rferl.org/content/terrorism-tajikistan-arrests-afghanistan/25113165.html), and on September 23, the number was increased to ten.
Although the intrusion of militants and extremists from Afghanistan to Tajikistan is not a completely rare occurrence, the latest news provoked spirited commentary from experts in Dushanbe. Some alleged the IMU has no support in Tajikistan and that the organization is mostly interested in Uzbekistan rather than Tajikistan. Rather, these experts purported that the news of the uncovered militant attack in Dushanbe was meant to bolster the reelection campaign of President Rahmon ahead of the presidential elections scheduled for November 6 (https://www.ozodi.tj/content/terrorist-group-wants-to-burnt-government-buildings/25114336.html)
Local experts also noted that Tajikistani nationals fighting in Afghanistan tend to belong to the IMU-affiliated group Jamaat Ansarullah, which has a base in Tajikistan (see EDM, July 12). However, those militants are deeply engaged in recent clashes in the Varduj region in northern Afghanistan. Their activities, therefore, tend not to be focused on Tajikistan itself. According to a high-ranking security official in the Afghan government, Jamaat Ansarullah entered from Tajikistan to Afghanistan recently, and 44 militants were killed during clashes with government forces in mid-September. Four citizens of Tajikistan were detained and one of them, identified as a member of Jamaat Ansarullah, planned to kill the governor and security chief of the Afghan Badakhshan province (https://www.ozodi.tj/content/afghan-security-says-tajik-fighters-distabilize-situation-in-afghan-badkhshan/25112195.html).
Based on those facts, some analysts conclude that the news about a foiled terrorist plot in Dushanbe was mainly meant for internal use. According to this theory, Tajikistan's establishment is using this story to defend the extension of the Russian military presence in the country until 2042 as well as the possible return of Russian border troops to the border with Afghanistan. Meanwhile, Russian expert Artem Ulunyan believes that those questions of Russia's military presence in Tajikistan became trading chips between Putin and Rahmon. Ulunyan suspects that the two heads of state agreed on the arrangement whereby Russia will strengthen its military position in Central Asia and, in return, Rahmon will secure Russian support in the upcoming presidential election (https://www.ozodi.tj/content/tajik-and-russian-president-discussed-bilateral-relations/25063143.html). Indeed, Rahmon has staked his reelection bid on his regime's ability to keep order in Tajikistan (see EDM, September 25). So for Rahmon, bolstering ever-closer security ties with Moscow is as much a political as it is a defense question.