Dagestani Man Abducted by Security Forces Freed After Mass Protest by Fellow Villagers
Publication: Eurasia Daily Monitor Volume: 9 Issue: 39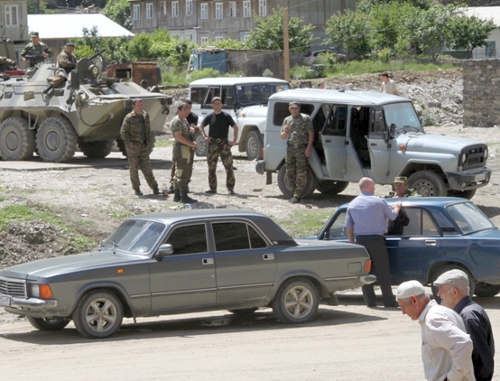 Tensions between Dagestan's law enforcement bodies and residents of the village of Gimry in the republic's Untsulkysky district flared up on February 21. A large group of Gimry residents blocked the Makhachkala-Botlikh highway to protest the kidnapping of a 40-year-old fellow villager, Magomed Gamzatov. The Kavkazsky Uzel website quoted a Gimry resident, Sharafuddin Nurmagamedov, as saying that around 1,000 villagers gathered to block the highway and hold a protest rally. The incident took place after Gamzatov's wife, Aminat Abdurakhmanova, reported earlier on February 21 that around 10 armed men in camouflage uniforms and masks had taken away her husband. She said that the kidnappers had fired in the air when relatives tried to intervene.
The Untsulkusky police department and press service of the Dagestani Interior Ministry initially said they knew nothing about the incident. However, on February 22, the day after Gamzatov's abduction, came word that he had been released. Yesterday (February 23), Gamzatov told Kavkazsky Uzel that the men who abducted him were law enforcement personnel. "Early in the morning (of February 21) around 10 unidentified armed persons in camouflage uniforms and masks burst into my home, and I subsequently found out that they were police," he told the website. "They behaved very rudely and aggressively, [and] did not present any IDs. The police asked whether I knew the whereabouts of Magomed Suleimanov. I answered that I did not. After that, the police demanded that I get dressed, after which they took me to a car. There they put handcuffs on me and a bag over my head. "
Gamzatov said that while he could not see where he was being taken, he surmised from his abductors' conversations that they were taking him to the police headquarters in neighboring Gergebilsky district. Once there, they continued to interrogate him. "They again asked me about Suleimanov and other people I don't know," he said, adding that while the police did not like his answers, they did not harm him physically. Gamzatov said the interrogation continued and then in the evening he was told he would be taken to Makhachkala. He also said the police threatened him. He said he believes he was released because of the protest by his fellow Gimry residents. "Around 10 p.m., I understood from fragments of conversations that my fellow villagers had started to take certain measures," he said. "After several minutes, the police came up to me and told me I would soon be released. They didn't explain anything to me or apologize. They soon put me in a car that drove onto the highway. Here they took off the handcuffs and the bag off of my head, and returned my cellphone." Gamzatov said his abductors then dropped him off, suggesting he not discuss what had happened. He said he has no plans to lodge a formal complaint about the incident because he sees little point in doing so. "I don't remember any cases in which the authorities reacted appropriately to such complaints," he said (www.kavkaz-uzel.ru, February 21-23).
Last October, security forces launched a counter-terrorist operation in Gimry, and in January of this year, all roads to the village were blocked and, according to local residents, a large number of troops and heavy armor were deployed there and a curfew imposed. The security forces reportedly destroyed property and beat up young people during searches of homes, after which an estimated 300-1,000 villagers took to the streets in protest (EDM, January 13 and 26).
In a similar incident in Dagestan, 29 residents of the village of Komsomolskoye were released on February 22, one day after they were detained. According to a villager, Sirazhudin Gazhiev, his son was detained by police on February 21, reportedly after a grenade was allegedly discovered in his home. Later that day, police detained more than 30 other people. Another Komsomolskoye resident, Magomed Magomedov, told Kavkazsky Uzel on February 22: "Khabib Gadzhiev remains in custody – they reportedly found a grenade and a pack of cartridges on him – along with two inhabitants of Tajikistan who taught our children the Holy Koran. They promised to release all three after lunch" (www.kavkaz-uzel.ru, February 22).
Meanwhile, February 23, which was celebrated around Russia as Defenders of the Fatherland Day – the holiday formerly known as Soviet Army Day – also marked the 68th anniversary of Stalin's mass deportation of the Chechen and Ingush people to Central Asia. A ceremony was held at the Victims of Political Repression memorial on the outskirts of Ingushetia's main city, Nazran. The head of Ingushetia, Yunus-Bek Yevkurov, was among those who attended the ceremony. In addition, memorial prayers were held in mosques and at cemeteries across Ingushetia, while inhabitants of the republic distributed sacrificial meat. In Chechnya, while February 23 has officially been designated a day of memory and mourning since 2010, this year Chechen leader Ramzan Kadyrov ordered that the day of memory and mourning be held on May 10 and that February 23 be marked as Defenders of the Fatherland Day (www.newsru.com, February 23).