Deadly Bomb Explosion in St. Petersburg Metro Exposes Vulnerability of Russia's Cities
Publication: Eurasia Daily Monitor Volume: 14 Issue: 47
By: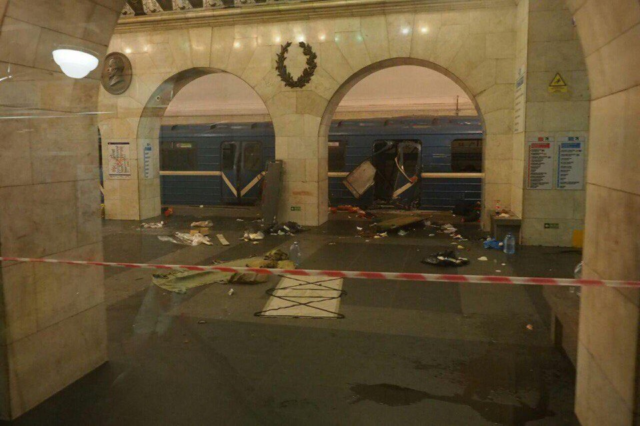 Midday on Monday, April 3, a homemade bomb filled with metal shrapnel exploded in a train car of the St. Petersburg metro as it was moving between stations. It was not rush hour, but the train was crowded: 14 people died and over 50 were injured. As of April 6, no known terrorist organization has claimed responsibility, but the authorities blame radical Islamists and the Islamic State (IS), in particular. Though, in most cases, the IS does not hesitate to claim responsibility for deadly acts of terrorism. The Russian authorities have named Akbarzhon Jalilov as their prime suspect. He allegedly carried the bomb onto the train in a backpack and was allegedly the suicide attacker. Jalilov (22), an ethnic Uzbek, was born in Osh—a city in the Fergana Valley region in the former Soviet republic of Kyrgyzstan, which has a sizable ethnic-Uzbek population. Jalilov lived in St. Petersburg since childhood and became a Russian citizen in 2011. His body was torn to pieces by the force of the blast; but as is typical with suicide carry-on bomb explosions, his severed head was in good-enough condition for a positive identification, later confirmed by DNA sampling. Jalilov apparently planted one home-made fertilizer bomb at a central St. Petersburg station and then entered a train with the second device, which exploded onboard. The bomb allegedly planted by Jalilov was found and safely deactivated by authorities. The metal detecting system in the St. Petersburg metro, which had cost the city budget "hundreds of millions" of rubles and was designed to alert security personnel that someone is carrying a large amount of metal did not work properly, or its signals were ignored (Kommersant, April 5).
The St. Petersburg bombing was the first major terrorist attack on Russian soil after Russia began its military campaign in Syria in support of President Bashar al-Assad. The reaction of the authorities to the attack was slow and disorganized. The entire metro system in downtown St. Petersburg was closed to commuters as evening rush hour began, causing massive traffic jams and overcrowding buses and other public transit, presenting potential additional terrorists with lots of easy targets. In Moscow, which has one of the busiest metro systems in the world, there were no visible additional security measures on April 3; only on April 4, did security begin to tighten. In St. Petersburg, police and security services complain of being overwhelmed by phone calls reporting false bomb threats, many of which, they claim, are coming from Ukraine. Therefore, the pranksters cannot be arrested and prosecuted. Under Russian law, a false report of a terrorist attack may result in up to five years in prison. Jalilov was not known to the Russian anti-terrorist services as a potential security risk and apparently had not traveled to the Middle East for indoctrination or terrorist training. Nevertheless, authorities believe he could have been connected to Uzbek jihadists (Kommersant, April 6).
On April 3, President Vladimir Putin was in St. Petersburg to meet with pro-government activists. He was also there to hold a summit with Belarusian President Alyaksandr Lukashenka, at his local residence in a St. Petersburg suburb. Putin was nowhere near the explosion, but still it was interpreted as a direct attack on him and his authority. After returning to the Russian capital, Putin told a gathering of security chiefs of the post-Soviet Commonwealth of Independent States (CIS) member countries: "The terrorist threat is not diminishing, and all CIS nations are potential targets of attacks" (Militarynews.ru, April 5). But with no one openly claiming responsibility and Jalilov seemingly not fitting the classic profile of a jihadist, the authorities are scrambling to pin the St. Petersburg explosion on radical Islam. In the latest twist, an unnamed official told the Interfax news agency that Jalilov was, "according to lots of different data," not a suicide terrorist bomber, but was told by his controllers to plant two bombs that would be detonated remotely by mobile phone; he was deceived by those alleged controllers, who remotely detonated the bomb together with Jalilov (Militarynews.ru, April 6).
Seven men of "Central Asian origin" have reportedly been arrested by authorities in St. Petersburg, accused of being "recruiters of potential terrorists for the al-Nusra Front and ISIS [former names for Jabhat Fateh al-Sham and the Islamic State, respectively]" and of possessing "radical Islamist literature." However, the Russian Investigative Committee apparently has no evidence at present to link the arrested individuals to Jalilov or to Monday's deadly metro explosion (Interfax, April 5). Jabhat Fateh al-Sham and the IS are bitter enemies. So accusing these men of being "recruiters" for both organizations at the same time seems to indicate confusion within the St. Petersburg counter-terrorism community and a desperate desire to pin the attack on someone specific.
On April 3, the authorities published a surveillance camera photo of another potential terrorist suspect: a bearded man dressed in a dark long Salafi Orthodox Muslim robe and a skullcap. He is seen on the photo entering the St. Petersburg metro. The man turned out to be an ethnic Russian, Andrei Nikitin—a former army paratrooper (VDV) captain who fought in Chechnya, retired from the military and later converted to Islam. Nikitin volunteered to surrender to police to explain that he did not do anything wrong; he was entering the metro after attending a mosque. The police released Nikitin after verifying his story, but he has since been on the receiving end of harassment by tabloid journalists and a terrified public. According to reports, Nikitin had to recently be removed from a domestic Rossiya airline flight, despite passing security checks, after passengers onboard caused an uproar and refused to fly with an alleged terrorist (Znak.com, April 5).
The Kremlin is reportedly sending out orders throughout Russia for local authorities to promptly organize anti-terrorist demonstrations in solidarity with the St. Petersburg attack victims. These demonstrations are apparently intended to rally the nation around the Kremlin and the government, which was visibly rattled by the massive country-wide anti-corruption rallies on March 26 (Kommersant, April 5; see EDM, March 27, 30). Putin's approval rating is still sky-high, but Prime Minister Dmitry Medvedev's popularity has fallen from 52 percent to 42 percent, in March (Interfax, April 5); some 72 percent of Russian fully or partially believe opposition leader Alexei Navalny (at present serving a 15-day prison sentence), who accused Medvedev of illegally amassing a multi-billion-dollar real estate empire (Interfax, April 6). A sudden Islamist threat distraction may have been quite timely.