Does Cairo Bombing Mark a Return to Terrorist Violence in Egypt?
Publication: Terrorism Monitor Volume: 7 Issue: 5
By: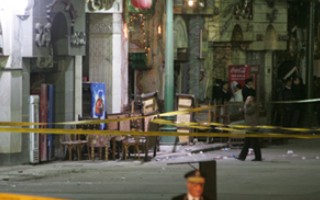 A bombing in Cairo's ancient Khan al-Khalili market has raised fears about a new round of terrorist attacks in Egypt coming amid the 2009 tourist season. The February 22 attack left one French tourist dead and over 20 local and foreign bystanders injured, including French, German, and Saudi tourists. Located in the historic Old City (Islamic Cairo) section of Egypt's capital, Khan al-Khalili is a bustling tourist magnet and trading center. Though terrorist violence has been at a low ebb lately, Egypt has experienced a series of major terrorist attacks in the past by radical Islamists targeting foreign visitors and the country's tourism infrastructure — the lifeblood of the Egyptian economy — as well as symbols of the Hosni Mubarak regime, especially the security services (al-Jazeera [Doha] February 23; February 25).

Initial reports based on eyewitness accounts at the scene of the bombing indicated that explosives may have been thrown from the roof of the nearby al-Hussein hotel or from a passing motorcycle (al-Jazeera, February 23; al-Ahram [Cairo], February 26). According to Egyptian investigators, however, the perpetrators of the attack placed a crudely made explosive device composed of gunpowder and rocks under a stone bench outside of the historic al-Hussein mosque, adjacent to the Khan al-Khalili market. The device is reported to have weighed between 500 and 750 grams, consisting of two explosives-filled canisters that were concealed in a plastic water cooler. The bomb was detonated with a washing machine timer. Egyptian security officials uncovered a second device approximately 30 meters away from the initial bombing that failed to detonate (Egypt Daily News [Cairo] February 25). At this point, Egyptian investigators believe the material for the explosives may have come from locally manufactured fireworks, typically used during the annual Eid festivities (Egypt Daily News, February 25). This is not the first terrorist attack at Khan al-Khalili that has targeted tourists: a suicide bomber struck at the market on April 7, 2005, killing two French tourists and an American, and injuring scores of others (al-Jazeera, February 23).

Over 14 suspects have been detained for questioning by the Egyptian authorities since the attack; however, no individual or group has claimed responsibility for the bombing (al-Ahram, February 26). Based on the crude nature of the bomb, a consensus among Egyptian investigators and local observers appears to rule out involvement by al-Qaeda or other radical Islamist groups with a history of executing major attacks in Egypt against tourist centers. These include Egypt's Islamic Jihad (IJ), a group formerly led by al-Qaeda's deputy commander Dr. Ayman al-Zawahiri that has since merged with al-Qaeda; and Gama'a al-Islamiya (Egyptian Islamic Group- EIG), a group that renounced violence in 1997 and entered into a unilateral ceasefire with the state following a major crackdown by the Egyptian authorities. An obscure faction within EIG led by Muhammed al-Hakaima is opposed to the ceasefire and claims to have merged with al-Qaeda. (al-Jazeera, February 25; Terrorism Focus, October 24, 2006; Terrorism Focus, September 12, 2006). Many Egyptian media sources and other observers suggest that the attack was most likely executed by a small terrorist cell, possibly without ties to foreign terrorist organizations, but nevertheless determined to act against the state on their own initiative by striking out at the regime's economic lifeline (Al-Dustour [Cairo], February 23; al-Jazeera, February 23). Other sources do not rule out the possibility that the attack was executed by a small splinter cell that may at one point have been linked to IJ or EIG during the height of Egypt's radical Islamist violence in the 1980s and 1990s (al-Jazeera, February 25).

In another Khan al-Khalili incident targeting foreigners, an American teacher living and working in Egypt was attacked while shopping with his wife on February 27 by a man wielding a knife. The victim suffered only minor injuries. Although Egyptian authorities reported that the attacker has a history of psychiatric problems, they also reported that the attacker acted due to his "hatred for foreigners because of the Israeli offensive in Gaza" (Egypt Daily News, March 1l; al-Arabiya [Dubai] February 28). In a mysterious incident the following day, an unidentified man hurled an incendiary device at the crowded Helmiet al-Zaitoun subway station in Cairo while it was packed with commuters. The device failed to detonate and the perpetrator managed to escape. No injuries were reported. No further reports have surfaced regarding a possible motive behind the subway attack (al-Arabiya, February 28).

There are no indications that the bombing at Khan al-Khalili and the subsequent attacks in the market and subway station are in any way connected. However, the timing of the attacks, coming so soon after Israel's December invasion of Gaza, may be telling. Egypt was widely seen across the Middle East as having actively conspired with the Israelis against the Palestinians of Gaza. This wave of attacks may therefore represent the first round in a looming campaign of violence led by a new generation of Islamic militants with no formal ties to established terrorist organizations, but who are nonetheless driven to retaliate against the Mubarak regime for its perceived complicity in Israel's attack against Gaza. Radical Islamists have long harbored a deep hatred of the Mubarak regime over what they see as its repression, corruption, and heresy. The Mubarak regime is also widely viewed by militants—and many mainstream Arabs and Muslims alike—as an agent of U.S. and Israeli interests in the Middle East. Moreover, both Osama bin Laden and Ayman al-Zawahiri issued public statements during the Gaza crisis lambasting Arab regimes for what they saw as their collusion with Israel's actions, singling out Egypt in particular for its refusal to open its border with Gaza to allow besieged Palestinians entry into Egypt. Both bin Laden and al-Zawahiri called on Muslims to rise up and retaliate on behalf of the Palestinians (al-Jazeera, January 15). Given the global financial crisis, a period where Egypt is considered a bargain tourist destination compared to other destinations, a new round of attacks against Egypt's tourism industry and other targets in Egypt could go far in undermining the Mubarak regime. While it is still unclear whether the recent attacks in Cairo can be attributed to festering resentment in Egypt over Gaza, the rudimentary quality and sequence of the attacks indicate that Egypt may have to face its own brand of homegrown terrorism in the months ahead.
<iframe src='https://www.jamestown.org/jamestown.org/inner_menu.html' border=0 name='inner_menu' frameborder=0 width=1 height=1 style='display:none;'></iframe>