Domestic Stability to Remain Kazakhstan's Main Priority in 2013
Publication: Eurasia Daily Monitor Volume: 10 Issue: 8
By: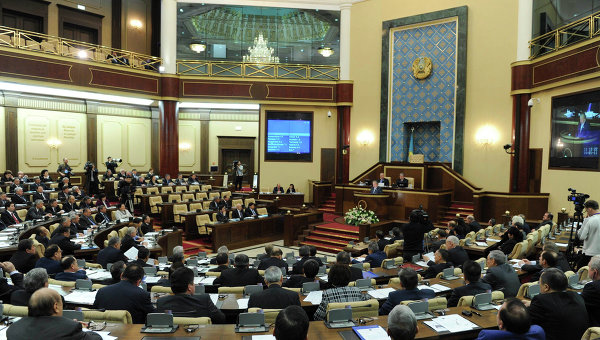 The year 2012 was certainly rich in events for Kazakhstan. In mid-January, the early parliamentary elections brought two more parties to the country's legislative body, although none of them gained enough seats to break Nur Otan's monopoly. While the diversity of opinions within the country's parliament became undoubtedly wider—with the Kazakhstani government being increasingly confronted with inquiries on behalf of communist MPs and their colleagues from the business community-related Ak Zhol party—Nursultan Nazarbayev has continued to the play the role of a consolidating national figure. Therefore, his legislative proposals were met with almost no opposition from the minority parties currently represented in parliament.
Kazakhstan was relatively successful in implementing its economic policies five years since the beginning of the global financial crisis: While the national economy grew by over five percent in 2012, the results achieved by Kazakhstan's immediate neighbors turned out to be well below expected levels. For instance, the final estimates of Russia's annual economic performance were recently downgraded from 4.1 to around 3.7 percent (Vedomosti.ru, December 24, 2012), with its political and social instability still posing a serious challenge to Vladimir Putin's rule in light of growing authoritarian trends and better coordination among opposition groups. At the same time, Kyrgyzstan's economy contracted by almost one percent last year, following a severe drop in the Kumtor gold mine's industrial output. Furthermore, the Kazakhstani government enacted a vast program of economic and social rehabilitation of the country's Mangistau province after the December 2011 unrest in Zhanaozen had tainted the 20th anniversary of Kazakhstan's independence. It also enforced strong anti-corruption measures aimed at precluding more social discord.
On the security front, Kazakhstan demonstrated better preparedness to manage homegrown terrorist and extremist threats, contrary to 2011 when several attacks on law enforcement authorities resulted in heavy casualties among civilians. The country's security forces conducted five successful anti-terrorist operations and reportedly uncovered over twenty plots. Kazakhstan's capacity to deal with security problems, particularly in the context of the ongoing US withdrawal from Afghanistan, was therefore strengthened by more coordinated and coherent actions supported by an incipient national strategy that would gradually devolve more powers to regional authorities (via the scheduled creation of regional terrorism prevention committees first mentioned in October 2012) and devote special attention to the propagation of non-violent religious teachings.
In September, President Nazarbayev reshuffled his government, putting an end to Karim Massimov's five-and-a-half-year term as prime minister. Although this decision was widely anticipated—no prime minister has ever succeeded in securing his job for such a long time—Massimov did not fall into disgrace and was instead promoted as Nazarbayev's chief-of-staff. The appointment of Serik Akhmetov, Massimov's deputy, as a new head of government only reinforced the impression that President Nazarbayev was placing a strong bet on relatively young technocrats known for their proven professionalism and administrative skills rather than openly expressed political ambitions.
The past year was a difficult one for the Kazakhstani opposition whose only sponsor, the exiled oligarch Mukhtar Ablyazov, finally lost his $2.1 billion legal case lodged by Kazakhstan's government in a British court in early 2009, following BTA Bank's large-scale bankruptcy. The unregistered political party Alga, funded by Ablyazov since 2005, lived through its own legal problems, with its leader Vladimir Kozlov being sentenced to seven and a half years in prison after a several-month-long trial. While this judgment practically defanged the only source of outspoken criticism of President Nazarbayev's rule, by liquidating all of Alga's provincial offices, it further paved the way for crackdowns on the opposition media. In late December, Kazakhstani prosecutors filed lawsuits against dozens of newspapers and two TV channels equally funded from Ablyazov's pocket. The controversial involvement of these media outlets in the coverage of the December 2011 events in Zhanaozen, where riot police had opened fire on striking workers, led the court to recognize them as extremist organizations.
Finally, the year concluded with President Nazarbayev's policy speech entitled "Kazakhstan-2050," in which he outlined his vision for the country's future development up to the middle of the century (see EDM, January 11). A similar speech ("Kazakhstan-2030") was delivered back in October 1997, when Nursultan Nazarbayev was still speaking from Almaty, Kazakhstan's former capital. Reporting about the country's many successes in democratization, economic growth, as well as social and cultural development, Nazarbayev put forward an ambitious strategy aimed at catapulting Kazakhstan into the world's elite club of thirty most developed countries. Apart from its technicalities, this strategy has indirectly hinted at Nazarbayev's willingness to further remain in charge. Therefore, the issue of political transition has once again been left hanging in the air.
In 2013, the succession after President Nazarbayev is likely to remain the most widely discussed issue, while Kazakhstan's political forces represented by various clans are about to enter another cycle of power struggles. In late August 2012, the independent rating agency "RatingKZ" cited inter-elite disputes and the ensuing overall political instability as a core challenge to Kazakhstan's long-term development (https://agencyrating.kz/rating-ugroz-2/). Clearly, should this climate of systemic uncertainty further persist, it could seriously compromise the country's ability to cope with both domestic and external risks. Also, 2013 could bring about a much expected resolution to the long-standing enigma of the Kashagan oil field, the world's most expensive energy project of the last 40 years. ConocoPhillips' recent withdrawal from project implementation and the issue of its replacement either by KazMunaiGaz, the national oil and gas giant, or by India's ONGC have recently sparked increased interest in Kashagan's commercial future (https://neftegaz.ru/news/view/106592).