The Dynamics Driving Uzbekistan's Warming Relationship With Afghanistan
Publication: Eurasia Daily Monitor Volume: 14 Issue: 162
By: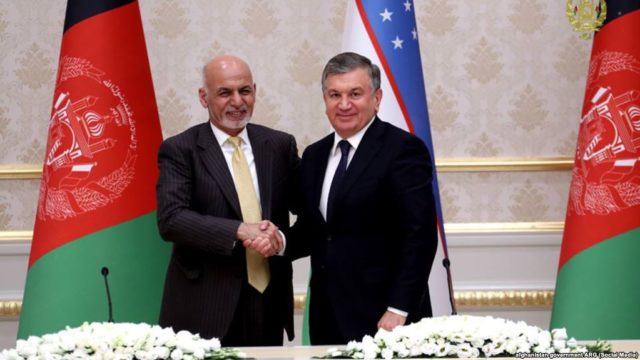 Uzbekistan's leadership has been increasingly focused on its southern neighbor Afghanistan since Shavkat Mirziyoyev came to power in late 2016 (see EDM, June 27). As President Mirziyoyev attested on December 5, he and his Afghan counterpart met five times already in the past year (Kun.uz, December 5). The two countries' 137-kilometer (85-mile) common border and Afghanistan's turbulent past and present are certainly critical issues for Uzbekistan's leadership circle, and Tashkent has invested significant effort into isolating and resolving those threats. Nevertheless, when President Ashraf Ghani visited Uzbekistan, on December 4–6, he found a country ready to cooperate actively in social, humanitarian, political and cultural spheres.
The bilateral meetings between the governments of Afghanistan and Uzbekistan concluded with the signing of a number of agreements. The most significant and capital intensive projects with real potential of being completed include new overland transit infrastructure and electricity transmission networks. Notably, the sides announced a joint project to build the Mazar-i-Sharif–Herat railway, which will stretch 730 km (453 miles) from northern to southwestern Afghanistan. The new rail line is an extension of the 75 km (46-mile) Hayratan (located right across the Uzbekistan border)–Mazar-i-Sharif railroad, built by Uzbekistan seven years ago and financed by the Asian Development Bank. Uzbekistan will also reconstruct several road projects in the capital, Kabul. The second electricity transmission line from Uzbekistan, Surkhan–Pul-i-Khumri, will supply electricity to Pul-i-Khumri, in Afghanistan, from Uzbekistan's Surkhandarya region, without extending electricity to Kabul (the earlier transmission line from Uzbekistan built in 2008 already services Kabul via Pul-i-Khumri) (Office of the President of the Islamic Republic of Afghanistan, December 5, 2017; Gazeta.uz, November 10, 2009).
Uzbekistan is a steady supplier of wheat, medicine, electrical equipment, building materials, mineral fertilizers, cars, ambulances, agricultural machinery, as well as industrial and food products to the Afghan market, the volumes of which are set to increase following the presidential visit (Office of the President of the Islamic Republic of Afghanistan, December 5). But more importantly, each country's territory is slated to serve as a significant highway and railroad corridor for the other, enabling them to access world markets. While Uzbekistani goods need to traverse Afghanistan to reach the Chabahar port (in Iran), Afghanistan is interested in accessing Russia, China and other countries to its north via Uzbekistan (Afghan Channel One, December 5).
Uzbekistan's Surkhandarya region and its capital, Termez, is emerging as a border zone of cooperation with Afghanistan. As such, the significance of the Hayratan ("Friendship") Bridge, which crosses the Amudarya river and connects Termez with Afghanistan, is set to grow further. Judging from the latest signed agreements, Termez will be turning into a cooperation hub on Afghanistan for Uzbekistan and the rest of the world. A new Afghan consulate will open in Termez to ease entry and exit for any visitors (Tolo TV News website, December 5). Three specialized institutions geared toward Afghans have already been established in the Surkhandarya region, servicing those who come to learn the Uzbek language, train railroad specialists, and those in need of hospital-based medical assistance (Kun.uz, December 5).
Another important factor that binds Uzbekistan and Afghanistan is the presence of the large ethnic-Uzbek diaspora in northern Afghanistan. No exact numbers are known, but estimates range from at least a million up to seven million. The Uzbek language is the third official language in Afghanistan—the only country outside Uzbekistan that officially recognizes it as such (Kun.uz, December 7). To emphasize their common roots and shared culture and history, President Ghani's introduction of his official statement was delivered in Uzbek for a good two and a half minutes (Kun.uz, December 6).
President Ashraf Ghani's visit to Tashkent showcased an Uzbekistan that is overcoming the predominantly held views of Afghanistan as a territory exclusively emanating terrorism, illicit drugs and instability. Afghanistan is about to turn into a larger market for Uzbekistan-originated products not limited to agriculture but also value-added goods. Afghanistan can also be expected to turn into a significant transit country for Uzbekistan and open the way for new regional partnerships in the near future. Meanwhile, for Afghanistan, Uzbekistan is an important regional economic and political partner, contributing to its reconstruction and development by building complex engineering infrastructure and providing social services.
The new partnership between Uzbekistan and Afghanistan is undoubtedly part of the long-term strategic thinking of both countries. Uzbekistan borders on all the former-Soviet Central Asian countries and has maintained relatively peaceful relations with them in the past. While Uzbekistan has recently entered into a new stage of heightened cooperation with its regional neighbors, Afghanistan was the last remaining piece of the security belt that Uzbekistan is attempting to establish around its borders (see EDM, October 26, 2016; December 15, 2016; May 3, 2017). Moreover, by becoming an active partner, Uzbekistan is notably positioning itself to become a significant player and peace-maker in the country alongside other global and regional heavy-weights attempting to stabilize Afghanistan.