ENERGY MARKET CONSOLIDATION VERSUS FOREIGN STATE TAKEOVERS IN CENTRAL EUROPE
Publication: Eurasia Daily Monitor Volume: 4 Issue: 162
By: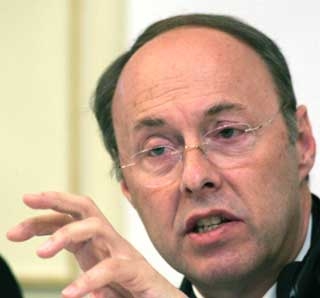 In common with the Baltic states and Poland, which face the risk of being caught between Russian and German energy policies, Hungary is facing a similar two-front problem, albeit with country-specific differences. In Hungary's case, Russia and Austria (with Germany in a lesser role) seem to be reaching out toward each other over Hungary, targeting parts of Hungary's energy systems.
Austria's state-dominated energy conglomerate, OMV, is attempting a hostile takeover of Hungary's fully private energy champion, MOL, which is battling to resist such a takeover. OMV, now heavily dependent on Russia for the gas business, is targeting MOL's highly efficient oil refineries and related assets in order — as widely predicted in Central Europe — to swap them subsequently to Russian energy giants, in return for OMV "access" to Russian oilfields (see EDM, July 24, 25, August 7, 17).
Midway through the August break, OMV's CEO Wolfgang Ruttenstorfer publicly scorned "the emotional reaction of the Hungarians. We hope that, after the holidays, people will return looking at things more soberly" (Financial Times, August 17). Highly unusual for corporate public communications in Europe, such a deficit of civility reflects the hostile edge to OMV's takeover moves against MOL.
MOL lost no time responding that it would consider negotiating a merger with OMV if the latter is fully privatized and sells off its large and inefficient oil refinery, Schwechat, as a liability to any merged company. If those conditions are fulfilled, MOL's CEO Zsolt Hernadi implied, the situation might become one in which the more advanced MOL could buy up OMV's oil-refining and related assets and modernize them (Vilaggazdasag [Budapest], Dow Jones, August 22).
By its market capitalization, valued at $11 to $12 billion, MOL is deemed the largest among all fully private companies in Central Europe. As a 100% private entity, MOL takes the position that it does not want to become subordinate to any government, let alone foreign states (Financial Times Deutschland, August 20). The Austrian government owns a 31.5% stake in OMV through Austria's state property holding OIAG. The Abu-Dhabi International Petroleum Investment Company, a holding connected with the ruling family there, owns another 17% of OMV's shares.
With its $13 billion market capitalization only slightly larger than MOL's, OMV has almost three times as many employees on its payroll (some 40,000 for OMV compared with some 14,000 for MOL as of 2006-early 2007) and has belatedly introduced some measures to address its overstaffing. The company's flagship Schwechat refinery operates far less efficiently than MOL's main refineries, Szazhalombatta and Slovnaft, and has consistently lost to these in the competition over market shares and acquisitions in Central Europe. The Schwechat plant operates with a net margin of $6 per barrel of crude oil processed, compared with MOL refineries' margin of $12 per barrel, according to Austrian figures (Wiener Zeitung, August 31).
OMV owns 18.9% of MOL shares at the moment, up from the 10% it held in June. Most of this increase occurred through surreptitious acquisitions thanks to Russian intermediaries linked to Gazprom. To defend against this process, MOL's management has launched a share buy-back program and now controls (partly through friendly banks) 40.4% of the company's shares, with most of the remainder floating on the stock market (MTI Eco News, August 30). MOL's concurrent strategy is to continue its competitive expansion in Central European and adjacent countries, as its recent acquisitions in Croatia and northern Italy illustrate.
On August 30 MOL and the leading Czech power-generating company, CEZ, signed an agreement of intent for a strategic alliance. CEZ is interested in acquiring a 10% stake in MOL for a market-estimated value of at least $1.2 billion. CEZ, with a market capitalization exceeding $30 billion, 67% government-owned, is the leading builder and operator of electrical power plants in Central and Eastern Europe.
CEZ and MOL are close to completing negotiations on jointly building and operating electricity-generating and heat-generating plants near MOL's Slovnaft and Szazhalombatta refineries. The generation plants would involve a combined cycle, that is, an electricity plant and heating plant in one. They would be fired by gas and/or by refinery residuals (Dow Jones, MTI, Budapest Business Journal, Hospodarske Noviny, Sme, August 31).
According to Czech sources, this agreement of intent reflects an emergent strategy in Central European countries to defend themselves jointly against the entry of Russian state-controlled energy giants into this region (Hospodarske Noviny [Prague], August 31).
While OMV is seen as a potential Trojan horse for such Russian companies, Germany's E.ON Ruhrgas has offered explicitly to play that role at Hungary's expense. E.ON Ruhrgas is negotiating with Gazprom for "access" to the Siberian Yuzhno-Russkoye gas field, an upstream source for the Russo-German gas pipeline on the Baltic seabed, which would bypass the Baltic states and Poland. The German company is offering to swap its holdings in Hungary — namely, 50% minus one share in E.ON Foldgaz Storage and in E.ON Foldgaz Trade, as well as 25% plus one share in E.ON Hungaria — to Gazprom, in return for a 25% stake for the German company in Yuzhno-Russkoye.
Hardly anyone could have expected such a move when Hungary decided to privatize those assets to the German company in 2004. With OMV seemingly prepared to play a similar role, the situation confirms the need for defensive measures in Central and East European countries against Russian takeovers through the back door. Defensive measures could include consolidation around regional market leaders by market criteria, as well as national legislation to preclude takeovers of privately owned assets by foreign state-controlled companies.