Epidemic-Related Unrest and the CCP's Reinforced Political Loyalty Indoctrination for China's Police
Publication: China Brief Volume: 20 Issue: 7
By:

Introduction: A Riot on the Border of Epidemic-Wracked Hubei Province
The central Chinese city of Wuhan, in Hubei Province, was the original epicenter from which the COVID-19 viral outbreak first emerged in November-December 2019. Hubei Province was placed under a strict lockdown in mid-January that lasted for over two months (China Brief, January 29). On March 25, authorities in the People's Republic of China (PRC) announced the lifting of most travel restrictions for residents of Hubei Province, with the exception of Wuhan City itself (Xinhua, March 25). (Restrictions for residents of Wuhan were later eased on April 8). However, the lifting of these restrictions has not proceeded entirely smoothly. On March 27, a major social disturbance occurred on the bridge over the Yangzi River that connects the town of Xiaochi in far eastern Hubei with the town of Jiujiang in northern Jiangxi Province. On that Friday, Hubei residents attempted to cross the bridge, but were blocked by police from the Jiangxi side. A tense stand-off escalated into a riot that reportedly involved not only citizens and police, but also clashes between police from the two bordering provinces (see accompanying images) (Radio Free Asia, March 27).
Regional tensions were revealed in video of the incident, in which angry citizens could clearly be heard to chant "Let's go, Hubei" (湖北加油, Hubei jiayou) when marching to confront barricades set up by Jiangxi police (HK Free Press, March 27). The police barricades were presumably ordered by Jiangxi officials—acting in apparent contravention of official national policy—who were fearful that an influx of people from Hubei could once more spread COVID-19 infections. This likely revealed skepticism on the part of regional officials towards the central government's message that the epidemic has been contained in Hubei. It also revealed issues of fear and discrimination against Hubei persons on the part of Chinese from other provinces, a problem acknowledged in official PRC press outlets (China Daily, March 30).
The March 27 incident provided a dramatic example of the sort of social unrest that Chinese Communist Party (CCP) officials have clearly feared could materialize in the wake of the COVID-19 pandemic, which has resulted in tens of thousands of deaths inside China and across the globe. [1] Hubei citizens have been subject to harsh conditions under government quarantines, resulting in a steady build-up of popular anger (China Brief, April 1). This incident may not be the last of its type to emerge as a result of the pandemic, and the CCP has taken active steps over the past two months to reinforce political indoctrination for local police agencies—thereby attempting to ensure that police officers will remain loyal to the ruling party in the event of any major incidents that might threaten "social order and stability" (社会治安稳定, shehui zhi'an wending) in the country.
Intensified Propaganda and Political Loyalty Indoctrination Directed at Chinese Police
Since at least early February, PRC local government and state media outlets have emphasized consistent themes that, amid the ongoing pandemic crisis, Chinese police must "maintain a high-level sense of political responsibility" (baochi gaodu de zhengzhi zerengan / 保持高度的政治责任感)一thinly coded language for loyalty to the ruling CCP. Police have been further advised to "keep a steadfast political position [and] maintain a high level of uniformity with the Party center" (有坚定的政治立场,时刻同党中央保持高度的一致 / you jianding de zhangzhi lichang, shike tong dang zhongyang baochi gaodu de yizhi). These exhortations also frequently involve the message "Don't Forget [Our] Original Purpose, Keep Firmly in Mind the Historical Mission" (不忘初心, 牢记使命 / bu wang chuxin, laoji shiming), a slogan closely associated with CCP General Secretary Xi Jinping since it was unveiled last year (China Brief, July 31, 2019).
Specific illustrations of this trend, drawn from media coverage of the Public Security Bureaus (公安局, Gong An Ju) in three different regions of the country, are provided in the examples below. The themes (and often, specific use of phrasing) are broadly consistent among these examples, suggesting higher-level direction for a propaganda campaign intended to reinforce police loyalty to the CCP. These examples also extend to regions far beyond the pandemic's epicenter in Hubei, indicating that CCP authorities are concerned for bolstering the political indoctrination of police agencies nationwide.
Xinghe County (兴和县), Inner Mongolia
Reporting on the Public Security Bureau in Xinghe County (Inner Mongolia) indicates that "in epidemic prevention work the first matter is the political mission (政治任务, zhengzhi renwu), keeping to one's post, combating the epidemic, preventing dangers [and] ensuring public security and promoting stability." Both the regular People's Police (民警, min jing) and the Auxiliary Police (辅警, fu jing) were praised for "maintaining a high sense of political responsibility [and] sense of the historical mission." Per this account, the Xinghe police were so dedicated in their loyalty to the CCP that, alongside their other responsibilities, they "especially talked politics" (特别讲政治, tebie jiang zhengzhi) while manning security checkpoints established for the purpose of epidemic control (Peng Pai News, February 2).
Zhumadian City (驻马店市), Henan Province
A press account from Henan Province provides a heroic account of Guo Yuanzhe (郭元哲), a political instructor with the Public Security Bureau in Zhumadian (驻马店) City, Henan Province. Guo is praised as a model police official and Party member, who is both tireless in his work on behalf of the public, and absolutely loyal to the central CCP leadership. Per this account, once the epidemic broke out, Guo "energetically answered the call to raise high the Party's flag on the front line of the epidemic prevention battle." To this end, Guo helped to organize "Party member shock troop teams" (党员突击队, dangyuan tujidui) to disinfect suspected contaminated areas. Guo also worked to inspire fellow CCP members among the police by organizing lectures to emphasize that his colleagues "must resolutely bring into play the party organization fortress combat functions, and set forth party members as a model vanguard" amid counter-epidemic operations (Henan Xinyu Wang, March 30).
Qingyang District (青羊区), Chengdu City (成都市), Sichuan Province
Another account is provided by the civil government of Qingyang District in the city of Chengdu. In addition to the standard calls for police to display a "high-level sense of political responsibility" and to "strengthen political consciousness" (强化政治意识, qianghua zhengzhi yishi), police are advised that "Party leadership must run through epidemic control work from beginning to end" (把党的领导贯穿疫情防控工作始终, ba dang de lingdao guanchuan yiqing fangkong gongzuo shizhong). Both the practical and ideological work of the police should be merged, in order to "combine together the deployment of political thought work with prevention and control duties."
Per this reference, police should also view the epidemic crisis as an opportunity to strengthen both Party organizations and "wartime political thought work" (战时思想政治工作, zhanshi sixiang zhengzhi gongzuo). The police should "build the combat fortress of party organizations on the front line of epidemic control work," while party cadres should serve as examples to the public. The epidemic also provides an opportunity to build the CCP's image: "propaganda follows in the footsteps of the police, [and] propaganda follows the circumstances of the battlefield" (Qingyang District Government, February 19).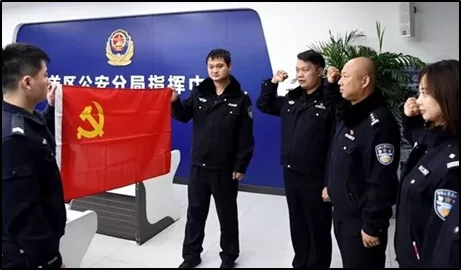 Conclusion
Even in the most settled of circumstances, "social stability" is a cornerstone concern for the CCP. Aside from its human toll, the ongoing COVID-19 pandemic has disrupted normal life across vast regions of China, severely damaged the economy, and created a crisis of governance for the CCP central leadership centered around Xi Jinping. As the CCP's first line of defense against social unrest (with the heavier paramilitary People's Armed Police in reserve behind them), local police agencies are naturally a focus of attention for the CCP authorities at a time when the prospects for social unrest are greater than ever. As both Chinese citizens and CCP officials seek to cope with the fallout of the pandemic, the Party is likely to grow ever-more insistent in its calls for police to maintain the proper "political position."
Notes
[1] As of April 12, figures gathered by the Johns-Hopkins University Coronavirus Resource Center indicated that over 114,000 persons had died from the disease worldwide—to include, per official PRC statistics, 3,343 persons in China (Johns-Hopkins CRC, XX). However, the official PRC statistics have been widely suspected of being vastly underreported, in terms of both cases of infection and fatalities (Reuters, February 5; NY Times, April 2).
John Dotson is the editor of China Brief. For any comments, queries, or submissions, feel free to reach out to him at: [email protected].