Estemirova Murder: a Sign of Thinly-Disguised Totalitarianism in the North Caucasus
Publication: Eurasia Daily Monitor Volume: 6 Issue: 139
By: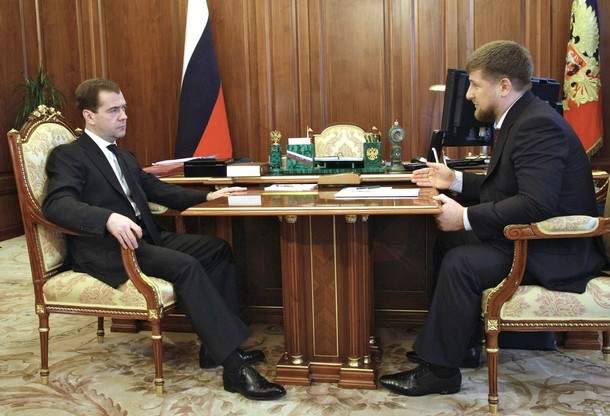 On July 18, the renowned human rights center Memorial announced the suspension of its activities in Chechnya, following the murder of its activist Natalya Estemirova on July 15. Estemirova was kidnapped in Grozny near her home and found dead in neighboring Ingushetia later on the same day. Memorial's leadership, as well as most observers, believe that the Chechen President Ramzan Kadyrov is to blame for her murder (www.kavkaz-uzel.ru, July 18; EDM, July 16). Kadyrov vigorously denied his involvement, telephoning the head of Memorial Oleg Orlov and remonstrating against the accusations Orlov had made earlier (www.kavkaz-uzel.ru, July 16; EDM, July 17). The police have accepted Kadyrov's request that Orlov be criminally investigated on charges of libel (Ekho Moskvy, July 20).
Chechen rights activist and journalist Natalya Estemirova was a close ally of the well-known Russian journalist Anna Politkovskaya, who was murdered in 2006, and the human rights lawyer Stanislav Markelov, who was murdered earlier this year. In the words of their fellow journalist and commentator Yulia Latynina, following Estemirova's death there will no longer be alternative information competing with state-sponsored news coming from Chechnya (Ekho Moskvy, July 18).
The increasing trend of shutting down all possible sources of independent information from the region can be seen in most of the republics of the North Caucasus in the past year. It appears as if the Russian security services are out to impose a regional version of total control of the media in the restive North Caucasus.
Shortly before her death, Estemirova was reporting on extra-legal murders by local police in Chechnya, the denial of civil rights of members of insurgents' families and authorities' attacks on relatives of insurgents. Estemirova was the first to report the rise in the number of kidnappings after Moscow dropped the special counter-terrorism operation regime in Chechnya in April 2009.
Even though President Dmitry Medvedev made a strong statement condemning the criminal perpetrators and urging the police to find them (RIA Novosti, July 15), few observers give this statement much weight, since the previous similar murders have not been seriously investigated. When Anna Politkovskaya was killed in Moscow, then President Vladimir Putin famously stated that the award-winning journalist, who reported on human rights abuses in Chechnya, "brought more damage to Russia by her death, than by her work" (www.polit.ru, October 11, 2006). There is no reason to believe that Putin's view of rights activists has changed since then or that his grip on power in Russia has loosened. So the killing of the latest famous human rights activist who focused on Chechnya does not deviate from Russian state policy in recent years. However, it indicates that the Kremlin intends to put even tighter control on the flow of information from the North Caucasus.
It is important to answer the question of who exactly killed Natalya Estemirova, but it was Moscow that created the present political system in Chechnya. Whether Kadyrov indulges in the crimes or the Russian security services perpetrate them under the guise of Kadyrov, it is ultimately Russia's leadership that is responsible for what is going on in the region. Kadyrov, in this respect, is an invaluable asset for the Russians, because they can always point to him as an example of a "savage Chechen," a necessary small evil that has little to do with them, but at the same time successfully carries out Moscow's dirty work or is used as a shield.
The imposition of abusive restrictions on the media has been evident across the North Caucasus. Since August of last year, the leading Dagestani opposition paper Chernovik and its staff have been under increasing official pressure to stop working. The owner of the Ingush independent website Ingushetia.org Magomed Yevloev was killed while in police custody in August of last year. Miloslav Bitokov, the editor-in-chief of the independent paper Gazeta Yuga, published in Nalchik, Kabardino-Balkaria, was beaten up in September 2008. More recently – in May – the editor-in-chief of the only independent newspaper in North Ossetia Badri Gazzati was arrested on charges of illegal business activities. Also, in the summer of 2008, the aforementioned Natalya Estemirova was forced to leave Grozny because of Kadyrov's threats. The remaining republics of North Caucasus, like Karachaevo-Cherkessia and Adygeya, already have a very feeble media, so there has no need to suppress anyone.
Whether it is a Moscow-orchestrated campaign or a chain of coincidental local developments is unimportant in this case. As is the case with the Moscow-promoted climate of restrictions of political and personal freedoms and increasing state control over public life, control over information is the logical finale of the emerging new order.
It is important for policymakers and experts to understand that even though the situation in the North Caucasus depends very much on what is going on in Moscow, the region de facto is already a different territory, with rules of behavior distinctly different from the rest of Russia. The North Caucasus is a no man's land for journalists and rights activists in which the Kremlin's cliques exercise overwhelming control over the flow of information. This means that the North Caucasus in practice should be treated as a territory under totalitarian state control. Even though Russia as a whole still cannot be referred to as a totalitarian state, the North Caucasus is already there – a relatively new development in the territory's recent past.