Export of Ukrainian Grain Through Seaports: Opportunities and Risks
Publication: Eurasia Daily Monitor Volume: 19 Issue: 114
By: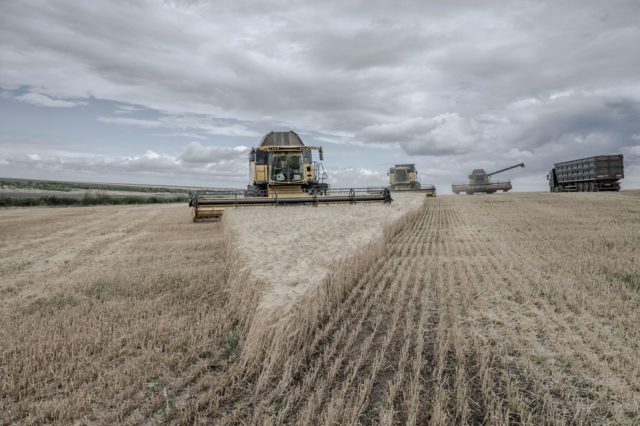 On July 22, Ukrainian representatives signed the Initiative on Safe Transportation of Grain and Food Products from Ukrainian Ports with Turkey and the United Nations secretary-general in Istanbul (Pravda.com.ua, July 22). Ukraine's agreement was concluded with Ankara and the UN, but not with Moscow, and provides for grain transportation from three Ukrainian Black Sea seaports—Odesa, Chornomorsk and Pivdennyi—for 120 days with the possibility of extension. Russia, represented by Defense Minister Sergei Shoigu, signed a similar, but separate, agreement. The Kremlin signed its respective accord with Turkey and the UN before Kyiv signed its initiative.
Taking into account global demand for Ukrainian agricultural products, the agreement`s implementation will allow Ukraine to export up to 5 million tons of grain from last year's harvest every month. Together with the Rhine-Danube Corridor, as well as rail and road transportation, this will push Ukraine's monthly grain exports to about 8 million tons (see EDM, July 25). Unblocking the seaports will allow grain-owning companies to receive income and avoid the risk of bankruptcy, which in turn will ensure the sowing of winter wheat this fall and will free up the silos where last year's grain is currently being stored (Kmu.gov.ua, July 22). Russia received a partial relaxation of certain restrictions from the European Union; yet, at the same time, Moscow's agreement does not provide for an easing of Western sanctions. Indeed, Russia will still have to deal with high prices for cargo and shipping vessel insurance, as well as potential logistical problems at sea and on railways.
From a military point of view, Ukraine's agreement signals a breakthrough in the naval blockade of Ukraine, which has been an instrument of Russian military aggression and economic conflict against Kyiv. The accord stresses that "all activities in Ukrainian territorial waters will be carried out under the authority and responsibility of Ukraine." Accordingly, Kyiv announced that the entry and exit of vessels to the indicated seaports will be carried out by caravan, which will be accompanied by a lead ship (Kmu.gov.ua, July 25). Meanwhile, the Russian side agreed that its warships, drones and aircraft will not be allowed to approach merchant vessels (Pravda.com.ua, July 22).
Will Moscow follow the letter and spirit of its signed agreement? This is a rhetorical question, as the very next day after the grain agreement was signed, Russia carried out a cynical missile attack on the Port of Odesa (UNIAN, July 23). What were the possible motives for such aggressive action when, according to the logic of international law, Moscow should have avoided it? Perhaps this happened due to irritation in the Kremlin regarding its failure to insert a ceasefire into the agreement during the Istanbul meetings, which was not included based on pushback from Kyiv (Blackseanews.net, July 26).
Another motive could be that Russia would benefit from high grain prices. And the export of Ukrainian grain will seriously knock down those prices. Therefore, it is important for the Kremlin that Ukrainian grain remains expensive. Thus, the missile strike may have been aimed at raising Ukrainian grain transportation prices due to increased risks (Glavcom.ua, July 24). But generally, it evidences that Russia should not be trusted in giving any kind of guarantee (Ua.korrespondent.net, July 21).
Given this, it is likely that Russian provocations and manipulations will continue against Ukrainian grain, because the Kremlin traditionally gravitates toward revanchist strategies with accompanying manipulation and games of "whip and gingerbread" (i.e. "carrot and stick"). At the same time, Russian President Vladimir Putin will try to shift blame for disruptions of transportation to the Ukrainian side, accusing Kyiv of inconsistency and unpredictability. Since the Russians will "allegedly" fulfill all the conditions of their agreement, according to Moscow's logic, this may contribute to the easing of sanctions and trigger Ukraine's compliance in future negotiations on the Kremlin's terms (24tv.ua, July 24). In this context, it is important to note the following regarding the signed initiative (Epravda.com.ua, July 23):
Its purpose was determined not to guarantee the overall safety of navigation but only to promote safe navigation for grain exports, which assumes the goodwill of all signing parties—something the Kremlin does not seem to possess, especially vis-à-vis Kyiv.
No mechanisms are in place for determining the "maritime humanitarian corridor" for grain vessels, as well as the demining of port approaches by a third-party minesweeper if necessary. Both issues are subject to an agreement by all parties within the framework of the Joint Coordination Center, which runs the risk of the Russian side slowing down and blocking negotiations.
It was emphasized that "the parties will not carry out any attacks on merchant and other civilian vessels and port facilities participating in this initiative." This creates room for the Kremlin's manipulation to justify Russian attacks against the ports and port cities of Ukraine, as port facilities are only a small part of these entities. The statement by the Russian foreign minister that the missile attack on the Port of Odesa "does not contradict" the grain agreement indicates that the Kremlin is actively thinking along these terms (ua, July 25).
Finally, the fact that the UN secretary-general signed this agreement in no way means that the UN bears legal obligations to Ukraine or Russia, as stated in the document itself. The secretary-general is simply an intermediary who proposed such an initiative. It is crucial to not forget that, from the beginning of these negotiations and the war in general, Moscow did not want the UN, namely the secretary-general, to be involved in the resolution, because the Kremlin did not want the Russian Federation to be recognized as an aggressor by a global institution. Therefore, this document is not an internationally binding treaty—it is only a situational political agreement. As such, the accord will not be submitted to the UN Secretariat (where it could become internationally binding). And it will not be ratified, as it would be under other circumstances, by the Verkhovna Rada (Ukrainian parliament) (Lb.ua, July 22).
In sum, although the signing of the agreement created a temporary political space for solving the problem of grain transportation, it by no means reduced the risks and threats of future aggressive actions from Russia. Thus, Ukraine should keep the needed gunpowder dry, as emphasized by Mykhailo Podolyak, adviser to the head of Ukraine`s Presidential Office. And as Podolyak has stressed, Ukraine will not weaken the security regime in the Black Sea, as Kyiv's distrust of Moscow continues to grow (Ukrinform, July 21).