External and Internal Factors of Belarus's Political Dynamics
Publication: Eurasia Daily Monitor Volume: 20 Issue: 88
By: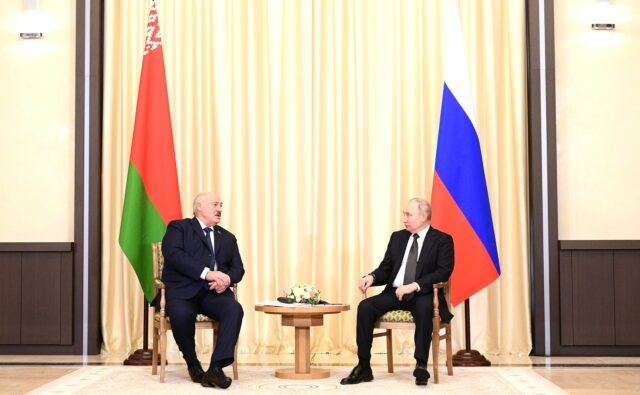 Belarus's hyper-dependency on multifaceted external factors and the role of the Russo-Ukrainian war in increasing this dependency has been further confirmed by three recent events (see EDM, April 26). First, Roman Protasevich, the former operator of the "NEXTA" Telegram channel, was recently acquitted by Belarusian President Alyaksandr Lukashenka. Headquartered in nearby Poland, NEXTA played a key role in directing post-election protest rallies in Minsk following the August 2020 presidential elections and was otherwise active in anti-regime activity. In this regard, Protasevich was seemingly effective in getting under Lukashenka's skin. So much so that, on May 23, 2021, the Ryanair flight from Athens to Vilnius with Protasevich and his then-girlfriend, Sofia Sapega, on board was forced to make an emergency landing in Minsk for the purpose of apprehending both (see EDM, May 24, 2021).
Protasevich then turned on his Western interlocutors and began cooperating with the Belarusian authorities. He provided ample information on his erstwhile comrades-in-arms and gave extensive penitential and regime-friendly interviews on Belarusian state television (YouTube, June 8, 2021; YouTube, August 4, 2022). Due to his willingness to cooperate, Protasevich did not spend time behind bars, but rather was put under house arrest. In April 2022, the Belarusian Supreme Court labeled NEXTA a terrorist organization. More recently, on May 3, two other NEXTA operators, Stepan Putilo and Ian Rudik, were sentenced in absentia to 20 and 19 years, respectively, in prison—whereas Protasevich only received an eight-year sentence in recognition of his willful cooperation with Belarusian law enforcement (Gazeta.ru, May 3). On May 22, Protasevich was then acquitted by Lukashenka, which unleashed an avalanche of interpretations in the exiled opposition media.
According to Artyom Shraibman, who himself was implicated by Protasevich in his first televised interview and thus prompted to leave the country, negative incentives for cooperation with the Belarusian authorities, such as keeping prisoners under harsh conditions, are being supplemented with positive incentives; Protasevich's acquittal confirms that (T.me/Shraibman, May 22). Shraibman also opined that the situation with Andrzej Poczobut, a journalist and an activist of the unrecognized (by the authorities) Union of Poles in Belarus, is qualitatively different, as Warsaw reportedly offered to reopen one of the closed border crossings with Belarus for his release. However, Poczobut has shown himself to be intransigent, and making concessions under Western pressure to open the border would mean losing face for Lukashenka (NashaNiva, May 22)—an outcome quite different from Protasevich's case, which Minsk unquestionably deems a success.
The second event that has unleashed a massive political response—from Lukashenka, Russian presidential spokesman Dmitry Peskov and sundry commentators—was the May 24 pronouncement by General Waldemar Skrzypczak, former commander of the Polish Land Forces, who said Poland should prepare for an uprising against Lukashenka in Belarus. He added that Poland should support the pro-Ukrainian Belarusian military formations, such as the Kalinowski battalion, which, according to the Polish general, will turn to Belarus once Ukraine is liberated (Ukrainska Pravda, May 24)
Curiously, the most restrained response belongs to Alexander Shpakovsky, an ardent pro-Lukashenka activist with a significant social media following. According to Shpakovsky, statements from Skrzypczak about Poland's readiness to support an "armed uprising in Belarus" are a trial balloon to assess the subsequent reactions. The pro-Lukashenka figure stated, "At present, there are no prerequisites for an 'armed uprising' in the country. Even a faint effort by extremists, if some of them decide to crawl out of the woodwork, will be thwarted within five minutes" (Facebook.com/AlexanderShpakovsky, May 25). The style of this response departs from that of Peskov, Putin's spokesman, according to whom "Poland is a hostile state for us. … Unfortunately, the Polish leadership is now literally going into hysterics of Russophobia" (Gazeta.ru, May 24). For Lukashenka, Skrzypczak's pronouncement was a confirmation of Poland's long-nurtured ambitions: "We are ready, bring them on," uttered the Belarusian president in response (SB, May 25).
Finally, the Belarusian-Russian agreement about transferring tactical nuclear missiles to a storage facility in Belarus is apparently being implemented, as stated by Lukashenka in a response to a Russian journalist just minutes before the May 24 meeting of the Eurasian Economic Council in Moscow (T.me/pul_1, May 25). Besides the leaders of Russia, Belarus, Kazakhstan, Kyrgyzstan and Armenia (all members of the Eurasian Economic Union [EEU]), Azerbaijani President Ilham Aliyev also participated in person, and two more leaders, Shavkat Mirziyoyev of Uzbekistan and Emomali Rahmon of Tajikistan, participated virtually. Kazakhstani President Kassym-Jomart Tokayev's speech during the open part of the meeting led some observers to believe he was trolling the Union State of Russia and Belarus (Facebook.com/YuryDrakakhrurst, May 25) by calling attention to two levels of integration within the EEU and the uncertainties associated with it. On the subject, Tokayev declared, "Excuse me, even nuclear weaponry is shared by them" as well as "a single political, legal, military, economic, currency, cultural, and humanitarian space, with a single union government, with a single union parliament" (Forbez.kz, May 24).
These three instances of external influences affecting Belarus have been accompanied by at least two homegrown phenomena. First, according to the leading economists from among the exiled opposition, the Belarusian economy is adapting to Western sanctions. In April 2023, "the gross domestic product of Belarus increased by 4 percent compared to the same month last year and by 0.8–0.9 percent compared to March 2023." Moreover, the positive dynamics have come about due to "an increase in the export of potash, vehicles and, possibly, the operation of schemes for the re-export of goods to Russia via Belarus" (Svaboda, May 22). That is, the disruptions caused by the closure of the Lithuanian Port of Klaipeda to Belarus have largely been overcome.
Second, repressions against regime-hostile elements continue unabated. Most recently, a sociology department chair from Mogilev State University received a two-year sentence for "insulting Lukashenka" (Reform.by, May 27). A well-known tutor, who engaged in the preparation of applicants for the college entrance exam, received a three-year community service sentence for participating in the opposition's coordination center in 2020 (Sputnik.by, May 25). And the cell phone application of a publication labeled "extremist" may be enough grounds for initiating a criminal investigation.
According to the European Union, the purpose of the West's sanctions regime is "to pressure the Belarusian political leadership to prevent further violence and repression, to release all political prisoners and other unjustly detained people, and to initiate a genuine and inclusive national dialogue with broader society" (Consilium.europa.eu, February 27). Given the current situation, it may require an unusually stubborn and irrational believer to accept that sanctions are working.