Facing Grain Shortfalls, China Asserts Self-Sufficiency Policy
Publication: China Brief Volume: 14 Issue: 7
By: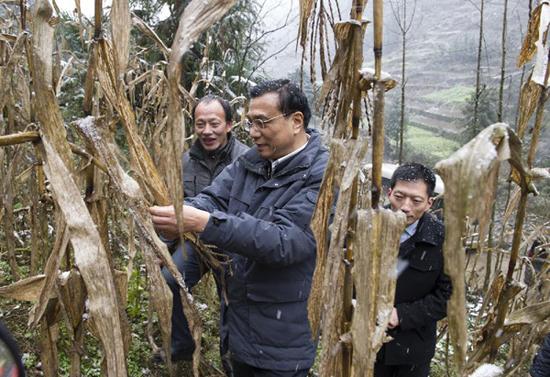 Demand for food in China is increasing at an unprecedented rate, as the Chinese become wealthier. In 2011, China became a net importer of rice, and imports of soybeans overtook domestic production in 2004. Changing Chinese appetites for grains and meats coupled with losses of farmland to urbanization, pollution and desertification mean that China will need to look abroad for an increasing share of its grain, likely resulting in increased commodity prices world-wide, and thus to changes to trade balances between China and the rest of the world.
China has, through its demand for food, water, and other resources, become the single most important factor in the structure of global markets, and food imports into China will likely result in price rises and other reverberations in global markets. China is the largest producer of agricultural products in the world, primarily producing pork, rice, wheat, potatoes, sorghum, peanuts, tea, millet, barley, cotton, oilseed and fish. Although accounting for only 10% of arable land worldwide, it produces food for 20% of the world's population. Thus, it may seem like good news that the most recent comprehensive survey of national land use in China has reported a healthy surplus. Some 135 million hectares of the country are classed as planted with crops, including rice paddy fields, irrigable land and dry farms. Simultaneously, total grains production hit a record 602 million tons in 2013, after a decade of continuous growth (NewsChina, April 10, 2014). But the true picture may be worse than these numbers suggest.
The Lianghui and Subsequent Developments
As the Lianghui (two meetings—the National People's Congress (NPC) and the Chinese People's Political Consultative Congress (CPPCC)) approached in March, the State Council announced some major developments: The Circular of the General Office of the State Council on Printing issued the Outline for the Development of Food and Nutrition in China (2014–2020) and the Outline for the Development of Food and Nutrition in China (2014–2020) (Guo Ban Fa [2014] no. 3, January 28). The agenda for the NPC sessions included the government work report, implementation of the annual plan on economic and social development in 2013, a draft plan on national economic and social development in 2014 and budget documents released by the Ministry of Finance (MoF).
The 2013 report and 2014 draft plan on economic and social development address major issues of concern related to food and water security. Land reform is one example: According to the National Development and Reform Commission (NDRC), "We basically completed the work of determining, registering and certifying rural collective land ownership nationwide and extended the trials of determining and registering contracted rural land-use rights to 105 counties, county-level cities and districts" (NRDC report, March 5). In addition, Premier Li Keqiang, in his 100 minute-long Work Report, declared a "war on pollution." The MoF budget also included details on money spent and money to be spent on agricultural projects, including combating pollution.
On March 26, NDRC secretary general Li Pumin announced that the central government's 2014 budget for investment in agriculture would reach RMB 220 billion ($35 billion): More than 50% of total domestic investment (SAA, March 31). Analysts, such as Smart Agriculture Analytics (SAA), are now predicting that China's largest agribusinesses will see record-setting growth in profits of 30–50% this year. These companies have better access to government funding, higher capacities for managing large-scale government projects and established reputations, so they are most likely to benefit from subsidies and win government contracts. Secretary Li also addressed water issues, noting that in the 2014 budget RMB 70bn ($11 billion) is devoted to installation of water-conserving irrigation systems, upgrades to existing outdated facilities and cleanup of water resources. This high-level interest reflects the importance of the issues, but investments and attention do not guarantee that problems will be solved. Indeed, the challenges remain daunting.
Food Self-Sufficiency
Grain self-sufficiency has been a goal of the Chinese state since antiquity, enshrined by the PRC with Mao Zedong's self-sufficiency (zili gengsheng) policy. It was important even during times when the staple food, generally rice, was seldom supplemented by meat or even by eggs and milk. But the impact of a growing middle class population, and demand for eggs, milk and meat, has made this goal significantly more difficult to achieve.
Late last year, the Central Rural Work Conference said that China would adhere to the principle of self-sufficiency based on domestic production capacity, moderate imports and national scientific and technological support of food security strategies (China Daily, December 25, 2013). In mid-February, the deputy director of the Development Planning Department of the Ministry of Agriculture denied a Financial Times report that China had abandoned the policy of self-sufficiency. He promised that by continuously enhancing overall grain production China would ensure that the domestic food supply and demand situation would remain stable, with a bottom line quantity of 550 million tons (China Economic Net, February 19). These figures were based on the agricultural plan released by the State Council on January 28 (Guo Ban Fa [2014] no. 3, January 28).
Beijing's commitment to this issue is doubtless real, but the degradation of China's farm land and the growing demands of a more prosperous population mean that these goals are unlikely to succeed. At the most basic level, plants need water, sunlight and soil to grow. As Beijing recognizes, continued environmental degradation has made much of China's land and water unable to support agriculture. Chinese researchers have even suggested that smog threatens agriculture by blocking sunlight (South China Morning Post [SCMP], February 25).
In a December press briefing, Land and Resources Vice Minister Wang Shiyuan said that nearly 3.33 million hectares (eight million acres) of Chinese farmland had been declared too polluted to sustain farming (China Daily, December 31, 2013). Wang noted that this represents nearly 2% of the country's arable land. China's most recent arable land survey counted about 135.4 million hectares (334.6 million acres) of farmland—but after removing from that count land reserved for "forest and pasture restoration" as well as land too polluted for crop-growing, the "actual available arable land was just slightly above the government's red-line" of 120 million hectares (296 million acres) of usable farm land (Xinhua, December 31, 2013).
Grain Imports
To cope with the heightened demand and falling domestic production, Beijing has in recent years been attempting to secure sources of food by investing in food assets overseas and buying farms in agricultural regions like Latin America and Eastern Europe.
China's shift to a protein-rich diet is clearly changing global trade flows (SCMP, February 19). For instance, China is already the world's largest consumer of corn, and its rising food demands have turned the nation from being a net exporter of corn three years ago to the world's fifth-largest importer, according to financial-services firm Rabobank. China imported record volumes of corn in December 2013, with the United States accounting for a still-dominant but declining share of shipments to the massive grain market as imports from other countries rise. (China Daily, December 11, 2013).
To address the problem of grain demand, Beijing is going beyond straightforward imports of wheat and corn. In late February it was announced that Chinese state-owned food giant COFCO Corp. is buying a 51% stake in Nidera NV, a major grain trader. Some analysis has suggested this is a bid for better access to major grain-growing regions as Beijing tries to feed its increasingly wealthy citizens. Food industry observers can expect further acquisitions of this kind in the future as Chinese companies continue seeking business opportunities that will give them more direct access to agricultural producers.
In addition to grain shortfalls, Chinese food imports can also be driven by water shortages. Although there is very little direct international trade in water as a commodity, trade of grain and other foodstuffs serves as something of a proxy for water trade, given water's role as a factor of production in agriculture. In this way, when China imports grain it is also importing the embedded water required to grow it and freeing up water in China for other uses. China is already a relatively water-poor country in terms of freshwater per capita, and the pollution issues discussed above only exacerbate this problem. Going forward, we can expect grain and food imports from water-rich countries to be part of the solution as China grapples with water shortages that will likely grow in intensity.
Contradictions with Respect to GM foods
While heartier and more productive crop strains are obviously a necessary part of enabling China to grow more food on a shrinking base of arable land, the PRC's behavior has been contradictory with regard to genetically modified (GM) foods.
On the one hand, China has resisted the import of many genetically modified foods. On March 2, China Daily reported that since last October China has returned 887,000 tons of U.S. corn shipments tainted with a GM strain not approved by the country's agriculture ministry. The corn shipments were found to contain unapproved MIR162, a strain of insect-resistant transgenic corn. There have also been issues with imported GM rapeseed oil (China Daily, March 2).
At the same time, however, Chinese companies have also been implicated in the theft of intellectual property from U.S. agricultural companies, including the theft of GM strains. This industrial espionage suggests the possibility that China is interested in introducing GM strains to its own agriculture.
U.S. federal prosecutors have alleged that two groups of Chinese nationals separately conspired over several years to steal advanced seeds from U.S. companies. The charges, filed in U.S. courts in Des Moines, Iowa and Kansas City, Kansas, outline efforts by the Chinese nationals to target DuPont Co., Monsanto Co. and Ventria Bioscience Inc., according to court documents and industry officials. In one case, an employee of a Chinese seed company was discovered on a seed test farm in Iowa and a few months later was observed near a separate seed test farm, a court filing said. The complaints cite Chinese citizens living in the United States and elsewhere but do not allege involvement by the Chinese government. [1]
While the Chinese state has not been officially implicated, the facts of the case suggests that the defendants were tied to the government. Both defendants made trips to China, where U.S. authorities allege they discussed research they had performed in the United States with Chinese scientists. The men then arranged for a group from the Chinese Academy of Agricultural Science and the Crop Research Institute in China to travel to the United States last year.
Most recently, at the Lianghui, Minister of Agriculture Han Changfu said that genetically modified food is safe to eat. His statement is the most public effort yet to dispel doubts on GM produce (SCMP, March 7). It points toward a likely future wherein China tries to use GM crops as part of an agricultural modernization program aimed at addressing domestic food shortages. But if Beijing is behind the theft of intellectual property in this space, this plan puts China and the United States on a collision course over who owns the crops being grown.
Conclusion
China's leaders continue to place great emphasis on the ability to maintain a surplus in domestic food production, especially of rice and other cereal grains. On the other hand, the combination of China's growing population, shrinking productive land (due to urbanization, desertification, water shortages and pollution) and increasingly meat-heavy diet make food self sufficiency less and less possible as time goes on.
While maintaining domestic food independence could be possible for China, it would require the government to impose changes that it is likely unwilling or unable to execute. As a result, we should expect China to become a more significant importer of foodstuffs, from grain to meat to processed foods. This will have a significant impact on world food markets, possibly similar to the worldwide increase in base metal prices over the past decade. Precisely how these effects are felt will depend on how China enters the markets for particular commodities and whether the CCP and Chinese companies play by existing rules or seek to change the structure of the marketplace.
The implications for U.S. agricultural and export policies are manifold. For example, China recently announced that it will continue to ban imports of U.S. beef until it can have greater assurances that it is safe (China Daily, March 11). And with strictures in place vis á vis GM, U.S. exporters face limits on access to the Chinese market. China seems willing to negotiate over these differences, which will open its markets more fully to U.S. imports. But moves toward diversifying sources of imports will also reduce China's reliance on the United States.
The effects in China are also profound. Current levels of air, water and soil pollution in China are unsustainable, and food and water security requirements mean that all forms of pollution must be addressed. Although Premier Li announced a "war on pollution" in his Work Report at the Lianghui, this militant language must be backed up by concrete action by the government and the Party if the food needs of China's people are to be met.
Notes
Complaint at 3, U.S. v. Mo Hailong, No. 4:13-cr-00147-RP-CFB (S.D. Iowa. Dec. 10, 2013), ECF No. 1.