FOOTPRINTS FROM THE NORTH IN CENTRAL ASIA AND AFGHANISTAN
Publication: Eurasia Daily Monitor Volume: 2 Issue: 190
By: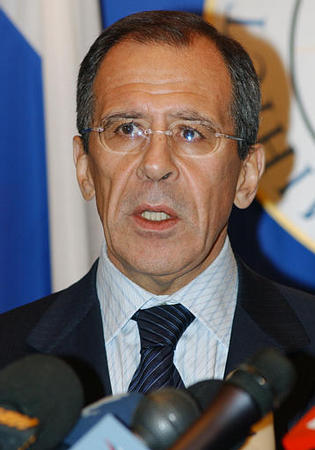 Amid politically correct disclaimers of any intent to compete with the United States in Central Asia, Moscow is multiplying its efforts to capitalize on Washington's recent difficulties in the region.
Minister of Foreign Affairs Sergei Lavrov and other Russian officials are criticizing U.S. and the EU sanctions against Uzbekistan with arguments that resonate in that country and region-wide. They call for "solving problems through dialogue instead of sanctions," caution that "it is a mistake to put pressure on countries," and — an argument designed not only for Tashkent's consumption — underscore the fact that the Andijan rebellion was a planned terrorist operation (Interfax, Itar-Tass, October 5-10).
Moscow is also moving to offer some economic incentives to Uzbekistan. The long-dormant Russia-Uzbekistan intergovernmental commission for economic cooperation met on October 9-11 in Tashkent. According to the co-chairmen, Russian Federal Industry Agency (Rosprom) chief Boris Alyoshin and Uzbek Deputy Prime Minister Otkir Sultanov, the bilateral trade turnover is set to exceed $2 billion in 2005, an increase of almost 40% over the 2004 level.
The commission's meeting discussed one of Uzbek President Islam Karimov's pet projects: overhauling the Soviet-era Chkalov Aviation Plant (near Tashkent). The plant produces Il-76 heavy transport planes, Il-114 passenger jets, and wings for the Russian-Ukrainian co-produced AN-70 plane. The sides consider turning the plant into an Uzbek-Russian joint venture. The commission also reviewed recent progress on gas and oil field development in Uzbekistan by Gazprom and Lukoil, respectively. Gazprom and Uzbekneftegaz recently signed an agreement that pre-commits Uzbekistan's entire transit pipeline capacity in 2006-2010 for exclusive use by Gazprom (Interfax, Uzbek Television Channel One, October 10, 11; see EDM, September 28).
Russia's Security Council Deputy Secretary Yuri Zubakov paid a visit to Kyrgyzstan on October 5-6, just ahead of U.S. Secretary of State Condoleezza Rice's visit. Zubakov, an admiral from naval intelligence and former top aide to Yevgeny Primakov, encouraged Bishkek to demand higher financial compensation from Washington for the coalition's use of the Peter Ganci air base near Manas and also to ask for a deadline on its operation. Zubakov told a news conference in Bishkek, "The United States is currently in a very difficult situation, with [its] people dying in Iraq and Afghanistan. In this situation it is necessary to find a reasonable compromise decision on removing the Peter Ganci base from Kyrgyzstan" (Interfax, Kabar, October 5).
Two days earlier, Prime Minister Felix Kulov had introduced newly appointed Minister of Foreign Affairs Alikbek Jekshenkulov to the ministry's staff with these words: "The ministry should aggressively stop statements by those people who want to damage relations between Kyrgyzstan and Russia" (Kyrgyz Television Channel One, October 3). Kulov and Jekshenkulov did not specify whom they had in mind. Jekshenkulov's appointment is a last-minute solution after the parliament had rejected the nomination of Roza Otunbayeva, an experienced and reputedly pro-American diplomat, to the post of minister.
Moscow has announced the Shanghai Cooperation Organization's intention to create an SCO Contact Group for Afghanistan. The political argument for this initiative is that the U.S.-led coalition's efforts are ineffective in suppressing drug trafficking and terrorism. Through the Contact Group's aegis, the Russian military intends to supply helicopters, all-terrain vehicles, and communications equipment to Afghanistan's army in the coming months. This first tranche of aid is worth $30 million, according to the head of the Russian Defense Ministry's Main Directorate for International Military Cooperation, Col.-General Anatoly Mazurkevich, speaking in the presence of Defense Minister Sergei Ivanov during a visit to Portugal (Itar-Tass, October 9).
Apparently, Moscow intends to use the SCO Contact Group as a channel for Russian re-entry into Afghanistan, militarily and politically. It seems likely that the first batch of non-lethal military equipment can in due course be followed by weapons deliveries. Remaining questions include: whether Moscow would assist the fledgling Afghan army in coordination or in competition with the United States and NATO, and whether Russia would use arms deliveries to play tribal politics in Afghanistan.