In Foreign Policy Pause, Putin Tinkers With Domestic Corruption
Publication: Eurasia Daily Monitor Volume: 13 Issue: 186
By: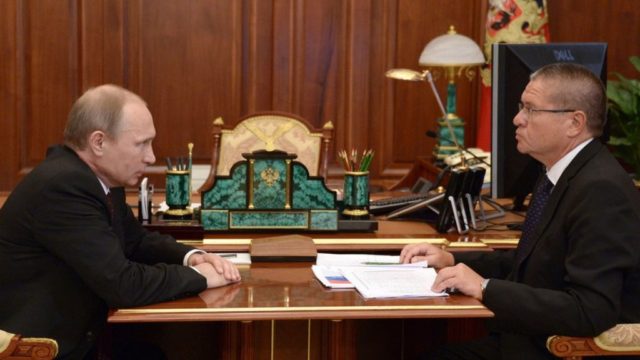 President Vladimir Putin is scheduled, this Thursday, December 1, to deliver his annual address to the Federal Assembly (upper chamber of the Russian parliament)—and he is short on patriotism-boosting success stories in foreign policy. The conflict in Ukraine is not quite frozen, but it is not going anywhere; and while the Kremlin can fret about the Ukraine–European Union summit (held on November 24), Russia itself does not attend such summits with the EU anymore (Nezavisimaya Gazeta, November 25). The intervention in Syria is also in limbo. Putin perhaps assumes that President-elect Donald Trump will be willing to turn a blind eye to the fate of Aleppo. But the current administration in Washington may respond resolutely to any Russian-driven escalation of this humanitarian disaster—and the Trump White House would then be obliged to follow up. Russia's aircraft carrier Admiral Kuznetsov will have to return home soon without gaining any glory and after having lost one MiG-29K fighter due to technical failure (Gazeta.ru, November 21). Russia's "pivot" to Asia, meanwhile, has not shown any tangible successes, and Putin was not exactly thrilled by his interaction with the Philippines' President Rodrigo Duterte at the recent Asia-Pacific Economic Cooperation (APEC) summit in Peru (Kommersant, November 26).
Therefore, domestic matters will have to be prioritized in Putin's address, but it is difficult to strike a positive note here because of the stagnant economy. First Deputy Prime Minister Igor Shuvalov tried to set an optimistic tone by announcing that Russians' incomes have stopped declining, but this wishful assessment departs greatly from the reality of shrinking budgets in the majority of households (Vedomosti, November 25). Indeed, no hard data predicts any kind of return to even feeble growth, and the sustained contraction in investment activity, including by state-owned corporations, signals a lengthy period of stagnation (Moscow Echo, November 25). Russia's only hope is pinned to a rise in oil prices. But despite many provisional promises, Saudi Arabia opted not to meet with Russia this week (November 28) to engage in further vague discussions of symbolic production cuts (RBC, November 25).
The theme that Putin will apparently emphasize is, rather improbably, the struggle against corruption, which has acquired several sharp foci in the last couple of weeks. The most sensational news was the arrest—in the middle of the night—of Alexei Ulyukaev, the minister of economic development (see EDM, November 17). One of the veteran "liberals" in the Russian government, Ulyukaev first took on an official position at the start of the 1990s, as a member of Yegor Gaidar's team of young reformers (Ezhednevny Zhurnal, November 15). Putin confirmed that he had the investigation under control for several months and—to the dismay of mainstream liberals—dismissed Ulyukaev due to "lost confidence" (Grani.ru, November 15). Ulyukaev, nevertheless, denies any wrongdoing and maintains that the alleged bribe of $2 million he purportedly demanded was a setup (Kommersant, November 18). According to surveys, two thirds of the public tends to see this high-profile scandal not as an isolated case but as a manifestation of the total corruption in the system of governance (Levada.ru, November 24). The stream of news on embezzlement in mega-projects—from the Vostochny cosmodrome, in the Far East, to the Zenith stadium, in St. Petersburg (which Putin has recently called a "sad story")—confirms this perception (Meduza.io, November 25).
The most surprising twist in this "crooks against corruption" tale is the arrest of General Gennady Lopyrev, the regional chief of the Federal Protection Service (FSO) in the North Caucasus (Newsru.com, November 25). This most secretive of Russia's special services, which deals with the personal protection of top leadership figures, has never before been the subject of any such investigation. But the retirement, this past May, of its influential chief, Yevgeny Murovhas, apparently exposed the FSO to the vicissitudes of clan struggle (Kommersant, November 26). Last summer, one of the clans inside the mighty but squabble-infested Federal Security Service (FSB) executed a devastating attack on the Investigations Committee and its head, Alexander Bastrykin. Though compromised in his long-time patron Putin's eyes, Bastrykin nevertheless survived (Republic.ru, November 23). However, instead of engaging in careful damage-minimization, Bastrykin and his allies inside the FSB have apparently launched a multi-pronged counter-attack, in which both Lopyrev and Ulyukaev are far-from-innocent casualties (Moskovsky Komsomolets, November 24).
One figure that looms large behind these internecine feuds is Igor Sechin, the boss of the state-owned oil giant Rosneft and Putin's loyal lieutenant from their days striking dubious deals in the office of the mayor of St. Petersburg in the early 1990s. Over the past year, Putin has unceremoniously dumped many old comrades, like Murov, Sergei Ivanov (the former chief of the presidential administration) or Vladimir Yakunin (the ambitious boss of the Russian Railways company). And yet, Sechin's position continues to look invincible. He has managed to recruit a strong faction inside the Federal Security Service, including by hiring Oleg Feoktistov as Rosneft's chief of security and a board member. Feoktistov was earlier expelled from the FSB ranks in the course of a corruption scandal (Novaya Gazeta, November 20). Some experts attribute Ulyukaev's shocking fall to Sechin's rather crude maneuvering aimed at acquiring the oil company Bashneft and postponing Rosneft's privatization (Carnegie.ru, November 18). Yet, this business strategy is not going to improve Rosneft's progressively deteriorating performance, nor will it advance Sechin's influence, because too many members of the siloviki (security services and power ministry personnel) are uniting against him (his gains in the FSB notwithstanding), while his decadent lifestyle is a serious liability (Svoboda.org, November 17).
Putin's new anti-corruption campaign aims to demonstrate that nobody in the huge state bureaucracy is "untouchable"; but this might backfire. The Russian president's decision to take on this massive embezzlement and graft now is hardly a sign of strength. Instead of disciplining his courtiers and henchmen, he has unleashed a new escalatory clan struggle. As such, he faces the risk of losing control over it. A struggle against corruption in the Putinist system of power is a contradiction in terms because the system itself is based on and driven by bureaucratic predation, which has reached a self-destructive intensity in the environment of shrinking petro-revenues. If public anger against this all-penetrating rot finally begins to flourish, he might conclude that another "victory" in the western theater is his only option for continued survival.