Former Kyrgyz President's Arrest: A Litmus Test for Succession Politics
Publication: Eurasia Daily Monitor Volume: 16 Issue: 119
By: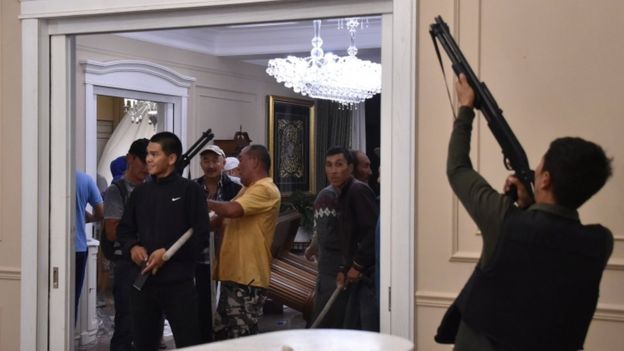 The month of August was unusually busy for Kyrgyzstan. In particular, the country's domestic political scene devolved into a full-blown political crisis on August 8, with the arrest of former president Almazbek Atambayev at his family compound, in the northern village of Koy Tash. The day before, the Kyrgyzstani authorities had sent in special forces (Spetsnaz), whose use is normally reserved for anti-terrorist operations and raids on organized crime (Vb.kg, Aif.kg, August 8).
Despite extensive training and lethal armaments, the Kyrgyzstani special forces were initially repelled by Atambayev's supporters, with several Spetsnaz officers taken hostage. The temporary victory ultimately proved futile, however, as Atambayev surrendered himself to the authorities. According to official accounts, nearly 100 people were injured, some severely, and one law enforcement official succumbed to his wounds in the course of the two-day showdown (Kp.kg, August 9; Fergana News, August 7).
Atambayev, who won the presidency in December 2011, served a full six-year term (Kyrgyzstan's Constitution does not allow the incumbent to stand for reelection) and voluntarily stepped down at the end of 2017. He is currently in custody at a State Committee for National Security (GKNB) facility, in Bishkek. On August 20, his arrest was extended until October 26. The former president and, prior to that, former prime minister has already been charged with several crimes (RIA Novosti, August 20; Rosbalt, August 9).
Atambayev's legal problems began in earnest last April, when his successor's administration reopened an old inquiry into the 2013 fraudulent release from prison of the crime boss Aziz Batukayev. Since then, Atambayev—who leads the Social-Democratic Party of Kyrgyzstan (SDPK), which he helped co-found in 1993 and whose chairmanship he gave up in 2011 before reassuming it last spring—had ignored three notices of deposition. The third no-show in mid-July prompted the government to act decisively by ordering Atambayev's arrest (Zakon.kz, July 19; Knews.kg, May 4).
Besides the latest accusations of plotting a coup d'état and putting the lives of police officers and ordinary civilians at risk (and in addition to the Batukayev affair), the previous head of state faces a string of unrelated corruption charges. First, his friendship with Albek Ibraimov, the then-director of a company that once owned 2.7 hectares of prime land at Koy Tash, allegedly allowed him to obtain the whole plot for less than its fair value in 2015. In exchange, Ibraimov was appointed mayor of Bishkek less than a year later, in February 2016 (24.kg, August 22; Interfax, August 16).
In another case, the former president is suspected of having assisted a prominent businessman with money laundering through the acquisition of a company owned by Atambayev. In the third affair, he was allegedly behind an illicit award of a mineral license by the State Agency for Geology and Mineral Resources, whose two former senior executives are also under investigation. Finally, as far as allegations of corruption are concerned, the authorities assert that Atambayev committed irregularities during the modernization of Bishek's thermal power plant and lobbied the municipal administration on behalf of a potential supplier of coal to this strategic utility (24.kg, August 22; Radio Azattyk, August 15; Kloop.kg, May 23).
Atambayev's predicament largely stems from his falling out with the man who has been the democratically elected president of Kyrgyzstan since November 2017 and once served as prime minister under Atambayev himself (2016–2017). Sooronbay Jeenbekov first admitted to open friction with his former mentor in November 2018. The two politicians grew distant after Atambayev publicly criticized his successor only weeks upon assuming the chairmanship of the SDPK in March 2018. Jeenbekov is an SDPK lifer and used to be a long-standing friend of the Atambayev family. The personal rift only intensified over time, with numerous Atambayev-era officials indicted, one after another, for corruption and abuse of power (Radio Azattyk, March 28, 2018; Kloop.kg, March 31, 2018).
The Bishkek power plant controversy exploded in January 2018, when the facility shut down in the middle of the winter. The breakdown was caused by the alleged theft of a significant portion of the Chinese loan for its modernization, according to the Jeenbekov administration. The last high-profile member of the Atambayev government that was still in power, Prime Minister SaparIsakov, was dismissed by Jeenbekov in April 2018 and, within two months, found himself under arrest. Earlier this year, Atambayev made another provocative statement, apologizing before the Kyrgyzstani people for choosing Jeenbekov as his successor. Several months later, the incumbent signed into law a bill authorizing the stripping of former presidents of their special post-government status, Atambayev being the unstated but obvious target (Elgezit.kg, May 16, 2019; Informburo.kz, March 19, 2019; Sputnik.kg, June 5, 2018).
Although the Atambayev chapter in modern Kyrgyzstani history is far from closed, his transformation from head of state into incarcerated defendant is interesting in several respects. First, the Kazakhstani model of micromanaged succession, which has enabled former president Nursultan Nazarbayev to remain the power behind the throne following his sudden resignation in mid-March (see EDM, March 27), is not as immune from fatal shocks as one might think. It is widely believed that Atambayev planned to continue to rule the country as leader of the SDPK, the largest party in the parliament, assuming Jeenbekov's implicit consent to keep the cabinet packed with Atambayev loyalists. But as recent events show, this scenario failed to materialize.
Second, while Kyrgyzstani democracy is notoriously messy and has historically been marked by high levels of instability, the country remains Central Asia's only true democracy. Back in 2017, Atambayev voluntary stepped aside without seeking to rewrite the Constitution for his personal benefit. Unlike Nazarbayev in neighboring Kazakhstan, he did not retain any formalized lever of influence over his successor; and his election to the SDPK's presidency gave him control over a modest 38 out of 120 parliamentarians. In contrast, Kazakhstan's ruling party Nur Otan has 84 deputies out of 107 in the lower chamber of parliament, which is de facto closed to genuine opposition voices.
Third and last, the Atambayev-Jeenbekov conflict is purely an issue of internal politics. External powers have not tried to openly meddle in Kyrgyzstan's domestic affairs; and—importantly—such interference would have been both meaningless and counterproductive. After all, Jeenbekovis as committed as Atambayev was to Kyrgyzstan's strong ties to its two most powerful neighbors, Russia and China, and to an open dialogue with the rest of Central Asia and the West. This is likely why Atambayev's surprise July 2019 visit to Moscow, where he was received by Vladimir Putin, did not help his losing cause (Lenta.ru, July 25).