FORMER MINISTER'S DEATH HAMPERS INVESTIGATION INTO GONGADZE MURDER
Publication: Eurasia Daily Monitor Volume: 2 Issue: 45
By: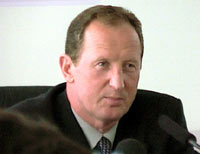 Former Ukrainian Interior Minister Yuriy Kravchenko, who many observers believe had masterminded journalist Heorhiy Gongadze's disappearance in 2000, was found dead in his country house near Kyiv on March 4. His demise was preceded by President Viktor Yushchenko's March 1 statement about a final resolution of the Gongadze case and Prosecutor-General Sviatyslav Piskun's public invitation to Kravchenko for questioning. Kravchenko's death has been preliminarily been ruled a suicide, but the fact that he had two bullet wounds in his head has raised questions. The ability of the new government to solve the Gongadze puzzle after Kravchenko's death is now under question.
The promise to solve the Gongadze case was one of the main slogans of Yushchenko's election campaign. Addressing the Council of Europe after his inauguration, Yushchenko pledged that closure would be achieved within two months. He entrusted the Gongadze case to Piskun, who had been sacked as prosecutor-general by President Leonid Kuchma in 2003 — reportedly for coming too close to solving Gongadze's murder — and was reinstated in this position during the Orange Revolution. On February 28, a grenade attack in Kyiv nearly killed Yuriy Nesterov, a witness in the case, even though he has been under permanent police protection. Undaunted, on March 1 Piskun announced that two police colonels had been arrested in connection with Gongadze's murder. On March 2 Piskun told a news conference that two policemen had deliberately strangled Gongadze. He also said that General Oleksiy Pukach, a former head of police intelligence, had been put on an international wanted list (it is widely believed that Pukach's arrest cost Piskun his position in 2003, and after Piskun's dismissal Pukach was released). Lastly, Piskun invited former presidential guard Mykola Melnychenko to return from exile and hand over his recordings to prosecutors and said that Kravchenko would be questioned at the Prosecutor-General's Office on March 4.
Kravchenko was one of the protagonists heard on Melnychenko's scandalous tape recordings implicating the Kuchma government in Gongadze's murder. It was allegedly Kravchenko's voice that was heard on one of the tapes promising Kuchma to "deal" with Gongadze. On March 3 the newspaper Segodnya quoted an unnamed prosecutor as saying that Kravchenko had misinterpreted Kuchma's orders to "neutralize" Gongadze, ordering policemen to kill him. The same newspaper said that Kravchenko had been under police surveillance since last December, so he could not flee Ukraine. The prosecutors must have expected much from questioning Kravchenko. The media suggested that they might arrest him.
Instead, Kravchenko was found dead in his dacha early on March 4. While it has been established that two bullets hit Kravchenko, police insist this homicide was a suicide, rather than a murder. According to Deputy Interior Minister Petro Kolyada, the first shot hit the chin and was not lethal, and Kravchenko must have then shot himself a second time in the temple. Interior Minister Yuriy Lutsenko revealed that Kravchenko had left a note, asking his family for forgiveness, pleading not guilty, and saying that he "fell the victim of the political intrigues of Kuchma and his entourage." Several forensic experts interviewed by 1 + 1 and NTN TV channels, however, have expressed doubts about the ability of a human being to shoot himself again after a wound as severe as Kravchenko's first one.
President Yushchenko apparently believes the suicide version. "Everyone can choose either to cooperate with the court and the prosecutors, giving testimony, exposing oneself to a public trial and defending one's rights and honor, or to sentence oneself," Yushchenko said on March 4. Yushchenko warned against speculations regarding Kravchenko's death. But Hryhoriy Omelchenko, who heads the parliamentary commission on high-profile criminal cases, called on Yushchenko to dismiss Piskun for "criminal negligence." Omelchenko claimed that Piskun "will do everything in his power" so that all key witnesses either commit suicide or be killed. He also said that he suspects an agreement exists between Yushchenko and Kuchma granting the former president immunity from prosecution. In response, the Prosecutor-General's office issued a statement complaining that "certain politicians" have put pressure on the investigation.
Amid fears for the lives of other key witnesses, Prime Minister Yulia Tymoshenko suggested attaching additional guards to Kuchma, who on March 5 returned from the Czech Republic, where he had been vacationing since Yushchenko's inauguration. Speaking to 1+1 TV before his flight to Kyiv, Kuchma appeared determined to testify. But Melnychenko has refused Piskun's invitation. What's more, an assistant to exiled Russian oligarch Boris Berezovsky, Alexander Goldfarb, told Ekho Moskvy that on hearing the news of Kravchenko's death Melnychenko turned to Berezovsky, fearing for his life and requesting protection. Berezovsky sent an aircraft to evacuate Melnychenko from Warsaw to London, according to Goldfarb, who added that his Foundation for Civil Liberties began to financially assist Melnychenko more than two years ago.
The exact role of Berezovsky in the whole affair has yet to be established, but Melnychenko has never concealed his mistrust in Piskun. Now that Melnychenko and Pukach are hiding and Kravchenko is dead, Piskun is facing an uphill struggle, trying to prove that he knows where to look for those who ordered Gongadze's murder.
(Channel 5 TV, February 28, March 1, 4; 1+1 TV, March 2, 6; Segodnya, March 3; Interfax-Ukraine, UT1, Ukrayina TV, March 4; Ukrayinska pravda, March 4, 5; Ekho Moskvy, NTN, March 5)