Former Russian Ambassador to Minsk to Spearhead Eurasian-Wide Integration Schemes
Publication: Eurasia Daily Monitor Volume: 16 Issue: 93
By: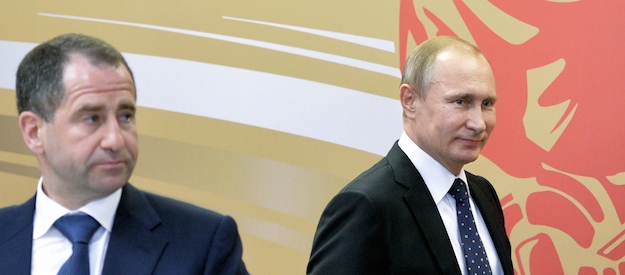 Mikhail Babich, the former Russian ambassador to Belarus, has been put in charge of integration efforts covering the entire Commonwealth of Independent States (CIS). The Kremlin had to pull Babich out of Minsk at the end of April because he had so offended President Alyaksandr Lukashenka that his continued presence there threatened to derail Moscow's further Russia-Belarus Union State integration plans (see EDM, May 1). But now, Babich has been named deputy minister for economic development; and in that post, he will oversee integration processes across the former Soviet space including the CIS, the Eurasian Economic Community (EEU), the Collective Security Treaty Organization (CSTO), as well as the Union State (Iarex.ru, June 17).
On the one hand, this new appointment is yet another clear signal that Ambassador Babich was not a loose cannon while serving in Minsk, as some had suggested. Rather, he was indeed pushing exactly the policies Vladimir Putin wanted (see EDM, June 4). And on the other hand, it shows that the Kremlin has no plans to retreat from those aggressive integration plans. Instead, the Kremlin will ramp up its Russia-first policy across the region and use as its point man someone who is already winning plaudits in Russia for his tough language (T.me/trktgh, June 17)—even at the risk of offending the leaders of other countries for the same reason. In fact, the prospect that he will ruffle more feathers in the Russian "near abroad" is so probable that some Moscow commentators are already suggesting Babich—though a longtime Putin friend and confidant—may not last in his new position for any extended period either. He was in Minsk for less than eight months. And after his coming stint as deputy minister, he may end up either again having to be promoted to a still more senior position or be quickly "put out to pasture" as a governor or senator (New Times, June 18).
The Rex news agency—founded and headed by historian Modest Kolerov, notorious for his promotion of the reintegration of the former Soviet space—is among those celebrating the creation of the new position to which Babich has been appointed. For one thing, Rex is pleased about what the new appointment means for Russia's approach to the CIS generally as well as the presumed message it sends to Minsk and others: that Moscow is going to take a tougher line with them. Moreover, Babich's new job will arguably allow him to push deeper integration inside the Russian Federation itself by promoting Moscow's interests against regional and especially non-Russian republic leaders (Iarex.ru, June 17).
According to the news agency, Babich will be working on exactly the same agenda he worked on as Russian ambassador in Belarus, "[O]nly now, his mandate will be broadened to all the countries of the CIS," including within Russia. The agency says Babich can be expected to be equally tough in defending Russian interests and rejecting non-Russian objections. And he will be even more effective because his position involves a greater amount of behind-the-scenes work than did his ambassadorship, where he courted trouble for his public comments. And Rex continues, in an unsigned article, that the new deputy minister can be expected to take an especially hard line toward Belarus (Iarex.ru, June 17).
Indeed, the news agency notes, Babich is likely to be tougher on Minsk officials in private than he was in public. Those in Minsk who oppose tighter integration with Russia will come to see his appointment as Putin's response to their machinations with the West and a sign that the Kremlin plans to push ahead with the full realization of the Union State regardless of what they say and do.
Other commentators are even more enthusiastic about what the appointment of the former ambassador to be deputy economic development minister will mean. According to the Taras Bulba telegram channel, "Babich's new appointment is only the beginning": it is good news for those who feared that his being recalled from Minsk indicated Moscow was changing course, and it is even better for those who want to see the former Soviet space reintegrated under Moscow's domination. The channel asserts, "Babich was Russia's best ambassador in the entire history of the post-Soviet period." The Taras Bulba channel likes his style because "[Babich] conducted himself as the emissary of a great power (and an emperor) ought to when dealing with a vassal the center is subsidizing" (T.me/bulba_of_thrones, June 17).
Yury Baranchik, a Regnum journalist who has often been in hot water in Belarus, says that he welcomes the new appointment because "now Babich will speak with official Minsk not as an ambassador but as a procurator" and thus will not have to put up with the kinds of attacks that emanated from Lukashenka and his pro-Western foreign ministry. Babich will now speak for the empire, and Minsk will have to listen—whether it likes it or not. In this way, the journalist contends, Putin has responded to the Belarusian attacks with one step back (Babich's recall from Minsk) and two steps forward (being put in charge of the same process but at a higher level). Even more important, Baranchik says, in his new post Babich will be free from the interference of Russia's foreign ministry, which too often defers to neighboring countries, and will instead promote the Kremlin's integration policies undiluted by such diplomatic concerns (Iarex.ru, June 17).
Babich's appointment is thus a clear sign of where the Kremlin wants to go, but so, too, was his appointment to Minsk. Hence, it is entirely possible that his bull-in-a-china-shop manner will once again backfire and force Putin to shift him to another post where diplomacy may be required even less, according to Moscow analyst Aleksey Makarkin. If that happens, those backing Babich's new appointment could soon be disappointed again (T.me/BuninCo, June 17; New Times, June 18).