Gazprom Presses Ahead With Widening Its Access to European Energy Market
Publication: Eurasia Daily Monitor Volume: 15 Issue: 84
By: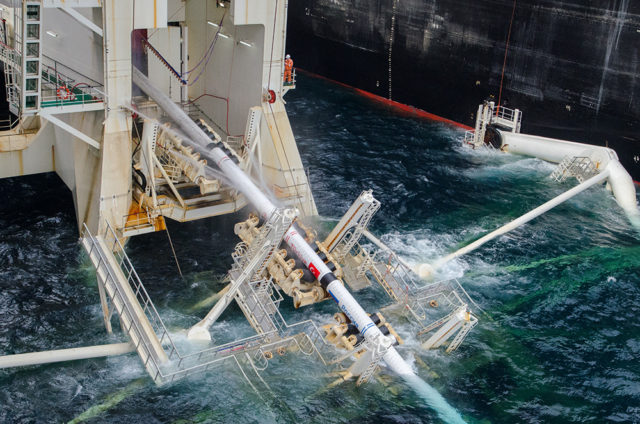 Gazprom and the Turkish government signed a protocol, on May 26, on building another section of the Turk Stream pipeline that will deliver Russian natural gas to Turkey and Europe (Gazprom.com, May 26). Moreover, the Russian gas giant and the Turkish pipeline company BOTAŞ agreed to establish a joint venture to complete the second onshore segment of the pipeline (RT, May 27). The deal is another milestone in state-owned Gazprom's quest to supply gas to the European Union by circumventing Ukraine. Gazprom completed the first undersea segment of the pipeline earlier in May. The project is intended to send gas to Turkey and the EU without having to use the Trans-Balkan Pipeline in Ukraine (see EDM, April 11).
Gazprom and BOTAŞ also settled an arbitration case over the price for the Russian gas coming to Turkey, thus concluding a major legal saga that had dragged on since 2015 (Platts, October 27, 2015). Specifically, the parties agreed to the prices of the natural gas supplied by Gazprom to Turkey back in 2015 and 2016. Additionally, according to Turkish President Recep Tayyip Erdoğan, his country's state budget will receive another $1 billion as a result of the agreement. This represents a substantial input for Turkey's embattled economy and is great timing politically considering the upcoming presidential and parliamentary elections, scheduled for June 24 (Anadoly Agency, May 26).
The Turkey-related news came on top of Gazprom clinching a deal with EU regulators last week (May 24) on an antitrust case that had dragged on for seven years (Europa.eu, May 24). Gazprom succeeded in avoiding penalties but agreed to abide by a set of provisions and rules set by the European Commission that would modify the Russian energy company's behavior in Central and Eastern European gas markets.
The outcome angered Poland and the Baltic States, which wanted Brussels to impose hefty financial penalties on Gazprom. Polish Prime Minister Mateusz Morawiecki piled on by calling the planned Nord Stream Two pipeline, which will deliver an additional 55 billion cubic meters (bcm) of gas from Russia directly (under the Baltic Sea) to Germany and elsewhere in Europe, a "weapon of hybrid warfare" and "a poison pill for European security, which can have far-reaching consequences" (RFE/RL, May 28).
The EU regulators' decision to accept Gazprom's latest settlement offer allowed the company to escape fines of as much as 10 percent of its global revenue (Europa.eu, March 13, 2017). A penalty that stiff would have been a serious blow to Gazprom's finances. Its debt has jumped 38 percent since 2016—to $40 billion from $29 billion. Earlier this month, Gazprom received a $700 million loan from France's Credit Agricole CIB. Gazprom remains exempt from Western sanctions against other Russian petroleum enterprises, so it can secure loans from European and even United States–based banks (Gazprom.com, May 17, 2018). In fact, in November 2017, it obtained a $1 billion loan from Mizuho Bank, Sumitomo Mitsui Banking Corporation and JP Morgan Chase. (Neftegaz.ru, November 2017).
Apparently, regulatory challenges introduced by Brussels have failed to discourage Gazprom from competing hard for a share in the lucrative European market. The official inauguration, on May 29, of the Southern Gas Corridor (SGC) will likely also not pose a serious challenge to Russian gas exports to Europe—at least not in the short to medium term. In the competition to provide gas to southern Europe, Azerbaijan completed work this month on the first phase of its portion of the pipeline system, as yet the only alternative to Gazprom for supplies to Turkey and southeastern Europe. The first Azerbaijani gas is expected to reach Eskishehir, Turkey, a way station for gas to Europe, by June 12 (Trend, Natural Gas World, May 29; Azernews.az, May 30).
Gazprom will likely maintain its traditional "block, build, co-opt" tactics when it comes to rival pipelines. Aleksandr Medvedev, the CEO of the Russian gas giant, who last year questioned the Southern Gas Corridor partners' ability to fill the pipeline network, explicitly did not rule out the option of injecting Russian gas into the Trans-Adriatic Pipeline (TAP) once this key westernmost link of the SGC is built (see EDM, February 16, 2017).
The important milestones achieved by Gazprom in building pipelines that circumvent Ukraine are also strengthening the Russian company's negotiation position in talks with Ukrainian Naftogaz—in particular, regarding the fate of the transit contract through Ukraine beyond 2019. Emboldened by the recent deal made with the Commission, Gazprom will likely continue to drag its heels with respect to the rulings of the Stockholm arbitration court on the Russian firm's mandated payment of $2.6 billion and having to resume gas supplies via Ukraine (see EDM, March 5, 2018).
Meanwhile, European companies appear ready to conclude deals with sanctioned Russian oil and gas companies. French Total's acquisition of 10 percent of the Novatek-led Arctic LNG 2 (liquefied natural gas) project (Total.com, May 24) could be a signal that Washington should expect increasing European pushback to further US sanctions or secondary sanctions. It was the first sign of cracks in the West's unified transatlantic energy policy after President Donald Trump pulled the United States out of the Iran nuclear deal.
By investing in Arctic LNG 2, Total showed that it was willing to put its commercial interests ahead of US and EU policy of reducing Europe's dependence on Russian gas. Arctic LNG 2 is an important component of Russia's effort to achieve a sevenfold increase in its liquefied natural gas exports by 2035 and find markets for its gas beyond the EU and the Far East (Interfax, April 6).
Moscow routinely accuses Washington of opposing Nord Stream Two as a way of "imposing its LNG on Europe." The Russian embassy in Washington recently compared the US's opposition to Nord Stream Two with former President Ronald Reagan's opposition to a Soviet gas pipeline to Germany in the early 1980s. "The idol of today's Republicans, Ronald Reagan," also "imposed sanctions on companies engaged in this project," the embassy said. "The reason [then] was the same—to prevent Russia from gaining more clout among US allies in Europe" (TASS, May 24). As Russia continues to push to widen its access to European energy markets, such rhetoric, designed to split the transatlantic community's coordinated energy policies, will likely only increase.