GEORGIA AND RUSSIA MARCH TOWARD DIPLOMATIC WAR
Publication: Eurasia Daily Monitor Volume: 2 Issue: 97
By: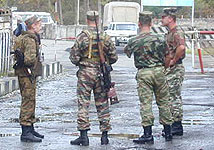 On March 10, the Georgian Parliament passed a resolution that set a May 15 deadline for progress in the bilateral negotiations about the terms for closing the two remaining Russian military bases in Georgia.
Since the parties have failed to make any progress, beginning May 15 the Russian bases became illegal and must operate under a "regime of departure." The anticipated restrictions on the Russian military bases in Batumi (in Ajaria) and Akhalkalaki (in Javakheti, southern Georgia) could include cutting energy supplies, halting Georgian entry visas for Russian servicemen, prohibiting military exercises, banning any modernization of military equipment at the bases, and billing Russia for environmental and other damages that the bases have inflicted on Georgia. Givi Targamadze, chair of the parliamentary Committee for Defense and Security, declared that Georgia could charge Russia $1 billion. Effective today (May 18), Russian soldiers will not be issued visas for Georgia.
The latest diplomatic war began on May 12, when Georgian Parliamentary Chair Nino Burjanadze told an inter-parliamentary conference in Riga that Georgia would follow the resolution and "impose strict measures" on the Russian bases after May 15. Ironically, Burjanadze had opposed the March 10 resolution when it was originally passed (see EDM, March 11). Moscow's pained response seemed to feign ignorance about the content of the resolution.
The subsequent anti-Georgian hysteria in the Russian State Duma culminated in a strictlyworded official message to Tbilisi. "Quite tough measures might follow from the Russian side," Valery Loshchinin, Russian deputy foreign minister, warned. These measures might include: freezing bilateral relations, energy sanctions, deporting Georgian labor immigrants, and even forcible actions in case of any threat to the bases.
Currently the Russian bases in Georgia are home to 3,000 servicemen, 152 tanks, 241 armored vehicles, and 140 artillery systems. About 40% of the staff at both bases are local contract employees. According to Russian media, a monthly salary of a contract serviceman at Akhalkalaki totals $250, quadruple the average Georgian salary of $60. Last month a minor Russian-engineered rally of locals protesting closure of the Akhalkalaki base led nowhere. Kote Gabashvili, chair of the Georgian parliamentary Committee on Foreign Affairs, called the Duma's statement a "laughable" attempt to scare Georgia.
Georgian officials rebuffed Russian demands for $300 million to compensate for withdrawal from the bases. Georgian Defense Minister Irakli Okruashvili told a news conference on May 13 that Georgia has its counterclaims. According to him, 20 Georgians have been killed by Russian mines left at other abandoned Russian bases. "We do not intend to pay anything," confirmed George Baramidze, Georgian State Minister for European Integration. Although Okruashvili said that the Georgian side was not going to take any radical steps in the next few days, the Tbilisi-based Headquarters of the Group of Russian Troops in Georgia had its water supply cut two weeks ago due to unpaid bills, which the Georgian side claims to be $500,000.
The ongoing war of words, however, has not hindered efforts at backdoor diplomacy. On May 13, Georgian Foreign Minister Salome Zourabichvili acknowledged receiving an "interesting" new proposal from Russia about their military bases, a proposal that brought the positions of the two parties "closer." Tbilisi has reportedly responded with its own proposals, and the next round of talks is scheduled for May 23.
However, the new proposals from Moscow have coincided with a resolution adopted by the U.S. Senate on May 12 that calls for the end of the Russian military presence in Georgia and underlined U.S. support to Georgia in the negotiations with Russia on this issue. After President George W. Bush's cautious remarks about the pullout of Russian bases during his May 9-10 visit to Georgia, many analysts believed that the United States would stay away from this issue.
It appears that Tbilisi's bold attitude to have the Russian bases removed from Georgia by the end of 2007 is backed by more than Georgia's own resources. If left to face Russia alone Tbilisi, given its heavy dependence on Russian energy-carriers and the great number of Georgian guest workers in Russia, could hardly afford such a bold stance regarding the military bases. The type of concessions, if any, that Moscow might make about the terms of the pullout could indicate how much the Western community has pressured Russia on this issue (see EDM, May 11).
Tbilisi presumably does not want to aggravate an already tense situation. President Mikheil Saakashvili's spokesman, Gela Charkviani, told a news conference on May 14 that although the parliament's resolution remains in force, Georgia would not rush to implement it because this might harm "hopeful tendencies" at the talks.
The withdrawal of Russian bases, a longstanding dream for the Georgians, has great political importance not only for Georgia but also for Saakashvili and his party. His lavish pre-election promises, including the quick removal of the Russian bases, remain unfulfilled. Moscow's delay tactics likely are intended to hurt Saakashvili politically. Should Saakashvili be successful and have the bases removed by the end of 2007, it would give him and his party a tremendous assets going into the 2008 parliamentary and 2009 presidential elections.
(Kommersant, May 12; Strana.ru, May 13; 24 Saati, May 11, Caucasus Press, TV-Rustavi-2, TV-Imedi, Khvalindeli Dge, Alia, May 13-14; Caucasus Press, May 17)