Georgia Becomes a Priority Recipient of Western Financial Assistance
Publication: Eurasia Daily Monitor Volume: 17 Issue: 56
By: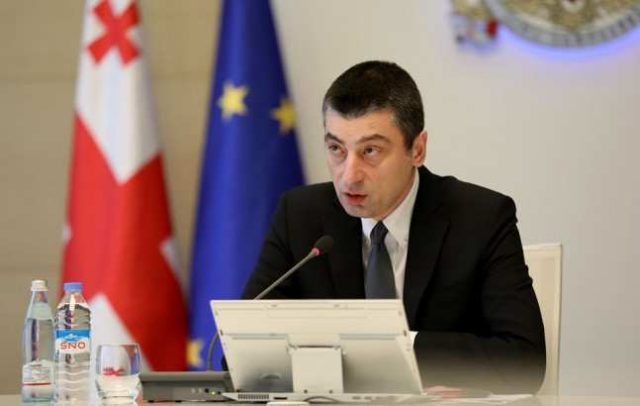 On April 15, Georgian Prime Minister Giorgi Gakharia briefed journalists that the government had agreed with international donors to allocate $3 billion to stabilize the economy, assist individuals affected by the developing economic crisis, and stimulate business in the post-crisis period (Interpressnews.ge, April 15). Georgia's initial state budget adopted for 2020 was 11.2 billion lari ($3.49 billion). But the recession in 2020–2021 may reach 4–5 percent of GDP, which equaled an estimated $17.7 billion in 2019 (Geostat.ge, accessed April 22).
In the midst of fighting a fast-spreading and deadly coronavirus pandemic, states around the world are also trying to mitigate the blow from the mounting economic crisis that is certain to outlast the worst of the COVID-19 outbreak. Georgia is one of the most vulnerable and weak economies in the world. The country does not have natural resources or significant financial reserves to independently "reset" the economy in the conditions of a deep recession precipitated by an extended, large-scale shutdown.
But the small South Caucasus country is benefiting from its nurtured reputation as a liberalized "market economy," capable of ensuring radical reforms, combating corruption and effectively using Western aid. Over the past 10–15 years, the International Monetary Fund (IMF) and the World Bank (WB) have repeatedly given Georgia high marks for its faithful adoption of market principles and responsibility toward fulfilling its international credit obligations. The Georgian economy expanded annually by nearly 4 percent on average between 2015 and 2018. Stable economic development was achieved despite Russia's occupation of 20 percent of Georgian territory and loss of 60 percent of the Georgian Black Sea coast following the 2008 Five Day War.
In October 2019, Standard & Poor's (S&P) Global Ratings raised its long-term foreign and local currency sovereign credit ratings on the government of Georgia to "BB" from "BB–." It also affirmed the short-term ratings at a "B." The outlook is stable. S&P stated, that Georgia's economy grew by nearly 5 percent in real terms in the first half of last year (Business Media Georgia, October 12, 2019). Perhaps, this is why, in the crisis that has affected the entire global economy, Georgia is becoming the beneficiary of large Western financial assistance.
Speaking to journalists, the Georgian prime minister declared, "By the end of the year, about $3 billion worth of resources will be available to us as international aid. No country has had such a result." Gakharia added, "The task is simple: to do everything possible to return economic life to its usual rhythm as quickly as possible. In one or two months, we will not be able to restore the starting conditions that we had at the beginning of 2020, but we will need to recover in 1.5–2 years." The head of government stressed that the IMF had expanded the cooperation package, now amounting to $450 million; and $200 million of this money will appear in the country's budget by the end of April (Interpressnews.ge, April 15).
As a result of working with international donors, Prime Minister Gakharia stated, the country's budget and economy will receive a total of $1.5 billion by the end of the year. Also, donor organizations have expressed readiness to make the same amount of resources available to Georgia's commercial banking sector. In other words, by the end of 2020, the Georgian government will receive about $3 billion in international aid. "No country has achieved such a result. We will be the first to agree on an updated extended program with the IMF, which is very important. This is the first necessary step that we must take during the crisis," Gakharia underlined (Interpressnews.ge, April 15).
Not all Georgian politicians believe that the government of billionaire Bidzina Ivanishvili's ruling Georgian Dream party will be able to reasonably manage this sizable coming international assistance. In an April 17 interview with this author, a former president of the National Bank of Georgia (central bank) and one of the leaders of the opposition party United National Movement (UNM), Roman Gotsiridze, expressed doubt regarding the prospects of Georgia receiving $3 billion before the end of this year. And he called Prime Minister Gakharia's April 15 assurances of this happening "too optimistic" and "politically motivated." "It is very difficult to quickly obtain $1.5 billion, since the money's allocation will depend on the quality of the proposed economic projects that will need to be developed," Gotsiridze explained.
Furthermore, the cited amount of aid will not be sufficient. According to the former central bank president, with a GDP of around $18 billion, Georgia has been attracting $2 billion from tourism annually, and Georgian citizens working in Russia and Europe had been transferring another $1.7 billion a year to the country. But, Gotsiridze argued, "[d]ue to the pandemic, Georgia will lose these sources of revenue almost completely. According to the IMF mission, the Georgian budget deficit this year will be not 2.5 percent of GDP, but 8.5 percent. Therefore, the authorities should not create the illusion that the help secured from international donors will [fully] compensate Georgia for the enormous damage from the crisis" (Author's interview, April 17).
Yet, Western aid to Georgia is really important at a time when fear of the spread of the deadly coronavirus compelled the authorities to impose increasingly stringent socio-economic restrictions: The largest cities in Georgia—Tbilisi, Rustavi, Kutaisi and Batumi—are under lockdown by army units and police. A curfew has been imposed from 9 P.M. to 6 A.M. throughout the country. Movement is allowed only to certain categories of citizens and foreign diplomats (Kommersant, April 4).
These unprecedented measures were taken after the number of coronavirus infections in the country approached 400. Automobile traffic has been prohibited in all Georgian cities and regions. Pedestrians are limited to places close to their homes. During the day, citizens are required to stay at least two meters apart and are forbidden from gathering in groups of more than three people. Only two individuals are allowed at a time into grocery stores and pharmacies. All other retail outlets, as well as catering facilities, are closed. Violators face large fines of $1,000–$3,000 and in cases of repeat violations—imprisonment of up to three years. All Georgian enterprises and industries are suspended.
The government cannot say how long the shutdown will last. And the State of Emergency, declared by President Salome Zurabishvili on March 21 (Agenda.ge, March 21), has already been extended to May 22. More difficult days for Georgia still remain ahead.