Georgia Billionaire Appoints Wife as Movement Leader While Parliament Enacts Financial Safeguards
Publication: Eurasia Daily Monitor Volume: 9 Issue: 16
By: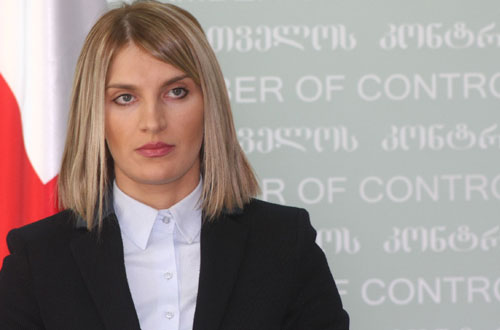 Georgian billionaire Bidzina Ivanishvili has appointed his wife, Ekaterine Khvedelidze, as leader of his Georgian Dream movement. Its legal status is that of a "public," i.e. a non-political organization. However, Georgian Dream pursues the declared goals of turning into a political party, winning the 2012 parliamentary elections, and propelling Ivanishvili to top office (he reserves the first pick of either the chairmanship of parliament or the prime-minister post for himself).
Ivanishvili entered politics unexpectedly last October and launched his Georgian Dream movement in December as its leader (see EDM, December 19, 2011). Meanwhile, Ivanishvili lost his Georgian citizenship due to incompatibility with his other citizenships (see below). He has now turned the movement's leadership to his wife Ekaterine, who won back her Georgian citizenship through a successful challenge in the Tbilisi city court (Civil Georgia, January 15).
Casting Ekaterine as Dream leader is not simply a consequence of Ivanishvili's unresolved citizenship status (see below), and not entirely surprising. Ivanishvili had been citing his wife's wisdom ("Eka said…") in his earlier public statements. "My wife is my closest friend and adviser," he reaffirmed when handing over the post of Dream leader to her. Moreover, "the leader must be a family member, to demonstrate the [movement's] personal affiliation," he told journalists on the occasion. The family's initial choice for this role was the elder son, Uta; but, at the age of 19, he is not qualified to run for parliament (the minimum age for that is 25). A younger son, Bera, is a rapper by occupation and the author of Georgian Dream's anthem (Civil Georgia, January 15; EurasiaNet, January 18).
Ivanishvili plans to launch a new television channel, also to be headed by his wife. The Aktsept company, owned 80 percent by Ekaterine Khvedelidze and 20 percent by an Ivanishvili associate, recently bought a TV production company that already has the license to broadcast political programming via cable networks and satellite. Ekaterine is expected to manage the channel while Ivanishvili has issued a general offer to employ pro-opposition journalists at this channel (Bloomberg, January 12; Civil Georgia, January 14, 20).
Under the law, only citizens of Georgia may establish and/or finance political parties. However, the State Registry determined in October 2011 that Ivanishvili's Georgian citizenship had lapsed, due to incompatibility with Ivanishvili's concurrent Russian and French citizenships. President Mikheil Saakashvili had awarded Georgian citizenship to Ivanishvili in 2004, after the latter's return from Russia; but the president revoked it in October 2011 when the incompatibility was uncovered. Ivanishvili recently announced that he has renounced his Russian citizenship, intends to renounce his French citizenship, and will apply for regaining Georgian citizenship through naturalization. This would qualify him to lead officially a Georgian Dream political party, run for parliament, and pursue his declared ambition of acceding to power in the state.
Ivanishvili's wealth of $5.5 billion (Forbes List estimate, confirmed by Ivanishvili's office), equal to one half of Georgia's annual GDP, poses the risk of election purchase and state capture. Safeguarding against such risks, the Georgian parliament has recently enacted legislation that sets clear limits to financing political parties. These stipulations form part of the law on political parties, approved in the third and final reading on December 28 by the parliament, incorporating most of the recommendations of Western experts.
Under this legislation, an individual citizen of Georgia may donate maximum 60,000 Lari (some $36,000) annually to a political party; and may not pay more than 1,200 Lari (some $650) annually in membership fees. Corporate donations are banned. However, a potential loophole would allow groups of individuals who share in the income of a given business entity to donate up to 500,000 Lari (nearly $300,000) annually to a political party. The legislation makes it illegal for parties or any entities linked to them to entice voters through financial or other material inducements. All donations to political parties may only be made through wire transfers. Parties are required to submit financial declarations every three weeks during electoral campaigns, and otherwise on an annual basis.
A new, specially created unit of the Chamber of Control (state audit agency) is in charge of monitoring compliance with the legislation on party financing. The parties will be submitting their financial declarations to this unit, which will in turn post the declarations and related information on the internet. The Chamber of Control and the National Bank have signed an agreement whereby the bank would help the chamber to verify the accuracy of data submitted by political parties.
The legislation is in force since December 29, without retroactive effect. According to Ivanishvili's financial declaration to the Chamber of Control, he donated 16.7 million Lari (some $10 million) to his Georgian Dream, from the movement's December 11 launching until the legislation on party financing went into effect. Four small political groups allied with Ivanishvili received approximately 4 million Lari (some $2.3 million) through companies associated with Ivanishvili, from October through December 2011 – i.e., from Ivanishvili's declared entry into politics until the party-financing legislation went into effect (Civil Georgia, January 10; RFE/RL, January 10).
According to some of Ivanishvili's sympathizers, the financial stipulations are designed to constrain his Georgian Dream. However, the stipulations apply to all parties including the governing United National Movement. The involvement of banks in party financing is ruled out; this applies to any bank in the country, including Ivanishvili's Cartu Bank which finances massive charity operations from his private wealth (Civil Georgia, January 4, 10; RFE/RL, January 10; "Critics Decry Georgian Electoral Reform," Caucasus Reporting Service, Institute for War and Peace Reporting [London], January 20).