GEORGIA REGAINS CONTROL OVER BATTLE IN KODORI
Publication: Eurasia Daily Monitor Volume: 3 Issue: 145
By: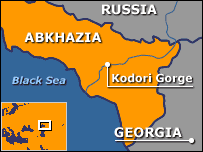 Following President Mikheil Saakashvili July 24 call "to give Georgia's enemies their gruel," Georgian troops launched a special operation in Kodori Gorge to neutralize the local chieftain, Emzar Kvitsiani, and his officially disbanded "Monadire" (Hunter) militia, after he defied the central authorities in Tbilisi on July 22 (see EDM, July 25). Information about events in Kodori is highly controversial, because authorities and police have completely banned media access to the area. Therefore, the Georgian government remains the only source of information about developments in Kodori, the sole part of breakaway Abkhazia under Georgian control.
On July 26 top Georgian officials, including Giorgi Arveladze, head of Saakashvili's administration, and Kote Kemularia, secretary of the National Security Council, reported a successful operation against Kvitsiani's squad, which they claimed was a police round-up, not an army operation (TV Rustavi-2, July 26). However, Valery Yevnevich, deputy commander of Russian land forces, Abkhaz officials, some Georgian military analysts, and local residents described it as an army operation, since Georgia used helicopters, artillery, and Defense Ministry units, including a battalion that had served in Iraq (TV-Kavkasia, vesti.ru, July 26). The heightened secrecy of the operation and the presence of Georgian Defense Minister Irakli Okruashvili in Kodori also suggest army involvement.
Yesterday, July 26, government troops attacked Kvitsiani and his fighters in a cave near the village of Zemo Azhara. The authorities reported that some of Kvitsiani's fighters had surrendered. They also announced the discovery of weapons, mainly Russian-made, in the Kodori villages that the government troops had freed from Kvitsiani's men. Kvitsiani himself and his loyal followers, all natives of Kodori, refused to lay down arms even after the authorities gave them four hours to consider surrender. Now Georgian troops are trying to capture Kvitsiani and prevent him from fleeing to another part of the region. So far, official sources have reported only four wounded police officers (TV-Rustavi-2, July 26). However, other sources reported a higher number of wounded and that there were casualties on both sides (TV-Kavkasia, July 26). Despite reports about disarmed fighters, no video footage showing them has aired so far. Some analysts argue that the authorities would not hesitate to broadcast evidence of a successful operation if it indeed existed.
Today the Georgian media is citing police reports about the surrender of 13 more fighters from Kvitsiani's squad (Kavkaz Press July 27), while other reports note the increasing number of injured civilians and military and the destruction of many dwellings as a result of the bombardment (TV-Rustavi-2, TV-Imedi, July 27). The Georgian Interior Ministry is disseminating information about a split among Kvitsiani's squad and that Kvitsiani himself has been injured (Kavkaz press, TV Rustavi-2, July 27). These reports suggest that the operation is ongoing, despite the promise by officials to complete the operation yesterday.
The Georgian government launched the military operation in Kodori despite appeals from the Orthodox Church, public organizations, opposition parties, and representatives of the Svan community — an ethnic Georgian subgroup — to find a negotiated solution to the conflict (TV-Imedi, TV-Rustavi-2, July 25). The authorities made their position clear: either Kvitsiani and his squad lay down arms or they will be liquidated (TV-Rustavi-2, July 25).
No matter how justified the military operation in Kodori might be, and no matter the outcome, many Georgians, particularly the Svans, see the operation as fratricide. "There will be no winners in this battle," said Viktor Japaridze, a parliamentarian elected from Svaneti (TV-Imedi, July 25, 26).
It appears that Kvitsiani, who is unanimously acknowledged as the man behind Kodori's successful defense from multiple Abkhaz offensives since 1994, either was left vulnerable by the Russians, who failed to use him against Tbilisi, or became inconvenient for the Georgian authorities. Kvitsiani had maintained a "gentleman's agreement" with the Abkhaz separatist leaders about non-resumption of hostilities, he was friendly with influential members of the Georgian mafia, and he enjoyed authority in Kodori and Svaneti. In a televised interview with Imedi-TV on July 24 Kvitsiani reaffirmed his key role in ousting law-enforcement bodies from Kodori. Some analysts and opposition politicians criticized the Georgian security services for overlooking the threat from Kvitsiani, who reportedly established connections with Russian special services after Georgia's November 2003 Rose Revolution. He allegedly bought his autonomy through deals with law-enforcement officials (TV-Imedi, July 24, Resonansi, July 25).
The lawlessness in Kodori had taken the region out of Tbilisi's effect control and made it the domain of criminal groups, which, according to National Movement MP Giga Bokeria, hampered the implementation of social-economic rehabilitation programs there (TV-Rustavi-2, July 26).
Kodori is part of Svaneti, the mountainous region largely abandoned by the government. Although some locals reportedly welcomed the restoration of central authority in Kodori, some Svan authorities said that the bloody military operation would have a painful effect on the Svan community (TV-202, July 26).
For Tbilisi Kodori is a strategic military location and the shortest way to Sukhumi (Abkhazia's capital). Kodori residents complain that without Monadire fighters, who know all the local routes well, it will be difficult to defend the Georgia-controlled upper part of Kodori Gorge (Kviris Palitra, July 24). Georgian authorities have stated that police units, which have already approached the Abkhaz-controlled lower part of the gorge, will stay in Kodori (TV-Rustavi-2, July 26).
Tbilisi's allegations about a "Russian hand" in Kvitsiani's uprising became more credible on July 25 when the Russian Foreign Ministry warned Tbilisi against the use of force in Kodori, and the Russian military and Abkhaz separatists accused Georgia of violating the 1994 ceasefire agreement. Georgian officials reported that the Russian peacekeepers deployed in the Georgian-Abkhaz conflict zone had provided Kvitsiani's squad with military supplies. Additionally, Russia-backed Abkhaz separatists, who have long wanted to seize Kodori, have now stationed their forces near the gorge. Sergei Bagapsh, the self-styled "president" of Abkhazia, warned that if Georgian troops cross the Abkhaz border, the "Abkhaz troops will open fire" (Regnum, July 26). "Sukhumi coordinates its activities with Moscow," said Abkhaz "vice-president" Raul Khajimba (TV-Rustavi-2, July 26). The statements and activity by Russia and Abkhaz separatists suggest their goal is to lure Georgia into a wider conflict in Abkhazia.
Today analysts say that a victorious war in Kodori would help Saakashvili and his team erase its mistakes and domestic policy failures and demonstrate to the West the strength of the Georgian state. However, if hostilities in Kodori become protracted, the result could be a new conflict zone in Georgia and increase the chances for a military conflict in Abkhazia, in which Russia tries to lure Georgia in order to portray Tbilisi as an aggressor against its own ethnic minorities.