Georgia Trusts Donald Trump Will Not Change US Policy Toward Tbilisi
Publication: Eurasia Daily Monitor Volume: 14 Issue: 7
By: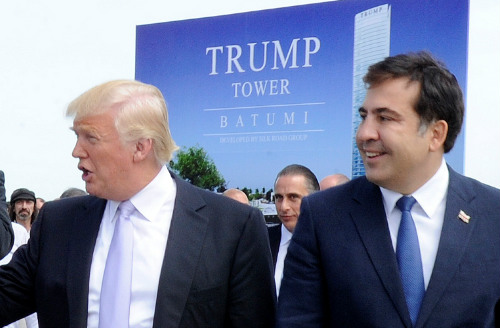 After the election of Donald Trump to the White House, Georgian leaders have expressed hope that relations between the United States and Georgia will still continue to deepen in all areas. "Georgia remains America's strong partner, and the historic friendship of the two countries is irreversible. Our nations have fought different challenges together and stood firmly in defense of common security and well-being," Georgia's President Giorgi Margvelashvili wrote in his congratulatory letter to Trump. "We are thankful and appreciate the support of the United States of America in strengthening our statehood and democratic development, as well as for your unwavering position with respect to Georgia's sovereignty, territorial integrity, European and Euro-Atlantic aspirations," Margvelashvili's statement reads (Civil Georgia, January 21).
Margvelashvili has invited Trump to Georgia "at any time convenient" for the new US President. "I have a strong desire for and expect further deepening of our strategic partnership. I am sure that through our joint efforts, the friendship of Georgia and the United States will further be deepened and strengthened in the future," Margvelashvili wrote (Civil Georgia, January 21).
On the day of his inauguration, the Georgian Chamber of Culture, on behalf of the Georgian public, presented Donald Trump with a traditional national overcoat—a "chokha" (Svoboda.org, January 18). However, immediately after Trump's election, the South Caucasus country's former president Mikheil Saakashvili had struck a slightly more cautious tone: "We [Saakashvili and Trump] have known each other for 20 years; we are on friendly terms. I have accurately predicted his victory. [He is a] strong personality with an unpredictable policy. We must be careful and more organized than ever," Saakashvili wrote on his Facebook page (Informburo.dn.ua, November 9, 2016).
The third president of Georgia was referring to a number of meetings he held with then-businessman Donald Trump, both in New York and in Georgia. The first of these took place in 2010, in Trump Tower, on Fifth Avenue (Rosbalt, November 9, 2016). Trump received Saakashvili in his office. Their conversation turned into a performance for attending journalists: Donald Trump recalled Nanuka Gogichaishvili who participated in the Miss Universe pageant, which he owned at the time. And Mikheil Saakashvili noted straight away that Nanuka Gogichaishvili was a daughter of the head of his press service, Natia Bandzeladze. Later, after Trump's election, Nanuka narrated how Donald Trump invited her and other participants of the competition to Las Vegas and was "very polite and courteous" (RFI, November 12, 2016).
Trump and Saakashvili's next meeting took place in 2011, also in Trump Tower. But this time Trump invited members of New York's high society into his skyscraper and organized a presentation on investing in Georgia. At the same time, the billionaire did not mince words when flattering his Georgian guest: "Georgia is a magnificent country with a magnificent leader. Today, Georgia has achieved fantastic success and takes first place in many respects, including the Anti-Corruption struggle and Security of businessmen. I am happy to be able to conduct business there. Mikheil Saakashvili—the idol and the dream of the whole world. The US should be proud of such a friend and partner," Trump said (Republic.ru, March 15, 2011).
A year later, Trump arrived in Georgia for a few days and signed a deal with the Georgian Silk Road Group on developing two skyscrapers: Trump Tower in Tbilisi and Trump Riviera in Batumi (YouTube, April 22, 2012). Both buildings were to house luxurious casinos. The Georgian president, in turn, presented the US businessman with the "Order of the Golden Fleece," the highest award bestowed by the country (YouTube, November 11, 2016).
But the two tower construction projects were never implemented, as Saakashvili's party, United National Movement, lost power after the 2012 elections. And Trump, soon after his election, ordered to curtail the projects in Georgia (Civil Georgia, January 7). In Tbilisi, this step was considered a bad sign. Local experts started wondering whether President Trump will pay more attention to relations with Russia and whether he would consciously scale back any ties with Georgia so as to not irritate Moscow. "Donald Trump is a super pragmatist, and as President he will act absolutely differently than he acted when he was a businessman. For him, Russia and Georgia have absolutely different values with different 'prices' when it comes to forming policy affecting the long-term interests of the USA," Nicka Imnaishvili, an analyst with the news agency GHN, told this author. In Imnaishvili's opinion, if President Trump follows through on his election platform and truly seeks to realize all of his electoral promises regarding improving relations with Moscow, "Georgia and other Russian neighbors will hardly be able to maintain their independence" (Author's interview, January 24).
Such skeptical and even alarmist sentiments have been increasingly cropping up in Georgian society, especially with rumors of Trump's intentions to visit Moscow sometime soon. However, the US ambassador to Georgia, Ian C. Kelly, hastened to reassure Georgians, saying that Washington's policy toward Tbilisi will not change. The ambassador also referred to last year's resolution, adopted by the US Congress, in support of Georgia's sovereignty (Pulse.ge, November 9, 2016; Agenda.ge, September 8, 2016).
Meanwhile, independent expert David Avalishvili noted, in a conversation with this author, that Donald Trump does not really even need "to lower" the level of US relations with Georgia, as these relations during Barack Obama's presidency already "were not at a very high level." As Avalisvhili pointed out, "It was not President Trump but President Obama who declared that Georgia 'is not currently on a path to NATO [North Atlantic Treaty Organization] membership" (Author's interview, January 24, 2017; Civil Georgia, March 27, 2014).
"President Trump will not have to lower any obligations concerning Georgia because the United States did not undertake any obligations regarding protecting Georgia or offering it military support [sic] during Barack Obama's presidency," Avalishvili emphasized (Author's interview, January 24). Hence, with Donald Trump in the White House, Georgia is more likely than not to experience a continuation of the status quo in its relations with the US.