Georgian Opposition Rejects Official Results of October Local Elections
Publication: Eurasia Daily Monitor Volume: 18 Issue: 167
By: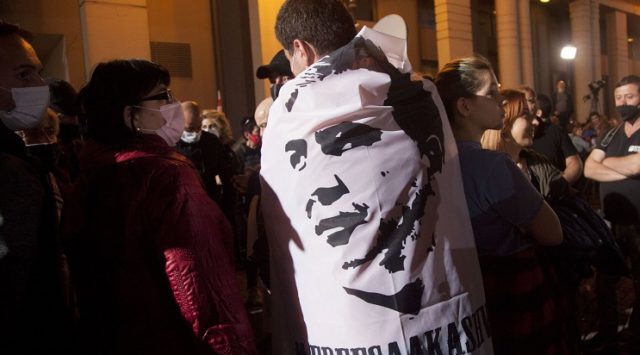 On November 2, the "Opposition Coalition of Georgia" (OCG), which includes former president Mikheil Saakashvili's United National Movement (UNM) party, held a rally in the Black Sea coastal city of Batumi, where its leaders announced the beginning of a mass protest movement. Demonstrators would demand the appointment of early parliamentary elections and the release from prison of the country's third president (Batumelebi, November 2). Saakashvili was imprisoned on October 1, after he returned to Georgia from nearly decade-long exile in Ukraine. Since his arrest and detention, he has been on a hunger strike (see EDM, October 27).
The official results from the Central Election Commission (CEC) for the October 2 local elections and the October 30 run-offs show that the ruling Georgian Dream (GD) party's mayoral candidates won in 19 municipalities, while a UNM contender prevailed in only one case. The dominance of the ruling party over the opposition was marginal in the five largest Georgian cities: the capital Tbilisi, Kutaisi, Rustavi, Poti and Batumi. Votes were divided approximately equally there (Cec.gov.ge, accessed November 3). In the coming days, opposition supporters will take to the streets in all these cities. In particular, the opposition plans to start an indefinite protest action near the Rustavi prison where Saakashvili is being held.
On the evening of October 30, immediately after polling stations closed, Nika Melia, UNM's chairperson and its mayoral candidate for the Georgian capital, as well as other opposition leaders, announced they would launch street rallies against the "rigged elections." "These elections were not just totally rigged; [Georgian Dream authorities] dared to try everything, using violence, blackmail and intimidation," Melia maintained, stressing, "We do not accept these results" (Radio Tavisupleba, October 31).
The opposition protest was also supported by Saakashvili, from a solitary confinement cell in his Rustavi prison: "I am very angry and insulted, as all self-respecting Georgians should be angry and insulted," UNM's founder declared in his statement. He further argued, "We had the elections stolen from us in every big city; we won this election, and the group of bandits who usurped the Georgian government snatched this victory from us. They robbed us and deprived us of our most basic right to be the masters of our own country." Saakashvili urged Georgians to act like Armenians and Ukrainians after "stolen elections," underscoring, "We must ensure that the fraudulent government pays the appropriate price to the people—to take back power from them and make them answerable to the law. The fraudulent bandits should go and call for early elections." He added, "Now we have full legitimacy for street protests and resistance to violence" (Mtavari, November 1).
The OCG leadership pledged that the rally in Tbilisi, on November 6, will be "different from other rallies in many regards." Nika Melia, himself, expressed hope that it would attract more participants than the October 14 rally, which brought several thousand supporters out into the streets, demanding the release of imprisoned former president Saakashvili. Melia also said that, in parallel with street protests, the opposition would lodge judicial complaints and appeals. "Because we respect our strategic partners, [w]e would like to convince our [international] friends of the reality that exists in this country: that institution[s] and court [justice] as such, do not exist in Georgia," Melia noted (Civil.ge, October 31).
The opposition coalition also decided to hold daily demonstrations in front of the Rustavi prison. Saakashvili's supporters plan to set up a "tent camp" and keep up the pressure on the authorities until the former president is released or transferred to a regular clinic (to treat the health effects of his hunger strike) (Apsny, November 2).
Georgia's Western partners have called on both sides to show restraint in the political standoff, but they admit that the first and second round of local elections were held with serious violations. Election observers from the Organization for Security and Cooperation in Europe's (OSCE) Office for Democratic Institutions and Human Rights (ODIHR) as well as the European Parliament said, jointly that the October 30 vote "was generally well administered but [saw] continued polarization coupled with [an] escalation of negative rhetoric [that] adversely affected the process." Election day was generally calm, though "with a few instances of confrontation between party supporters outside polling stations" (Osce.org, October 30).
The joint statement also voiced concern over the "persistent practice of representatives of observer organizations acting as party supporters, at times interfering with the process, and groups of individuals potentially influencing voters outside some polling stations." The international monitors noted that candidates were generally able to campaign freely in the run-up to the elections, but allegations of intimidation and pressure on voters persisted (Osce.org, October 30). "Sharp imbalances in resources, and an undue advantage of incumbency further benefited the ruling party and tilted the playing field," the ODIHR and European Parliament observers stressed, adding that "the transparency and accountability of campaign finance were reduced by insufficient oversight" (Apsny, October 31).
Several opposition leaders resigned their parliamentary mandates in protest against the "total falsification" of the elections, including the leader of the Lelo party, businessman Mamuka Khazaradze, along with four UNM deputies. Other parliamentary members declared they would come to the legislative body only to support constitutional amendments that weaken the influence of the ruling GD party (1tv.ge, October 31).
Georgian experts expect that with the third president of Georgia on a hunger strike for more than a month and his life in danger, the fate of the country will be decided not in parliament but through confrontations in the streets, on the ground. "It seems to me that our authorities do not quite understand what kind of catastrophe can occur in Georgia if Mikhail Saakashvili dies," political consultant Gela Vasadze said in an October 25 interview with this author. He added, Georgia's Western partners "must explain to the leaders of the ruling party that this is not a European or democratic style of behavior—to throw the former president into prison until the final verdict of the court in all cases and refuse to transfer him to a civilian hospital." In turn, conflict expert Paata Zakareishvili warned that Georgian society has never been so divided, today split into two almost equal, irreconcilable parts: "Both camps are ready to take up arms instead of electoral bulletins" (Author's interview, November 2).
The authorities are as irreconcilable as their opponents. Prime Minister Irakli Garibashvili told reporters that Saakashvili "will not be expelled to Ukraine." And if he needs medical assistance, "it will only be provided in the prison hospital" (Kommersant, October 31). Such rigidity on both sides could lead to a fresh round of street violence.