Georgia's Richest Man Returns to Politics
Publication: Eurasia Daily Monitor Volume: 15 Issue: 67
By: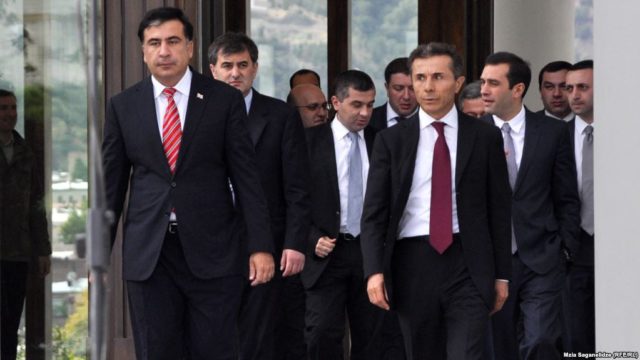 At an impromptu briefing on April 25, Georgian Prime Minister George Kvirikashvili stated that the founder of the ruling Georgian Dream (GD) faction, billionaire and former prime minister Bidzina Ivanishvili, has agreed to come out of political retirement in order to again chair the party. "I personally asked Mr. Bidzina Ivanishvili about this and he agreed," the sitting head of government said emotionally (Kommersant, April 26).
Ivanishvili is commonly referred to in the country as "the richest Georgian." Forbes estimates his fortune at $4.5 billion (News.rambler.ru, March 21, 2017). Ivanishvili founded the GD in 2011, and his party won the parliamentary elections in 2012, against then-president Mikheil Saakashvili's ruling United National Movement (UNM). Ivanishvili assumed the post of prime minister but stepped down and also resigned as chairman of the ruling party at the end of 2013. At that time, Ivanishvili told journalists he would return to politics only Georgia were hit with something akin to the Apocalypse (Kommersant, April 26).
Soon after Prime Minister Kvirikashvili's announcement, Bidzina Ivanishvili's office confirmed that the billionaire will attend the GD party congress in May, where he will be nominated for the post of party chairman.
Some observers suggested that Ivanishvili may, therefore, be planning on participating in the presidential elections, set for October 2018. But David Avalishvili, an analyst at the GHN news agency is skeptical of such prognoses: "First, Bidzina Ivanishvili has hated publicity since the time when he earned billions in Russia; and secondly, according to Georgian legislation, the president cannot officially be a member of any party. Also, Georgian law forbids the president from holding dual citizenship. As is widely known, Bidzina Ivanishvili is not only a citizen of Georgia but also France, and he does not want to lose his French passport." Avalishvili further stressed that the post of chairman of the ruling party "will allow Bidzina Ivanishvili to control the parliament, government and municipal authorities—particularly, since Georgia is a parliamentary and not a presidential republic" (Author's interview, May 1).
The biggest question may be what specifically prompted Ivanishvili to come out of retirement at this time, despite his promise to stay out of Georgian politics barring anything short of Apocalypse. A former advisor to the billionaire, political scientist George Khukhashvili, suggested to this author, "The ruling party is split! Prime Minister Kvirikashvili could not control the situation; a crisis began that could transform into a state crisis; Ivanishvili felt the danger and decided to return. He can manage and calm the situation" (Author's interview, May 1).
Perhaps among the main reasons for Ivanishvili's return were the ongoing events in Armenia, where the process of a potential revolutionary change in power has begun (see EDM, April 23, 24). The former Georgian president, Mikheil Saakashvili, who currently resides in the Netherlands, has warned that he intends to change the power in Georgia this year—after the presidential election. Saakashvili explicitly said he did not rule out the "Armenia scenario" in Georgia. He advised Ivanishvili to prepare himself and to "drink his carrot juice," an allusion to the GD founder's well-known daily habit (Kommersant, April 26).
Saakashvili has already held a meeting in Amsterdam with the leaders of Georgia's main opposition parties. But Saakashvili's return to his home country is likely only possible following a "Revolutionary scenario" because the former president was sentenced in absentia to three years in prison by a Tbilisi court (RFE/RL, January 5). The court is also currently considering three additional charges against him.
The former head of the state chancellery, Petre Mamradze, told this author that a revolution in Georgia would be possible only if the national currency, the lari, were to devalue ​​by 200–300 percent and the economy began spiraling out of control. "There is no comparable hatred of the government in Georgia like in Armenia," Mamradze argued. He believes Ivanishvili's return was instead provoked by turmoil inside the Georgian Dream party: "The party's elite had long been asking him to retake the reins, although Ivanishvili does not like power. His passion is charity," Mamradze claimed (Author's interview, May 1).
Political scientist George Nodia agreed that Ivanishvili's decision was forced on him: "Ivanishvili admitted that the model of informal power he built in 2014 in Georgia [with him retaining overwhelming influence behind the scenes] does not work. That model is ineffective in this country. Ivanishvili hopes that after taking a formal post and stepping out of the 'shadows,' he will be able to carry out more effective management of the GD," Nodia suggested (Author's interview, May 1).
The leaders of Georgian Dream are counting on "Ivanishvili's comeback" to again strengthen their party. One of its top officials, member of parliament Levan Gogichaishvili, proclaimed that Ivanishvili "will consolidate the party before the presidential elections; also, he will strengthen Georgian democracy, and life in Georgia will become more interesting" (Author's interview, May 1).
But the founder of the opposition Republican Party, Levan Berdzenishvili, who fought for democratic values ​​even in the Soviet Union, where he was imprisoned for "anti-Soviet activities," pointedly disagrees with Gogichaishvili. "Bidzina Ivanishvili is an oligarch. He is not able to consolidate democracy," Berdzenishvili argued, adding, "But it is very good that he will chair the ruling party himself because everyone will know who is responsible for the situation in the country. Now, we have a period of oligarchy. And the Greek philosophers contended that an oligarchy is followed by democracy. But democracy will come about only without Ivanishvili" (Author's interview, May 1).
Bidzina Ivanishvili will undoubtedly soon be named chairman of the Georgian Dream party. Prime Minister Kvirikashvili even promised that the party congress would elect him "unanimously" (Kommersant, April 26). The billionaire has already held an initial meeting with party leaders. Both feuding factions in the GD welcomed his return. They promised to reconcile and to avoid any further public squabbles that might damage the reputation of the party and weaken it.
Mikheil Saakashvili and his supporters have repeatedly appealed to Western leaders to put Bidzina Ivanishvili on the "sanctions list" of Russian oligarchs (Ambebi.ge, July 19, 2014). They accuse Ivanishvili of carrying out Moscow's agenda. However, "the richest Georgian" has always replied that he sold all of his business interests inside Russia and that he, in fact, favors Georgia's accession to the North Atlantic Treaty Organization (NATO).
Georgian Dream will announce its next party leader in May or June. It remains to be seen whether Ivanishvili, assuming he in fact officially takes on this role, will be able to "reverse" the negative trends roiling the party from within.