Georgia's Western Course Reaffirmed in Bipartisan Consensus
Publication: Eurasia Daily Monitor Volume: 10 Issue: 53
By: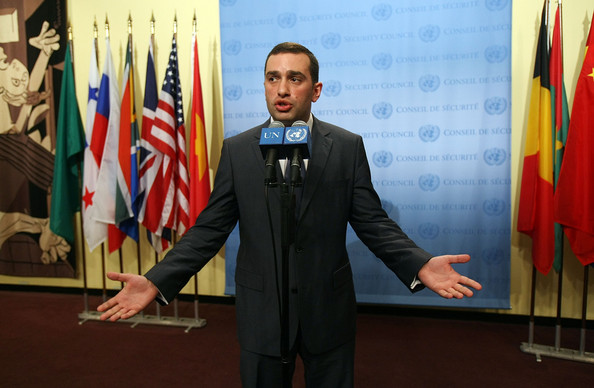 Objectively, the Georgian Dream government is a legatee of the Mikheil Saakashvili government's trademark foreign policy. National interests require the new government to build on the legacy of its predecessor.
On March 16, at the German Marshall Fund's (GMF) annual Brussels Forum, Georgian Defense Minister Irakli Alasania announced that his country's government has decided to respond positively to Brussels' proposal to consider joining the European Union's stabilization operation in Mali. On March 19, in Tbilisi, Alasania confirmed that the government has entered into negotiations with the EU about Georgia's specific contribution to this mission (Civil Georgia, March 19).
The current government's move grows out of the previous government's June 2012 policy decision to enter into a framework agreement about Georgia's participation in operations conducted under the EU's common defense and security policy (CSDP) (Civil Georgia, March 19).
The European Union Training Mission in Mali (EUTM Mali) is a multi-national military mission to train and advise the Mali government's forces operating against rebels in the country's north. Launched in February under a European Council decision, and commanded by a French general, EUTM Mali will not participate in combat. It will consist of some 250 instructors and a roughly equal number of military personnel for support and security (www.consilium.europa.eu, March 19).
Georgia's participation in missions of this type is foreseen in the parliament's recently adopted, bipartisan resolution on "Basic Directions of Georgia's Foreign Policy" (https://www.civil.ge/eng/article.php?id=25828).
Passed by consensus on March 7, the resolution originated in a proposal by President Mikheil Saakashvili and his United National Movement (UNM), which since October forms the parliamentary opposition. The UNM had proposed enshrining Georgia's Western orientation into the constitution, so as to make it binding and to require a two-thirds parliamentary majority for its revision, should a government decide in the future to shift course. Prime Minister Bidzina Ivanishvili, in command of the Georgian Dream parliamentary majority, opted, however, for a parliamentary resolution, rather than a constitutional or a legally binding act (RFE/RL, March 12). Ivanishvili seems unwilling to make irrevocable commitments to a Western orientation, apparently choosing instead to retain flexibility for dealing with Russia.
The Parliament adopted the resolution on a bipartisan basis with 96 members in favor, none opposed, and 54 absent (mostly from Georgian Dream, many of whom indicated to the UNM that they would have voted in favor if attending).
In the Western direction, the resolution stipulates the "priority of achieving [Georgia's] membership in the European Union and NATO [the North Atlantic Treaty Organization]," tasking the government to seek modalities and timeframes for implementing NATO's 2008 and subsequent summit declarations (which said that Georgia will become a member of the alliance, but did not provide modalities or timeframes). The parliamentary resolution further tasks the government to successfully complete negotiations with the EU on Association, Visa Liberalization, as well as on Deep and Comprehensive Free Trade agreements (items that will be on the agenda of the EU Eastern Partnership summit in November 2013 in Vilnius) (https://www.civil.ge/eng/article.php?id=25828).
The resolution identifies the United States and the European Union as Georgia's "main strategic partners." A distinct section itemizes bilateral cooperation goals, including military ones (e.g., train-and-equip), under the US-Georgia Strategic Partnership Charter (signed in January 2009). To join the EU and NATO, Georgia shall also draw on the Baltic States' experience and support.
On policy toward Russia, the resolution sets the goal of "de-occupation" of Georgia's territories and restoration of the country's territorial integrity within its internationally recognized borders. Georgia shall conduct a dialogue with Russia, within the Geneva International Discussions as well as bilaterally, "to resolve the conflict and establish good-neighborly relations."
Meanwhile, however, Georgia shall "neither have diplomatic relations, nor be in a military, political, or customs alliance, with a state that recognizes Abkhazia and South Ossetia or that occupies Georgia's territories." More generally, Georgia shall not join international organizations whose policies contradict "the principles of rule of law and supremacy of human rights." Cumulatively, these injunctions would preclude Georgia from reestablishing diplomatic relations with Russia or joining Russian-led organizations (the Collective Security Treaty Organization, Commonwealth of Independent States, Customs Union, Eurasian Union), unless and until Russia ends its occupation of Georgia's territories (Civil Georgia, March 7).
The text as adopted is the end result of additions and editing, led by UNM parliamentary deputy Giorgi Baramidze (with years of experience as State Minister for Euro-Atlantic Integration until October 2012), that revised Georgian Dream's draft resolution (Civil Georgia, February 11, March 7). The UNM's reworking of the resolution achieved: spelling out the goal of "membership" in NATO, elaborating on tasks, and referencing the 2008 plebiscite in which 77 percent of Georgian voters favored NATO membership (Civil Georgia, January 18, 2008); detailing the Georgia-US Strategic Partnership Charter's cooperation goals, including military ones; stipulating active cooperation with the Baltic States; and adding the provisions that would practically rule out reestablishing diplomatic relations with Russia or joining Russian-led organizations, as long as Russia occupies Georgia's territories.
By the same token, the UNM's reworking eliminated nonaligned-sounding statements that Georgia should not be a "player in confrontation processes on a global and regional scale," and should "no longer be on the list of disputes between the West and Russia." Traceable to some of the advice received by Ivanishvili during the electoral campaign, such imputations seemed to imply equidistance between the West and Russia. Similarly, out went a misleading assertion that Georgia's relations with peoples of the North Caucasus "should not be used for deepening the confrontation with Russia" (Civil Georgia, February 11, March 7).
Drafters from Georgian Dream's parliamentary majority proved cooperative with their UNM counterparts, taking those major revisions on board. Some five months after the change of government, amid intense confrontation in the domestic political arena, parliamentarians with responsibility for foreign policy from both parties have worked together well, reaffirming Georgia's Western orientation in a strong set of guidelines.
Given, however, Ivanishvili's unwillingness to authorize a binding document, this resolution cannot be seen as anticipating Ivanishvili's own foreign policy choices.
While still a long way from a bipartisan foreign policy as such, this document marks a bipartisan consensus at least along broad principles. Whether this consensus can be insulated from domestic political confrontation, and for how long, is too early to tell. The political environment remains volatile. For now, this document of principles adopted in bipartisan consensus has been made possible by Saakashvili and the UNM's trademark foreign policy, and represents full continuity with it.