German and Japanese Leaders Visit Mongolia, Expand Economic Projects
Publication: Eurasia Daily Monitor Volume: 12 Issue: 210
By: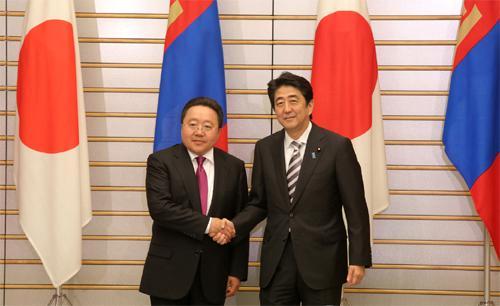 Over the past year, Mongolia has worked to institutionalize its foreign policy concept of "trilateralism," according to which the landlocked Northeast Asian republic is attempting to insert itself into Russia and China's growing relationship based on energy, transportation and regional development cooperation. Mongolia's key successes in pursuing this foreign policy initiative have been the establishment of trilateral presidential and prime ministerial–level summits in 2015. Yet, Mongolia's foreign policy was not limited to tying itself closer to Russia and China. At this year's United Nations General Assembly meeting, Mongolian President Tsakhia Elbegdorj suddenly announced that his country would seek UN ratification of Mongolia's "permanent neutrality" (President.mn, September 29). This declaration can be interpreted as a strategic maneuver by Ulaanbaatar to avoid being seen as supporting (or to prevent being cajoled into backing) Beijing's and Moscow's controversial foreign policy actions, as well as to repel pressure to join the Russia-led Eurasian Economic Union or the Shanghai Cooperation Organization. And just as significantly, in mid-October, Mongolia hosted top-level delegations from two major economic "third neighbors"—Germany and Japan.
German President Joachim Gauck visited Ulaanbaatar on October 14–16, to strengthen bilateral ties within the Mongolian-German comprehensive partnership. Two major memorandums of understanding (MOU) were signed: a copper concentrate trade agreement between Mongolia's Erdenes Tsagaan Suvraga and Germany's Aurubis, and a strategic partnership agreement among Mongol Alt Corporation, Ferrostaal and Euro Khan LLC on establishing an oil production and lubrication oil plant. Tsagaan Suvarga needs $1.031 billion in investment over eighteen years in three phases: $344.4 million has already been invested, and the remaining $686.6 million would come from the International Bank of Germany and other sources (Mongolia.gogo.mn, October 19; Mongol Messenger, October 16).
Just prior to Gauck's visit, the Mongolian Ministry of Energy and ThyssenKrupp, which was specially selected by the German government, signed an MOU on a new environmentally-friendly plant for processing methane gas from coal that was sanctioned by the Mongolian parliament in 2015. ThyssenKrupp will work on a feasibility study and personnel training while the Mongolian side will issue a license, select a Mongolian project contractor, and provide fundraising assistance for the facility (Ubpost.mongolnews.mn, October 18). After the German president's departure, the two sides discussed financing for the Rehabilitation Project for the Darhan-Erdenet power plant and the Ulaanbaatar–Mandalgobi high-voltage transmission line project (Montsame.mn, October 20).
Japanese Prime Minister Shinzō Abe, on his way to a five-country Central Asian tour, paid a four-hour official visit to Mongolia on October 22. The two met at the Mongolian head of state's home, reciprocating Elbegdorj's visit to Abe's home last year (Ubpost.mongolnews.mn, October 27). The Mongolian government indicated that the purpose of the whirlwind visit was to hold discussions on accelerating the implementation of the Economic Partnership Agreement (EPA) established between the two countries. Abe asserted that "Mongolia should adopt self-sufficient development policies, and Japan is always willing to help" (Mongolia.gogo.mn, October 23). This was Abe's second state visit to Mongolia, his first being in March 2013 (see EDM, August 8, 2014).
Mongolian commentators saw Abe's trip as indicative of Japanese renewed interest in economic cooperation in six major areas: 1) The bilateral ten-year EPA, which enters into force in 2016, will permit 8,100 types of Mongolian products to be imported to Japan at discounted prices, while 5,900 categories of Japanese products will enter Mongolia under reduced customs fees. 2) After Abe's visit, Japanese Ambassador Takenori Shimizu signed an intergovernmental MOU with Mongolian Prime Minister Chimed Saikhanbileg to consider cooperation on building the East Tsankhi railway for the huge coal deposit of Tavan Tolgoi. 3) Japan will lend 200 million yen ($1.6 million) to reduce the Mongolian state budget deficit utilized for developing small- and medium-sized enterprises; however, loan conditions and the interest rate remain unknown. 4) Mongolian construction workers will be trained to work on infrastructure development activities for the 2020 Tokyo Olympic Games. 5) Japan and Mongolia will mutually support each other in international organizations, such as Ulaanbaatar's election to UNICEF's Human Rights Council and Tokyo's candidacy for permanent membership in the UN Security Council. 6) Mongolia would continue to function as an intermediary between Japan and North Korea to solve the abductee issue (Mongolia.gogo.mn, October 23).
Indeed, one immediate fruit from the Abe visit was the successful election (on October 28) of Mongolia to the UNICEF Human Rights Council for 2016–2018 (Mfa.gov.mn, October 29). Mongolian officials at the UN mission in New York had lobbied on this issue for many months and acknowledged that Japan was one of the major supporters of their nomination (Author's interviews, November 7).
At a news conference, Foreign Minister Lundeg Puresuren announced the approval of cooperation on environmental protection, management services for Mongolia's new airport being built with a Japanese soft loan, and a joint regional energy project. This past May, Abe pledged that Japan would invest $110 billion, over the next 5–10 years, in Asian infrastructure development—investment that will, in part, fund the construction of the aforementioned coal gasification plant (Mongolia.gogo.mn, October 23). Also notably, the Mongolian Ministry of Finance, Ministry of Health and Sports, Ministry of Education and Science, the Japanese embassy in Ulaanbaatar, and the Asian Development Bank (ADB) signed a project agreement to improve health services for vulnerable populations and to reform the educational sector through a grant of $2 million from the Japanese Poverty Reduction Fund (Ubpost.mongolnews.mn, October 27).
In the Japanese media, Abe's Mongolian visit was described as evidence of his "unusually deep connection to the country, aimed in part at bringing answers to decades-old questions surrounding Japanese nationals abducted by North Korea," while Mongolia was seen to be leveraging its ties to North Korea to strengthen economic relations with Japan (Nikkei.com, October 24). However, Russian commentators read military and geostrategic significance into the visit, which, they argued, demonstrated "the growing importance of control over Mongolian territory for the world's leading players." As evidence, these Russian commentators pointed to Abe's joint press conference with his Mongolian hosts, where he thanked Mongolia's government for supporting Japan's newly revised defense laws. Moreover, he called for the involvement of the United States in developing a Japanese-Mongolian strategic partnership (Journal-neo.org, November 6; Mofa.go.jp, October 24, 2014).
Wedged between Russia and China, Mongolia has developed a "Steppe Road" strategy to position itself as a transit corridor in the heart of Eurasia and to facilitate infrastructural and trade integration with its two larger neighbors. But at the same time, it is utilizing an invigorated "third neighbor" policy toward Japan and Germany to expand its economic partners along this road as well as to avoid isolation and marginalization.