Getting the Balance Right: Italy and the Ukrainian Crisis
Publication: Eurasia Daily Monitor Volume: 12 Issue: 48
By: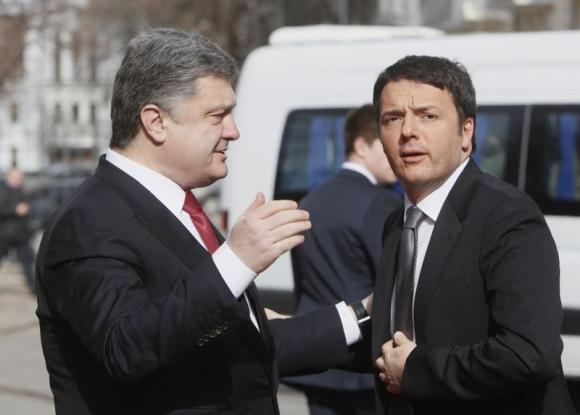 On March 4–5, Italian Prime Minister Matteo Renzi visited Kyiv and Moscow during a diplomatic trip aimed at enhancing Italy's role as meditator in the Ukraine conflict. Renzi paid a visit to Ukrainian President Petro Poroshenko, before travelling to Moscow to meet Vladimir Putin and Dmitry Medvedev. Renzi also paid a visit to the place where Boris Nemtsov was murdered only a few days before, laying flowers to remember him (Thelocal.it, March 5). This diplomatic tour was carefully organized, also in these details, to promote the perception that Italy is the right actor to promote a dialogue between the various parties to the conflict.
In the meeting with Poroshenko, Renzi reassured the Ukrainian president of Italy's commitment to preserve Ukraine's sovereignty and independence and of Rome's support for the Minsk-2 agreements (Uatoday.tv, Repubblica, March 4). When meeting Russian President Putin, Renzi instead used a more cautious approach, focusing on the positive role that Russia could play in other complicated global security issues, for instance in Libya and the Mediterranean and in fighting terrorism (Interfax, March 5; Affari Internazionali, March 9).
The Italian prime minister's friendly stance toward Russia has been criticized in Italy, where observers noted that Renzi made no mention at all of the need for Russia to withdraw its forces from eastern Ukraine (Corriere Della Sera, March 5). Despite some problems that arose recently (for instance, the demise of the South Stream natural gas pipeline project—see EDM, December 8, 2014), Rome considers cordial and strong relations with Moscow as a key priority of its foreign policy. Given the extremely negative impact that the Ukrainian crisis, European sanctions against Moscow, and the Russian economic crisis have had on the Italian economy (Affari Internazionali, December 17, 2014), reducing pressure on Russia is considered to be fundamentally in Italy's interest. However, this is partially at odds with the need to maintain a firm European stance in support of Ukraine. To manage these rather divergent interests, Italy is now trying to enhance its role as a mediator in the conflict. Russia may view this course of action by Italy as an opportunity: Although Italy does not have the same geopolitical weight as Germany, France and the United Kingdom, nonetheless, warm bilateral Russian-Italian ties could serve as a fundamental tool to break Moscow's diplomatic isolation.
In Ukraine, there was the perception that the Italian position somehow leans too heavily in favor of Russia, despite Renzi's vocal commitment to work to preserve Ukraine's "sovereignty and independence" (Ukraine Today, March 4). Consequently, Renzi has tried with this diplomatic trip to strengthen the perception that Italy wants to balance its foreign policy between Russia and Ukraine. Thus, it was not a coincidence that the Italian head of government chose to visit both Kyiv and Moscow during the same trip. In particular, he sought to strengthen the perception that Rome wants to maintain a balanced approach, and that the Italian government fully backs the Minsk framework. But he simultaneously hoped to stress that Italy was using its historical relations with Russia to act as a bridge between Moscow and the West, a role that other major EU countries cannot play because of their more confrontational stance toward Moscow.
Moreover, Italy is trying to suggest a number of solutions to the current crisis. For instance, Italian Foreign Minister Paolo Gentiloni has previously suggested that, although acknowledging the different context, the Italian model for Rome's relations with the South Tyrol (also known as Alto Adige in Italian) region could serve as a model for how Kyiv can deal with the separatist eastern regions of Ukraine (La Stampa, February 10). Rome wants to sell this as a feasible solution to preserve Ukrainian sovereignty while respecting minority rights.
Putin is well aware of the geopolitical capital that Italy represents for him. And this capital is even more valuable in a time of economic crisis and increasing political isolation—above all in Europe—as these two elements are closely interlocked. Thus, reducing the latter should help to handle the former. As such, political analysts in Russia have noted that Renzi's trip was the first diplomatic visit of a prime minister of a major European country to Russia since the start of the Ukraine crisis (apart from two quick visits of Angela Merkel and Francoise Holland to prepare diplomatic talks held later in Minsk). The Renzi-Putin meeting, therefore, was presented as a first step to ending Russia's isolation in Europe (Vedemosti, March 5). As such, it is fully in Russia's interest to promote Italy as a reliable mediator. Indeed, following their talks, Putin publicly stressed the point that Renzi gave him a number of "valuable suggestions" as Rome is much more sensitive to Russian interests than many other European countries (Pravda, March 5). Italy's mediator role was also openly recognized by Ukrainian President Petro Poroshenko (President.gov.ua, March 4), suggesting that, so far, Rome has apparently been fulfilling this ambition.
A more proactive and effective role for Italy in the Ukrainian issue is clearly in Russia's interest. Italy is part of a group of EU member states (Hungary, Cyprus, Greece) whose stances toward Russia tend to be less confrontational than other European capitals. However, Italy's size, geopolitical importance, and historic role as a founding member of a united Europe ideally situate Rome as a key partner to help Moscow reduce the level of pressure coming from the EU.
The role of meditator also suits Italian interests and capacities. Italy does not want a completely isolated Russia; it continues to see Moscow as a key economic, energy and political partner, especially during times of rising instability in the wider Mediterranean region. This role also fits Italy's peculiar position of being "too small for being a great power, and too big for being a small power", recalling what Joseph Stalin said to Pietro Nenni in 1952, when the Italian socialist leader went to Moscow to receive the International Stalin Prize (later renamed after Lenin). By stepping fully into the role of a mediator between Ukraine and Russia, therefore, Italy hopes to be able to preserve its role within the EU mainstream without sacrificing its relations with Moscow.