Greek Agreement and Iranian Deal Leave Russia Disappointed and Irrelevant
Publication: Eurasia Daily Monitor Volume: 12 Issue: 131
By: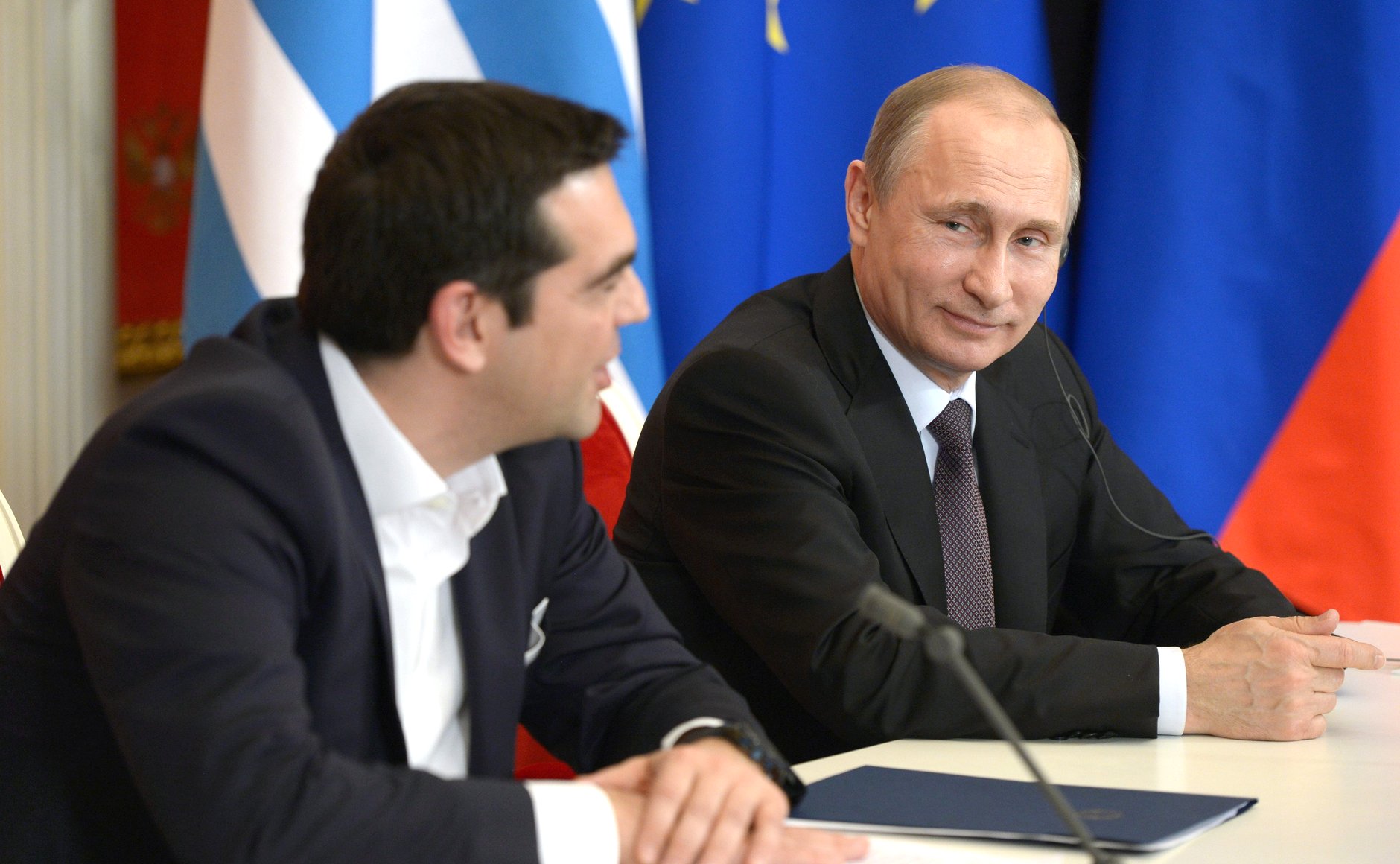 It was a rare coincidence in world politics that two pivotal and protracted negotiation processes—the European Union's talks with Greece on managing its debt, and the "P5+1" talks on managing the Iranian nuclear program—both culminated in crucial agreements at the start of this week (July 13–14). Russia was a party (albeit not a very active one by the end) to the bargaining with Iran, but not with Greece (while demonstrating close engagement); and it has large stakes in both crises. Typically, while declaring support for reaching comprehensive agreements in both cases, Moscow was, in fact, more interested in the talks breaking down, so that the EU would plunge into a deep mess marked by a "Grexit" and Iran would remain isolated by the sanctions regime. However, the two landmark compromises signify a big step forward in enhancing the governability of world order, which leaves Russia—as a revisionist power that favors a crisis of the West-imposed global order—quite irrelevant.
The outcome of the July 5 referendum in Greece was welcomed in Moscow as a major defeat of the EU. Writing in Komsomolskaya Pravda, Sergei Naryshkin, the chairman of the State Duma (lower house of the Russian parliament), promised Europe "a chain of new and deep shocks" (Komsomolskaya Pravda, July 13). Ironically, his column condemning the "immoral behavior" of the EU leadership was published exactly on the day when the painstakingly negotiated agreement on preventing a sovereign default and keeping Greece in the Eurozone was announced in Brussels (Rbc.ru, July 13). Despite the dismay exhibited by many Russian politicians, in fact there was never a plan in Moscow for providing Greece with financial aid—just frequent expressions of solidarity with Athens over its defiance of European "ultimatums" (Snob.ru, June 27). The only practical proposal that Greek Prime Minister Alexis Tsipras received at the St. Petersburg International Economic Forum (June 18–20) was about constructing the Turkish Stream natural gas pipeline, which, however, remains entirely hypothetical because Gazprom cannot produce a design that would make any economic sense (see EDM, July 10, 13; Forbes.ru, July 7).
In the second historic and hugely controversial deal, the hard issues were hammered out in the bilateral format—between US Secretary of State John Kerry and Iranian Foreign Minister Mohammad Javad Zarif—to no small irritation in Moscow. Russia has argued for canceling sanctions (particularly the arms embargo) against Iran, and President Vladimir Putin has even suggested eliminating sanctions as a political instrument altogether, seeking primarily to undermine the West's sanctions regime against Russia (Polit.ru, July 10). However, what the agreed gradual lifting of Iranian sanctions signifies is an opening of the Islamic Republic for energy business. Thus, the promises of Iranian officials to double oil production hit a raw nerve in Rosneft and Gazprom because global market prices are certain to drop—and already have (Newsru.com, July 6; Reuters, July 14). On several delicate points in the negotiations, Moscow sought to upset their course by striking an oil swap deal with Iran or by reviving the contract on delivering surface-to-air missiles; but in the critical last phase, Russia refrained from any spoiling (Kommersant, July 13).
What Russia sought to emphasize instead was its role in uniting various anti-Western forces and actors, as demonstrated by the combined summits of the BRICS (loose political-economic grouping of developing economies Brazil, Russia, India, China and South Africa) and the Shanghai Cooperation Organization (SCO), in Ufa, last week (Rbc.ru, July 9). Fanfares and photo-ops aside, the real content of these gatherings amounted to quite little, as none of the high-level guests expressed any interest in condemning the United States' "hegemony" or in praising Russian revisionism. All of the former "emerging powers," which are now themselves experiencing economic troubles, put priority on economic development goals and on cultivating ties with the US—so Russia is, in fact, quite isolated even in these formats (Gazeta.ru, July 13). China, for that matter, is gradually strengthening its influence on the global arena and used the occasion to promote its interests in Central Asia, where Russia is clearly in retreat (Novaya Gazeta, July 11). Beijing strongly expressed its preference for an agreement between the EU and Greece and was quietly supportive of extending the negotiations with Iran beyond every deadline in order to find an agreeable compromise, which probably explains Russia's self-restraint in sabotaging it (Moscow Echo, July 8).
Russia is finding itself politically dependent on China, while its intentions to re-orient economic ties from Europe toward the Asia-Pacific are being derailed by the progressive slowdown of the Chinese economy, as illuminated by the spectacular recent crash of the Shanghai stock exchange (Nezavisimaya Gazeta, July 14). Russia's own economy is moving deeper into the political high-risk zone of recession, and all of Putin's efforts to talk the crisis out of existence fail to produce any uplifting momentum (Rbc.ru, July 13). While the contraction of real incomes gradually deepens the pool of discontent, budget cuts affect the execution of the country's impossibly expensive re-armament program, which is in urgent need of downsizing; but inflated political ambitions preclude any revisions. The Armed Forces suffer from accumulated under-financing. Inevitably, logistics suffer the most, resulting in a chain of deadly accidents, from the collapse of the military barracks in Omsk to the series of aircraft losses, including the crash of a Tu-95MC strategic bomber in the Far East on July 14 (Kommersant, July 13; Nezavisimaya Gazeta, July 14).
This erosion of military might accentuates the decline of Russia's position and prestige on the international arena caused by its annexation of Crimea and entrapment in the Ukraine crisis. Moscow had expected that the EU's failure in managing the Greek disaster would weaken its ability to help Ukraine, and now Russia has to acknowledge that the long-expected collapse of Ukraine's economy may not happen anytime soon. Moscow had also assumed that Washington's preoccupation with delivering a history-making deal out of the hard negotiations with Iran would keep it from interfering in the oscillating hostilities in Ukraine's eastern region of Donbas. But now Russia has to reckon with the possibility of expanded US support for training and perhaps even arming of the Ukrainian army. Remarkably, the reasserted integrity of the Eurozone, the lifting of sanctions against Iran, and the changing priorities in China's economic development are all bad news for Russia's economy. Putin excels at playing on controversies and exploiting opportunities in deadlocked conflicts, but every advance in strengthening the institutions and norms of the world system leaves him irrelevant and isolated.