Growing Irreconcilable Confrontation Between Georgian Authorities and Opposition
Publication: Eurasia Daily Monitor Volume: 18 Issue: 187
By: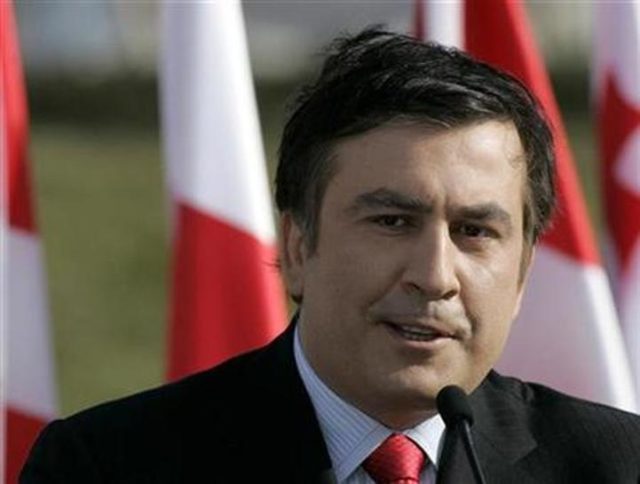 On December 8, the third president of Georgia, Mikhail Saakashvili, called on opposition parties to hold consultations on the formation of a temporary coalition council that would prepare the country for new elections and regime change. "We need a universal political amnesty and a roundtable on the redistribution of power and the run-up to the elections," Saakashvili said. The former president and founding leader of the United National Movement (UNM) party added that he has no desire for any position in the government and wants a completely new generation of leaders. He himself will be engaged in the education sector (Mtavari Channel, December 8).
According to Mariam Jishkariani, who heads the non-governmental organization (NGO) Empathy, Saakashvili faces psychological and neurological problems after his hunger-strike. "The neurological symptoms that still exist and the symptoms of emotional lability and post-traumatic stress disorder […] are quite severe," Jishkariani said. She also spoke about the treatment given to Saakashvili in the penitentiary in Rustavi, noting that the facility prescribed him psychotropic medication for no apparent medical reason (Interpress News, December 4).
"Mikhail Saakashvili knew that he was taking these drugs, but he knew that this drug was dormitive. When we removed the drug on November 27, he felt a change the next day," the head of Empathy noted. Jishkariani further argued that The Ministry of Justice will have to answer for why this drug was administered against proper guidelines, particularly due to its potential side-effects, which preclude its use in a patient suffering from hunger. She emphatically called this misuse of psychotropic drugs in Saakashvili's case "pharmacological torture and ill-treatment" (Interpress News, December 4).
Jishkariani was not the only one to point to the idea of torture. Past members of the government, like former minister of justice Nika Gvarami,a voiced concerns about "psychopharmacological torture" and proposed for Saakashvili to be treated in Ukraine or Europe. But the UNM leader himself has not expressed such a wish. Since returning to his homeland on September 28, he has repeatedly said his goal is to stay and help the Georgian people, not to be extradited quickly back to Ukraine (see EDM, October 4, 27).
Meanwhile, Saakashvili's supporters continue to protest in Tbilisi, demanding the release of their leader. On December 8, they held a rally in front of the residence of current Georgian President Salome Zurabishvili, demanding the head of state pardon her predecessor (Report.ge, December 8). But Zurabishvili has time and again gone on record to state that she would not exonerate him: "No, never!" she reiterated last month (Netgazeti.ge, November 3).
Georgian experts doubt that the presidential "never" is as irreversible as it may seem today, however. David Avalishvili from the analytical agency Nation.ge stressed in his December 9 interview with this author that politicians of this rank—especially in Georgia given its tragic experience of the 1991–1993 civil war—should be especially careful about using the word "never." "The president may [eventually] be faced with the need to change her position," Avalishvili stipulated.
During the last parliamentary elections, in October 2020, Saakashvili's UNM received 27.18 percent of the vote. The view of almost a third of Georgian society—and many others who did not vote for UNM but nonetheless consider Saakashvili's imprisonment unjust—was recently expressed by David Darchiashvili, a former member of parliament and currently one of the leaders of the FreeMisha movement (Misha is a popular nickname of Mikhail Saakashvili). "There will be no peace, security and economy in Georgia until the government realizes that, in Misha's case, we are dealing not only with legal procedures but also with a conflict of thought, conflict of [competing] paradigms that have once again emerged in our society," he wrote on his Facebook page (Facebook.com/datodarch, December 7).
The authorities understand the danger of further social polarization but are sticking to an uncompromising position. Irakli Kobakhidze, the chairperson of the ruling Georgian Dream (GD) party, said at a press briefing that if the opposition does not stop protests demanding the release of former president Saakashvili, GD will abandon constitutional reform. This agreement on changing the constitution was reached back in April, with the mediation of European Council President Charles Michel. According to Kobakhidze, GD withdrew from the EU-brokered agreement and does not recognize any obligation to reduce the electoral threshold to 2 percent from 5 percent, the threshold established back in 1995 (Palitra Video, November 30).
"We understand very well that there is no necessity to adopt these changes," Kobakhidze told reporters on November 30. The ruling party chair also suggested that adopting the changes will be the ruling party's potential "small gift" to the opposition. But whether the opposition receives this gift will "ultimately depend on GD goodwill" and the opponents' deeds. "Much will depend on the behavior and actions of the opposition," he said, adding that the ruling party hopes to see "a desire in the opposition spectrum to change the existing polarized environment" (Palitra Video, November 30).
The United States' ambassador to Tbilisi, Kelly Degnan, who was also one of the mediators during the GD-Opposition negotiations this year, noted in early December, "This 2 percent threshold is designed to continue to bring in a multi-party system that will allow more diversity in the parliament and more Georgian voices and views to be represented in parliament; and that is very important." She added, "That was the agreement of Georgia's political leaders for what is in Georgia's best interests at this time." Ambassador Degnan also stated, regarding the government's possible backtracking, "Some don't seem to understand that a democracy requires a plurality of views," and she warned that one-party rule would risk "the tyranny of the majority" (Radio Tavisupleba, December 2).
Kobakhidze's response was rather harsh: "Ms. Kelly Degnan is of course not an expert," he told reporters. However, it is well known that Ambassador Degnan worked for a long time in the field of constitutional law (Interpress News, December 2). Georgian Dream chair Irakli Kobakhidze and US Ambassador Kelly Degnan are clearly sparring not simply over credentials and legal knowledge but about rival visions of Georgian democracy. And these competing future prospects include the ultimate fate of Mikhail Saakashvili, who remains a popular political leader in Georgia.