Gul Denies Saying "Kurdistan" During Iraq Visit
Publication: Eurasia Daily Monitor Volume: 6 Issue: 60
By: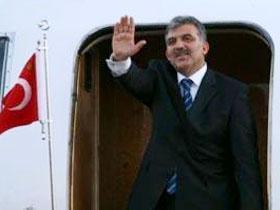 Turkish President Abdullah Gul's visit to Iraq might be regarded as a turning point in Turkey's Kurdish issue, perhaps more than its implications for improving Turkish-Iraqi ties (EDM, March 24). On the plane to Baghdad, Gul reportedly used the word "Kurdistan" to describe the Kurdistan Regional Administration (KRG) in Northern Iraq, in stark contrast to Turkey's past political discourse. Although Gul later denied these reports, the discussions they triggered confirmed Turkey's more nuanced approach towards the Kurds, as well as revealing the remaining obstacles.
Consistent with Turkey's recent policy of combating PKK terrorism partly through rapprochement with Baghdad and the local authorities in northern Iraq, Gul met the KRG Prime Minister, Nechervan Barzani, who reiterated that his administration will not allow the PKK to use Iraqi Kurdistan to carry out attacks inside Turkey. Barzani called on the PKK to abandon its violent campaign, although it is unclear how viable this will prove, since the PKK was not consulted at the outset. The KRG initiative is a response to the new geopolitical reality of Washington's decision to withdraw from Iraq and the revitalization of Turkish-U.S. cooperation. The Iraqi Kurds believe that their chances of rapidly gaining independence have diminished, and continued antagonism against Turkey by covert support for the PKK's activities could undermine their goal of establishing a viable administration within the region. Moreover, they recognize that closer ties with Ankara might stimulate the regional economy and benefit both parties.
Gul now recognizes that a confrontational policy towards the KRG is no longer sustainable. Since 1991, the KRG has gradually evolved within northern Iraq, first enjoying de facto autonomy, and later gaining official recognition under the new Iraqi constitution. Ankara attempted to prevent this embryonic administration from developing into an independent Kurdistan, fearing this might strengthen the independence movement amongst Turkey's Kurdish minority. Although in the 1990s Turkey maintained ties with the Northern Iraqi Kurdish groups in order to conduct operations against the PKK, it refrained from actions that implied an official recognition of the KRG. In the late 1990s, Ankara's ties with the KRG started to fragment, particularly after the U.S. invasion in 2003 as this became an open confrontation. Equally, Iraqi Kurds intensified their support for the PKK, further alienating Turkey. Ankara prioritized maintaining the territorial integrity of Iraq and preventing the emergence of an independent Kurdistan as the "red lines" of its Iraq policy, which was perceived as bullying by the Iraqi Kurds.
Since 2003, Ankara has acknowledged the shifts within regional politics, and readjusted its policies accordingly. For instance, despite its initial opposition to a federal Iraq, Turkey has accepted the new Iraqi constitution which established a federal structure and consequently legitimized the KRG. Most importantly, Turkey decided to abandon pursuing coercive measures, and instead used its political influence and economic power to pacify the Iraqi Kurds (Radikal, November 3, 2005). Although the first signs of rapprochement appeared in 2005, the PKK's resumption of violence poisoned these relations, reigniting tension between Ankara and the Iraqi Kurds. When Turkey sought their cooperation against the PKK, Iraqi Kurds defied Ankara's "pressures." Iraq's President Jalal Talabani, himself of Kurdish origin, challenged Ankara by saying "We would not hand over any Kurd to Turkey, even a Kurdish cat" (Sabah, October 22, 2007). This new situation further delayed normalizing relations, which only finally transpired in late 2008 (Terrorism Monitor, December 8, 2008).
Gul's groundbreaking visit to Baghdad overcame several historical taboos. He allegedly used the word "Kurdistan," adding that this was the region's official name in the Iraqi constitution. When this was reported, it made headlines in many Turkish newspapers (Radikal, March 24). Gul's reference to the region as Kurdistan was interpreted as the strongest expression yet of the change in Turkey's position on the Kurdish issue. Believing that it denotes a Kurdish desire for independence, Ankara has avoided using this term, and instead referred to the KRG as "the regional administration in the North of Iraq." Gul's remarks overshadowed his whole trip and invited criticism from domestic opposition parties claiming he had effectively renounced Turkey's policy on the Kurdish issue, and undermined its fight against terrorism (Milliyet, March 25).
On returning to Turkey, however, Gul denied these reports, and clarified his remarks by saying: "inside Iraq, according to their constitution, there is a regional Kurdish government in Iraq's north. I also met their prime minister; these are very normal things" (Anadolu Ajansi, March 24). Journalists travelling with Gul were divided on whether he specifically used the term "Kurdistan," though a majority claimed that he did (Hurriyet, March 26).
It is difficult to substantiate what Gul said. He might have resorted to the use of official terminology within Turkey, in response to pressure from the nationalist opposition, or he could have been dissuaded by bureaucrats from using the controversial term. In any case, the incident illustrates domestic resistance to the new policy despite Ankara's courageous diplomatic steps. Therefore, despite the optimistic mood that ensued after Gul's trip to Baghdad, there are grounds to doubt that a solution of the Kurdish issue is imminent.