HEAD OF GEORGIA'S NATIONAL GUARD RESIGNS AFTER 10 DAYS
Publication: Eurasia Daily Monitor Volume: 3 Issue: 22
By: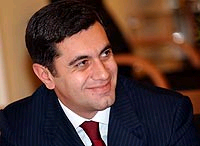 The Georgian armed forces anticipate two major challenges in 2006. First, Russian peacekeeping troops are expected to withdraw from the breakaway regions of Abkhazia and South Ossetia. Second, Georgia must redesign its defense system according to NATO standards if it hopes to join that organization.
Yet the continuous infighting among the Georgian armed forces hardly helps Tbilisi address these tasks. The latest incident involves Lt.-General Giorgi Tatukhashvili. On December 30 President Mikheil Saakashvili appointed Tatukhashvili commander-in-chief of the Defense Ministry's National Guard. Tatukhashvili reported to the new post on January 16 only to resign unexpectedly on January 25. Sources said that Saakashvili was forced to cut short his visit at the world economic forum in Davos due to the acute military crisis as much as the national energy shortage.
Sources say that the scandal-prone, ambitious Defense Minister Irakli Okruashvili was instrumental in Tatukhashvili's resignation. Apparently Okruashvili had already nominated his confidant Colonel Kvicha Gujejiani as the National Guard's new commander before Saakashvili even accepted Tatukhashvili's resignation. At a news conference on January 27 Okruashvili caustically remarked that he "is not interested" in the reasons behind Tatukhashvili's resignation, indirectly confirming his refusal to have "alien cadres" placed in the ministry.
24 Saati (January 27) and other sources see Tatukhashvili's resignation as one more example of the standoff between Saakashvili and Okruashvili on the one hand, and the general atmosphere of confrontation within the Georgian military establishment, on the other.
Tatukhashvili, a career military officer and Saakashvili's chief bodyguard, had enjoyed a rapid rise since the Rose Revolution, rising from colonel to lieutenant-general in only a year and a half. He is known as Saakashvili's most faithful general. Some analysts see Tatukhashvili's appointment as Saakashvili's attempt to install his confidant in a Defense Ministry that is overflowing with Okruashvili loyalists.
Okruashvili likely consider this appointment to be an attempt to restrict his influence and, according to knowledgeable sources, did his best to hinder Tatukhashvili's efforts. The two men never met during Tatukhashvili's brief tenure. Okruashvili banned foreign military attaches and journalists from attending the ceremony presenting Tatukhashvili to the staff at National Guard headquarters. Okruashvili's team blocked Tatukhashvili's efforts to create a task force to inventory National Guard property and equipment due to alleged shortages, but the task force was quickly established the day after his resignation. Okruashvili's team also blocked Tatukhashvili's attempts to appoint his cadres to the National Guard.
Kakha Kukava, a parliamentarian from the Democratic Front faction, said that Okruashvili is the only minister who can get in the way of Saakashvili; any other minister would be immediately sacked if he dared such disobedience. Kukava said that today the Defense Ministry is a fully autonomous unit, and that Saakashvili prefers to grant the highly popular Okruashvili a high level of autonomy rather than risk having him as a political rival. Okruashvili returns the favor by not interfering in political affairs. However, the defense minister demonstratively ignored the fact that Tatukhashvili was a presidential appointee. Moreover, Saakashvili had personally instructed Tatukhashvili to work toward bringing the National Guard under direct presidential command.
The confrontation between Okruashvili and Tatukhashvili has long been an open secret. Tatukhashvili had sharply criticized many Defense Ministry policies, including the current method of training reservists, plans to acquire obsolete military hardware from abroad, and the sweeping dismissals of professional officers and officers with battle experience. Tatukhashvili also criticized Okruashvili's order to ignore the 15th anniversary of National Guard Day on December 21, 2005.
Tatukhashvili's resignation is part of a series of top personnel turnovers that undermine the combat readiness of the Georgian armed forces. In mid-January Colonel Besik Maisuradze resigned as commander-in-chief of Georgian air force. In 2005 alone the Georgian Navy changed commanders three times.
Independent military analyst Koba Liklikadze, one of the analysts that Okruashvili has barred from Defense Ministry facilities for publishing unbiased information about the situation in the Georgian military, says that Tatukhashvili's forced resignation is a continuation of Okruashvili's irrational personnel policy. Many experienced military and defense officials have been sacked without advance notice, social guarantees, and financial compensation. The official reasons for such dismissals, according to Okruashvili's October 27 report to parliament, were a low level of competence and "suspicious questions that have accumulated in the Counterintelligence Department" regarding past activities of these officers.
Symptomatically, the Defense Ministry has lost seven court cases filed by 40 illegally dismissed defense officials. Liklikadze and other analysts argue that the growing discontent among the unfairly dismissed servicemen might become dangerous for the state. Moreover, analysts argue that many current Defense Ministry policies run counter the requirements of NATO, which Georgia plans to join in 2008.
Military officials are also challenging Saakashvili's international contacts. On January 16, experts from the U.S. Armed Forces European Command arrived in Tbilisi to investigate complaints lodged in a November 2005 letter from Colonel Levan Nikoleishvili, chief of the General Staff, to the Pentagon. The Georgian General Staff had expressed dissatisfaction with the quality of the training of Georgian recruits have received from U.S. instructors. Analysts sharply condemned the letter as base ingratitude to free aid.
Saakashvili has little control over his defense minister. Just yesterday, January 31, Okruashvili-encouraged Georgian troops confiscated a Russian peacekeepers' armored vehicle after it had crashed into a car of Georgian living in South Ossetia, Saakashvili declared that Tbilisi would refrain from any "impulsive and extremely radical measures" that would be harmful for Georgia. Yet Okruashvili's impulsive measures have brought Georgian troops and Russian peacekeepers on the verge of an armed clash.
(Alia, Resonansi, January 28; 24 Saati, January 17, 24, 27; Kavkas Press, January 30; TV-Rustavi-2, January 25; Kviris Palitra, January 30-February 5)