Hesitantly Assertive Germany Sizes up Imperiously Assertive Russia
Publication: Eurasia Daily Monitor Volume: 11 Issue: 32
By: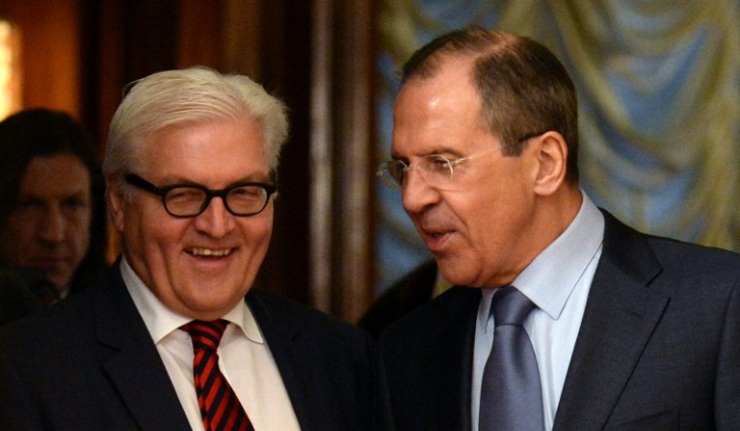 Absorbed with the drama on the Sochi ski tracks and hockey rinks, the Russians cannot fail to notice that the athletic superpower that is confidently leading in the Olympic medal count is actually Germany. Relations with this key partner used to be so important for Moscow that the Russian leadership spared no effort to try to justify the loaded term of "special" partnership. President Vladimir Putin tries to emphasize rather than hide his Germanophilia (with a particular KGB-added twist), so the pronounced bilateral estrangement since the start of his third presidency has been particularly noticeable. The appointment of Frank-Walter Steinmeier as Germany's foreign minister was greeted enthusiastically in the Kremlin where he is seen as a "friend" with a track record of valuable contributions to the traditional German policy of engaging Russia (Nezavisimaya Gazeta, February 13). Yet, neither Putin nor Prime Minister Dmitry Medvedev chose to meet with Steinmeier when he visited Moscow last Friday, even though both took a break from attending the Games to partake in a Security Council session in Novo-Ogarevo (Kommersant, February 14).
This demonstrative Russian aloofness is hardly a response to German Chancellor Angela Merkel's decision to abstain from Sochi but very possibly a sign of Moscow's uncertainty regarding Berlin's new assertiveness, which was emphasized during the Munich security conference earlier this month (Kommersant-Vlast, February 17). Moscow has few reasons to worry about the deployment of Bundeswehr troops to overseas conflict zones like Syria because the German electorate's aversion to such power projection is well known. Nevertheless, suspicions abound that the probable new forcefulness of German politics may be oriented on promoting such values as good governance or tolerance, which are increasingly alien to the Russian political mainstream. Indeed, vicious propaganda attacks on critical voices—popular author Viktor Shenderovich has recently found himself on a receiving end of one—are intolerable from the point of view of even the most pragmatic German politicians, particularly since such attacks often have anti-Semitic overtones (https://kommersant.ru/doc/2405688?isSearch=True).
In Foreign Minister Steinmeier's meetings with other Russian officials, disagreements on such issues as human rights were duly registered, but then the conversation briskly progressed to other matters, like the export of natural gas. Indeed, Gazprom succeeded in increasing its share in the European gas market to 30 percent in 2013, and registered a 21-percent increase in exports to Germany (Vedomosti, February 18). This expansion cannot be explained away by cold weather and should be attributed primarily to the disruptions in gas supplies from Algeria and Libya—a serious failure of the European Union's policy of seeking to diversify its energy supply sources. Emboldened by this success, the top management of Gazprom has stopped worrying about the European Commission's probe into its monopolistic practices—and the Russian gas giant has increased its own salaries and bonuses by as much as 67 percent in 2013, compared with the rather less successful 2012 (Nezavisimaya Gazeta, February 17).
It is exactly this kind of arrogant corporate behavior that makes German companies reluctant to invest in Russia, where the toxic mix of corruption and bureaucratic predation creates an intolerable business climate. Were the Russian economy growing faster than the German one, many entrepreneurs would be inclined to take the risk. But stagnation has firmly set in and the outflow of capital from Russian continues to accelerate, having reached a high mark of $17 billion in January (Kommersant, February 17). The weakening ruble is seen by Russian consumers as an unmistakable sign of disarray in economic policy, while experts point to the fast increase in the indebtedness of regional budgets loaded with payments for social programs (https://slon.ru/economics/zubarevich_-1057459.xhtml). Industrial output is contracting, and the $2 billion deal on selling arms to Egypt announced after Putin's meeting with Abdel Fatah al-Sisi (see EDM, February 13) will hardly reinvigorate the military-industrial complex loaded with orders but struggling to keep the old Soviet production lines going (Nezavisimaya Gazeta, February 13). Russia's interest in attracting German business elite to assist with Russian economic modernization has evaporated. Such connections have started to damage the Russian Federation's reputation because the German public now perceives Russia as untrustworthy and anti-European.
These perceptions had emerged as a result of the Russian-Georgian war in August 2008, but it is the on-going crisis in Ukraine that has given them a new urgency. Germany was the main driver of the EU's expanding ties with Ukraine, which were supposed to be structured in such a way that Russia would not feel threatened. And Berlin is now deeply upset with the apparent failure of that effort caused by Moscow's determination to prove that Ukraine stays within its "sphere of influence" (Kommersant, February 18). German leadership has been working carefully with the Ukrainian opposition, seeking to find a compromise that would open a way out of the political deadlock. But there is a clear understanding that President Viktor Yanukovich has destroyed his credibility beyond repair, so only his departure can now lead to the restoration of governability (https://www.gazeta.ru/politics/2014/02/18_a_5913185.shtml). For Putin, however, an effective suppression of "extremists" in Maidan is a matter of principle. Therefore, Yanukovich received another $2 billion this week in order to sustain his hold on power (https://newsru.com/finance/18feb2014/eurobonds.html).
The Kremlin's aggressive pursuit of victory in a situation where only joint efforts are likely to prevent Ukraine from hard-landing into sovereign default and state failure is disturbing for German politicians, who do not want to think in terms of geopolitical struggle or to play "zero-sum" games. They thought they understood Putin's mindset and cannot quite comprehend where his new propensity to confrontation and disdain for Europe have come from, while in fact those are natural features of maturing, corrupt authoritarianism. Germany will need to overcome plenty of self-doubt as it takes responsibility for adjusting EU policy to these unnecessary but unavoidable tests of political will, and it will have to invest every bit of its new authority into forging a position that answers the anxieties in the Baltic States about Russia's provocations as well as the eagerness in Cyprus to do business with Russia. When every attempt at engaging Moscow is interpreted as a sign of weakness, the strategy of constructive disengagement may serve best, but Ukraine will then pay the hard price.