Hezbollah's Creative Tactical Use of Anti-Tank Weaponry
Publication: Terrorism Focus Volume: 3 Issue: 32
By: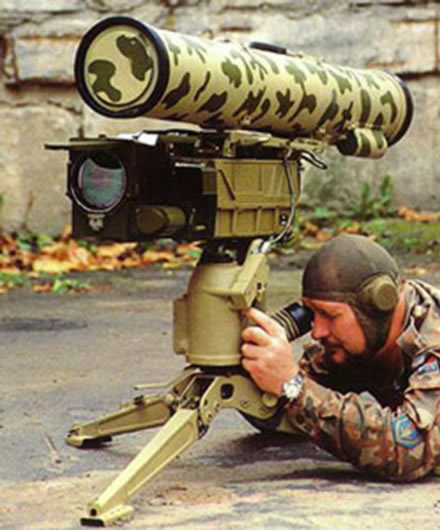 As the world waits to see if the UN-brokered ceasefire in Lebanon holds, the Israeli army will begin assessing its disappointing performance against Hezbollah guerrillas. Among the many aspects to be investigated is the vulnerability of Israel's powerful armored corps to small, hand-held, wire-guided anti-tank weapons. Indeed, Hezbollah's innovative use of anti-tank missiles was the cause of most Israeli casualties and has given the small but powerful weapons a new importance in battlefield tactics.
In a recent statement, Hezbollah's armed wing, al-Moqawama al-Islamia (Islamic Resistance), described Israel's main battle-tank as "a toy for the rockets of the resistance" (al-Manar TV, August 11). Hezbollah's anti-tank weapons consist of a variety of wire-guided missiles (usually of Russian design and manufactured and/or supplied by Iran and Syria) and rocket-propelled grenade launchers (RPGs). The missiles include the European-made Milan, the Russian-designed Metis-M, Sagger AT-3, Spigot AT-4 and the Russian-made Kornet AT-14. The latter is a Syrian supplied missile capable of targeting low-flying helicopters. Iraqi Fedayeen irregulars used the Kornet against U.S. forces in 2003. The most portable versions of these weapons are carried in a fiberglass case with a launching rail attached to the lid.
On July 30, the Israeli army published photos of various anti-tank missiles they claim to have found in a Hezbollah bunker (see: https://www.hnn.co.il/index.php?modul…sk=view;id=967). The weapons include Saggers and TOW missiles. The TOW (Tube-launched, Optically-tracked, Wire-guided) missile is a formidable weapon first produced by the United States in the 1970s. These missiles were of interest as their packing crates were marked 2001, suggesting that these were relatively new additions to Hezbollah's arsenal and not part of the shipment of TOW missiles from Israel to Iran that was part of the Iran-Contra scandal of 1986 (the shelf-life of the TOW is roughly 20 years). On August 6, Israeli Major-General Benny Gantz showed film of BGM-71 TOW and Sagger AT-3 missiles he reported were captured at one of Hezbollah's field headquarters (Haaretz, August 6).
The primary target of Hezbollah's battlefield missiles is the Israeli-made Merkava tank. The Merkava was designed for the maximum protection of its crews, with heavy armor and a rear escape hatch. The emphasis on crew survival is not simply a humanitarian gesture; the small country of Israel cannot provide an endless number of trained, combat-ready tank crews if casualties begin to mount. The tank is also designed to be easily and quickly repaired, a specialty of the Israeli Defense Forces (IDF). The modular armor plating can be easily replaced if damaged, or replaced entirely with upgraded materials when available. The first generation of Merkavas was built in the 1970s and was soon deployed in Lebanon in 1982. The much-improved Merkava Mk 4 has been Israel's main battle-tank since its introduction in 2004.
Current battlefield reports suggest that Hezbollah fighters are well-trained in aiming at the Merkava's most vulnerable points, resulting in as many as one-quarter of their missiles successfully piercing the armor (Yediot Aharonot, August 10). Hezbollah attacks on Merkava tanks during the November 2005 raid on the border town of Ghajar were videotaped and closely examined to find points where the armor was susceptible to missile attack. While some of their missiles have impressive ranges (up to three kilometers), the guerrillas prefer to fire from close range to maximize their chances of hitting weak points on the Merkava. Operating in two- or three-man teams, the insurgents typically try to gain the high ground in the hilly terrain before selecting targets, using well-concealed missile stockpiles that allow them to operate behind Israeli lines (Jerusalem Post, August 3).
Without artillery, Hezbollah has adapted its use of anti-tank missiles for mobile fire support against Israeli troops taking cover in buildings. There are numerous reports of such use, the most devastating being on August 9, when an anti-tank missile collapsed an entire building, claiming the lives of nine Israeli reservists (Y-net, August 10). Four soldiers from Israel's Egoz (an elite reconnaissance unit) were killed in a Bint Jbail house when it was struck by a Sagger missile (Haaretz, August 6). TOW missiles were used effectively in 2000 against IDF outposts in south Lebanon before the Israeli withdrawal. There are also recent instances of anti-tank weapons being used against Israeli infantry in the field, a costly means of warfare but one that meets two important Hezbollah criteria: the creation of Israeli casualties and the preservation of highly-outnumbered Hezbollah guerrillas who can fire the weapons from a relatively safe distance.
It was suggested that the IDF helicopter brought down by Hezbollah fire on August 12 was hit by an anti-tank missile. Hezbollah claimed to have used a new missile called the Wa'ad (Promise), although the organization occasionally renames existing missiles (Jerusalem Post, August 12). At least one of Israel's ubiquitous armored bulldozers has also fallen prey to Hezbollah's missiles.
The Syrian-made RPG-29 was previously used with some success against Israeli tanks in Gaza. Hezbollah also uses this weapon, with a dual-warhead that allows it to penetrate armor. On August 6, the Israeli press reported that IDF intelligence sources claimed that an improved Russian-made version of the RPG-29 was being sold to Syria before transfer to the Islamic Resistance (Haaretz, August 6). In response, Russia's Foreign Ministry denied any involvement in supplying anti-tank weapons to Hezbollah (RIA Novosti, August 10). The IDF reports that anti-tank missiles and rockets continue to cross the border into Lebanon from Syria, despite the destruction of roads and bridges in the area (Haaretz, August 13).
The Merkava tank has assumed an important role as a symbol of Israeli military might. Their destruction in combat has an important symbolic value for Hezbollah. Hezbollah's tactical innovations and reliance on anti-tank missiles over more traditional infantry weapons will undoubtedly prompt serious introspection on the part of the IDF in anticipation of renewed conflict along the border.