Hot Issue — Revolutionary Roadshow: Libyan Arms and Fighters Bring Instability to North and West Africa: Part One
By: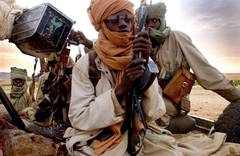 Executive Summary:
A year after the eruption of Libya's spontaneous revolution, there are few signs of progress towards establishing internal security or a democratic government. Real power lies in the hands of well-armed militias with little inclination to disarm or demobilize and the ruling Transitional National Council (TNC) has been reduced to holding its meetings in secret to avoid bottle-throwing, grenade-hurling demonstrators. Amidst this turmoil come increasingly louder demands for a Shari'a regime as the old regime's looted armories and former soldiers fuel new insurrections in the Sahel/Sahara region. Even as neighboring Mali descends into a new round of rebellion that threatens to become an all-out civil war, Niger and Algeria are struggling to find ways to break the wave of violence at their borders.
The alarming developments on the Libyan periphery inspired a special two-day meeting of foreign ministers and intelligence chiefs from Mali, Algeria Mauritania and Niger in Nouakchott in late January. These officials also invited their counterparts from Nigeria and Burkina Faso to discuss the rising "terrorist threat" in the Sahel/Sahara region and the possibility of ties between AQIM and Nigeria's Boko Haram militants (AFP, January 23; PANA, January 24; Nouvel Horizon [Bamako], January 24).
Libya's Political Chaos
In some ways it is proving difficult to distinguish between the new and old regimes in Libya as reports emerge of widespread torture and consequent deaths in detention centers run by the new military security agency and various militias. The UN estimates some 8,500 Libyans are held in militia-run prisons in and around Benghazi that have no external supervision (Telegraph, January 26). Libyan and UN authorities admit that they do not even know where all the detention centers are in Libya (AFP, January 25).
The ruling TNC has been forced to meet in secret after their Benghazi offices were stormed by protesters who tossed home-made grenades, set part of the building on fire and pelted TNC chairman Mustafa Abd al-Jalil with empty bottles (NOW Lebanon, January 22; al-Sharq al-Awsat, January 25). Only days earlier, the TNC deputy leader, Abd al-Hafiz Ghoga, was verbally abused and manhandled by protesters who questioned the sincerity of his defection from the Qaddafi regime (NOW Lebanon, January19). Ghoga's subsequent resignation was rejected by the TNC (AFP, January 30). The fact that these incidents occurred in Benghazi, the TNC's supposed stronghold, do not auger will for the future success of the interim government. The TNC already acknowledges it has little control over most of the country, which continues to be largely administered by well-armed militias. A campaign on Libyan social media seeks to undermine the transitional government with calls on Facebook and Twitter for the overthrow of the TNC, which is described in the messages as working for the return of the Qaddafi dictatorship (al-Sharq al-Awsat, January 25).
Libya's Muslim Brothers have already demonstrated their political savvy in the creation of the new Libyan government by successfully demanding that two-thirds of the new assembly's seats be reserved for candidates from political movements, a regulation that virtually guarantees the Muslim Brotherhood a dominant role in the new government as one of Libya's only well-organized political movements (AFP, January 28). Restrictions on the participation of former members of the government in the electoral process automatically eliminate much of the Brotherhood's opposition in contesting seats for the assembly. Thousands of Libyans have joined street demonstrations in Benghazi demanding the immediate implementation of Shari'a and its incorporation into a new Libyan constitution (AFP/NOW Lebanon, January 21).
Libyan Prime Minister Abdurrahim al-Keib has recently warned of the danger posed by Qaddafi loyalists who had escaped the Libyan revolutionaries: "This is a threat for us, for neighboring countries and our shared relations" (Reuters, January 20). However, recent reports that pro-Qaddafi fighters had attacked a militia occupying the southern city of Bani Walid reveal how easily these fears can be manipulated to repress political opposition.
Though militia statements indicated the Bani Walid fighters were Qaddafi loyalists, the violence was in reality the result of anger over thefts and arbitrary arrests committed by May 28 Brigade members that boiled over when a number of armed Bani Walid residents arrived at the Brigade's base to demand the release of a local arrested by the militia. The Warfallah tribe, Libya's largest and the dominant group in Bani Walid, demanded that the Brigade be disarmed and brought under Defense Ministry control (AFP, January 27). Though various militias had gathered around Bani Walid for a major assault on the city's alleged "pro-Qaddafi" elements, the TNC declined to open a new round of fighting and instead sent Defense Minister Osama al-Juwali (himself a commander in the Zintan Brigade militia) to negotiate a settlement (Jordan Times, January 26). Libyan Interior Minister Fawzi Abdelali later clarified the situation by denying the uprising against the thwar (Libyan revolutionaries) was the work of pro-Qaddafi militants (NOW Lebanon, January 23). The talks led to TNC recognition of a tribal-based local government in Bani Walid, which should set an interesting precedent for decentralized government as the TNC attempts to extend its influence in post-revolutionary Libya.
Jordan is trying to alleviate the problem of rogue militias by undertaking the training in Jordan of some 10,000 thwar as preparation for their integration into Libya's new military and security services (Jordan Times, January 20). However, it may prove difficult to convince the gunmen to abandon their new powerbases at a time when their armed presence will guarantee them a share in the considerable revenues of a new, oil-rich administration. Alternatively, Sudan's president, Omar al-Bashir, has offered to help Libya disarm its militias and integrate them into the new national police and military units (BBC, January 8). Al-Bashir received a warm welcome from the TNC in a mid-January visit to Libya, despite being wanted by the International Criminal Court on charges of war crimes and crimes against humanity in neighboring Darfur (Le Monde, January 19).
A New Tuareg Rebellion
The overthrow of the Qaddafi regime has had an enormous impact on Libya's southern neighbors, most notably in Mali. Much has changed in Mali's arid north since the leading Tuareg rebel, Ibrahim ag Bahanga, was killed in mysterious circumstances on August 26, 2011 (see Terrorism Monitor, September 16, 2011). [1] A prominent opponent of the political and military domination of Mali by the Bambara (one of the largest Mandé ethnic groups in West Africa), Ag Bahanga had been harbored by Qaddafi's Libya after his defeat by Malian forces aided by Arab and Tuareg militias in 2009 (see Terrorism Focus, February 25, 2009). At the time of his death, it was widely believed in Mali that Ag Bahanga was preparing a new rebellion with weapons obtained from Libyan armories (Nouvelle Liberation [Bamako], August 17, 2011; Ennahar [Algiers] August 27, 2011). Ag Bahanga publicly opposed the "intolerance preached by the Salafists" of AQIM and at one point even proposed that his men be used as a mobile counterterrorist strike force (El Watan [Algiers], August 29, 2011; see also Terrorism Monitor, November 4, 2010). Ag Bahanga was an active recruiter for Qaddafi's loyalist forces but later described the Libyan strongman's death as an opportunity to advance Tuareg efforts to create a new state, Azawad, composed of the three northern territories of Mali; Gao, Kidal and Timbuktu.
Since Ag Bahanga's death, a new Tuareg independence movement has been formed from a mixture of veteran rebels, defectors from the Malian Army and the recently returned Tuareg veterans of the Libyan Army who arrived in northern Mali in several heavily-armed convoys. The military commander of the Mouvement National pour la Liberation de l'Azawad (MNLA – National Movement for the Liberation of Azawad) is Colonel Muhammad ag Najim, a Malian Tuareg formerly of the Libyan Army (Proces-Verbal [Bamako], January 30). According to one report, each of the three major MNLA units is commanded by a pair of officers, one a veteran of the Libyan army, the other a defector from the Malian army (Jeune Afrique, January 24).
The military base at Aguel Hoc (Kidal Region) was attacked by the MNLA on January 18 and again on January 24 (L'Essor [Bamako], January 26). Unlike the raids that characterized past Tuareg rebellions, the intent this time was to take and hold the town. As the MNLA poured reinforcements into the fighting the government forces ran out of ammunition, forcing a complete withdrawal from the town on January 27 (Reuters, January 27). Similar attacks occurred simultaneously at Menaka and Tessalit. According to a Malian military source, the assailants in Menaka were equipped with Katyusha rockets, courtesy of the looted Libyan armories (AFP, January 19).
The MNLA appears to be conducting joint operations with a new Tuareg Islamist movement. Iyad ag Ghali, one of the leaders of the Tuareg rebellion of the 1990s has formed a movement demanding the institution of Shari'a in Mali (Info Matin [Bamako], January 12; 22 Septembre [Bamako], January 12). By doing so, Ag Ghali, who remains powerful in Kidal Region, has introduced an Islamist element to the traditional ethnic-nationalism that has fueled past Tuareg uprisings. Ag Ghali claimed it was his new Islamist movement, Harakat Ansar al-Din that was most responsible for the January 18 seizure of Aguel Hoc (Sahara Media [Nouakchott], January 19).
It may have been Ag Ghali's group that Mali's Defense Ministry was referring to when it claimed units of AQIM jihadis had joined the MNLA in the assault on Aguel Hoc (AFP, January 26; al-Jazeera, January 27). By the end of January, Bamako was claiming the attack on Aguel Hoc was the combined work of AQIM, the MNLA and "a group linked to religious fundamentalists" (most likely Ag Ghali's Ansar ad-Din) (L'Essor [Bamako], January 30). A Paris-based representative of the MNLA, Moussa ag Acharatoumane, told journalists that he rejected the government's claim his movement had been joined by AQIM jihadis: "We've heard all this before. Every time Mali finds itself unable to battle our fighters, the Malian government tries to link us to terrorists. We reject all forms of terrorism. Our intention is to get rid of the drug traffickers and AQIM from our soil" (AP, January 27; Reuters, January 27).
A Malian army counterattack directed from the Gao headquarters of General Gabriel Poudiougou succeeded in briefly driving off the Tuareg occupying Aguel Hoc and Tessalit, with the reported loss of 45 to 50 insurgents including Colonel Assalat ag Habbi, a deserter from the Malian military, to the loss of two dead government soldiers (L'Essor, January 23; Maliba Info [Bamako], January 19). [2] However, the army's success was short-lived, as it was not long before MNLA fighters returned to the towns, inflicting heavy losses on government forces.
The Tuareg widened the rebellion on January 26 by attacking two outposts more than 500 miles apart; Andéramboukane in the east and Lere in Mali's northwest, taking the latter without a fight after a small government garrison was withdrawn (AP, January 26; Reuters, January 27). Reeling from Tuareg attacks, the Malian military withdrew to Niafunke, which was then promptly attacked and taken by the MNLA (Le Combat [Bamako], January 31).
With thousands of Tuareg and Arab refugees crossing into neighboring Niger, there is alarm in the Nigerien capital of Niamey that the rebellion in Mali may spread to the Tuareg community of northern Niger, which has a similar volatile mix of well-armed, disaffected Tuareg returnees from the conflict in Libya. Niger's president, Issifou Mahamadou, appealed for an end to the ethnic divisions that have plagued the Sahara/Sahel region: "Let us cease shooting each other in the foot; let us stop stabbing one another. Let us stop dividing ourselves, taking recourse to our ethnic groups, to our region" (Tele Sahel [Niamey], January 24).
Andrew McGregor is Director of Aberfoyle International Security, a Toronto-based agency specializing in security issues related to the Islamic world.
Notes
1. For a profile of Ibrahim ag Bahanga, see Andrew McGregor, "Rebel Leader Turned Counter-Terrorist?: Tuareg's Ag Bahanga," Militant Leadership Monitor, March 30, 2010.
2. Both the MNLA and the Malian Army issue reports of massive losses to their opponents while reporting only minimal or no casualties to their own forces.