Hot Issue: The Arrest of Osama bin Laden's Son-in-law
By: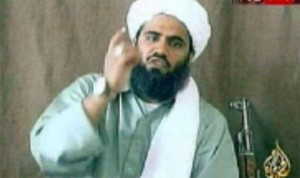 On Thursday, March 7, federal officials broke the news that Sulayman Jasim Abu Ghaith, Osama Bin Laden's son-in-law had been apprehended in Jordan and was slated to stand trial in federal court in New York City. Representative Peter King (R) of New York praised the administration for its actions and referred to Abu Ghaith as belonging to the top echelons of al-Qaeda. King also congratulated both the CIA and FBI for their role in apprehending Abu Ghaith. On March 8, Abu Ghaith was arraigned in New York and charged with conspiracy to kill Americans as a member of al-Qaeda. He had been arrested in Jordan on February 28 and arrived in New York the next day. 
Who is Sulayman Abu Ghaith? 
In the United States, Abu Ghaith is best known as the man who posed in a photograph with Osama bin Laden and Ayman al-Zawahiri in front of a rock in Afghanistan after the 9/11 attacks and then delivered a speech in Arabic praising the attacks and promising more to come. Born in Kuwait in 1965, he was an Islamic scholar, preacher, and teacher. He rose to some prominence during the Iraqi invasion of Kuwait (1990-91) because of his sermons against Saddam Hussein. After the Iraqi expulsion from Kuwait, he seems to have become more extreme. He turned his attention to the perceived shortcomings of the Kuwaiti state from a jihadist perspective. One of the clear signs that he had moved to the Salafi-jihadist camp by1992 was his decision to cease being an active member of the Muslim Brotherhood because of the Brotherhood's participation in democratic elections. It is relatively easy today to find online videos of his fiery speeches from that period, such as that against the Kuwaiti constitution, delivered in an emphatic tenor voice that seems at odds with his reported quiet demeanor of today. 
According to the Kuwaiti newspaper al-Watan (February 2), Abu Ghaith was close to Khalid Shaykh Muhammad in Kuwait. In 1994, he traveled to Bosnia to fight the Serbs but returned to Kuwait after two months. Reportedly, he made a number of trips to Bosnia and Afghanistan. At first the Kuwaiti government stripped him of his right to give public speeches in mosques but they allowed him to continue a teaching position at the high school level. At some point in 2000, Abu Ghaith, his wife Fatima and six children settled in Afghanistan. After 9/11, the Kuwaiti government stripped Sulayman Abu Ghaith of his citizenship after his speeches praising the attacks against the United States. By 2002, Abu Ghaith and his family joined a number of senior al-Qaeda members who were under a kind of house arrest in Iran after fleeing from the fierce American counterattacks on the organization in Afghanistan. 
In the Arabic language press, Abu Ghaith is often cited as a spokesman for al-Qaeda without an operational role. [1] In English language press, however, in addition to his infamous speeches, he is seen as an enabler of al-Qaeda, whether for an alleged role in raising money for al-Qaeda or recruiting other jihadists to attack Americans. [2] 
How Abu Ghaith Was Apprehended 
Since the U.S. invasion of Afghanistan and the dispersal of al-Qaeda, Iran has taken advantage of a rather mild hostage strategy for whatever al-Qaeda figures came its way. It would seem that this strategy has spared Iran from the worst aspects of al-Qaeda's attentions. At this point, Iran is releasing some if not all of these figures, perhaps because it feels no need to hold them anymore, or perhaps simply to shed itself of this baggage against the day when it could engage in serious negotiations with the United States. In any case, if the reports that Iran offered Abu Ghaith back to Kuwait as early as 2003 are true, it seems that the Islamic Republic did not consider Abu Ghaith or his wife Fatima, who is one among many of Bin Laden daughters, to be high value hostages. Most recently, it appears that Iran provided Abu Ghaith with a forged Saudi passport that allowed him to enter Turkey with his family. 
From the many press reports and varying accounts, it is difficult to determine the timing of the events that followed. By all accounts, the Turkish authorities did not recognize Abu Ghaith with his Saudi wife and family when they entered Turkey from the Kingdom's nemesis, Iran, towards the end of January. [3] Instead, the Arabic language press widely reports that some very well informed CIA officers alerted their Turkish counterparts to Abu Ghaith's presence inside Turkey. [4] Turkish authorities then arrested the now stateless al-Qaeda figure and questioned him. They determined that he had committed no terrorist act on Turkish soil, and for that reason a Turkish judge ordered his release. The United States asked for his extradition, but the Turks refused citing Turkish law. Further the Turks claimed that because Abu Ghaith entered Turkey illegally and was stateless, they could send him back to the country he came from most recently, Iran. However, Turkey abandoned this course, when Iran refused Abu Ghaith reentry (al-Sharq al-Awsat, March 8). The Turks allowed Bin Laden's son-in-law to remain in a luxury hotel in Ankara though apparently with some form of restrictions on his movement. If they were not willing to surrender him to the CIA, they likely did not want to allow him to disappear into Turkey either. 
At some point, Abu Ghaith was able to contact the Saudi embassy in Ankara to alert the Saudis of his family's presence and to arrange for Fatima and her children to leave Turkey for Saudi Arabia while he again expressed the desire to return to Kuwait, something that the Kuwaiti government had steadfastly refused. He reportedly remained in a luxury hotel in Ankara alone until John Kerry arrived for his first visit as the new U.S Secretary of State on March 1. At that point, Abu Ghaith was put on a commercial flight bound for Oman with a stop in Jordan and possibly another in Kuwait. 
According to al-Sharq al-Awsat, knowledgeable sources claim that Jordanian officials do not closely examine passengers' names on international flights unless they attempt to leave the terminal or seek to stay in a hotel. On this occasion, however, Jordanian police arrested Abu Ghaith at approximately midnight on February 28 in the transit hall of Queen Alia International Airport, Amman's major international hub. The prisoner was immediately turned over to an "American delegation, which had arrived in Amman from Turkey on the same plane." (al-Sharq al-Awsat, March 8). The Americans then transported Sulayman Abu Ghaith to the United States on a dedicated plane that arrived on March 1, 2013. The Turkish foreign ministry, the U.S. Embassy in Ankara and the Jordanians have remained officially silent. 
Putting the Pieces Together 
This account of the apprehension and arrest of Sulayman Abu Ghaith was pieced together mostly from various accounts of reputable Arab newspapers, but most of their sources were necessarily anonymous. There are other conspiracy theories, especially about Iranian intentions, but the major newspapers have attempted to stick to the facts. Those facts will no doubt change, at least in detail, when more is known. It is only to be hoped that the basic facts of the case will come out during the trial, but how much will be made public remains to be seen. The 22-page indictment is currently sealed.
These events, as they are known today, suggest a number of intriguing questions and a disturbing conclusion. The intriguing questions are mostly about Iran. For example, was the release of Abu Ghaith to Turkey Iran's low-risk shadow gift to the United States? The Iranian security services are very professional and they act for a reason. They knew that Abu Ghaith could not travel through Turkey without running a high risk of being intercepted by the United States, even with a professionally forged Saudi passport. Similarly, the likelihood of Bin Laden's daughter falling into Saudi hands was certainly known. The operational intelligence value of these individuals was essentially nil, but even small contextual facts are highly useful to intelligence analysis and these people had lived for about as long in Iran as they had in the active ranks of al-Qaeda. Other questions remain—did Abu Ghaith, for example, have any contact with al-Zawahiri either directly or indirectly since he has been in Iran? What about Sayf al-Adel, who was reportedly released into Afghanistan or Pakistan? If Iran had intended to keep Abu Ghaith out of American hands, there were many other options. 
The disturbing conclusion is that Islamist governments have a marked reluctance to cooperate openly with the United States in politically sensitive situations. Al-Qaeda has targeted Turkey with violence and has been very vocal in its criticism of Turkish democracy. The two sides are enemies. Nevertheless, Turkish authorities apparently are reluctant to be seen to cooperate directly with the United States in apprehending a known Muslim terrorist. While citing other recent occasions when the government of Turkey seemed reluctant to deal with violent jihadists, Turkey's main opposition party, the Cumhuriyet Halk Partisi (CHP – Republican People's Party), called on the government to state clearly, "whether or not it considered al-Qaeda as a terrorist organization." [5] Obviously, the Turks did not want the affair to go too far and certainly had no intention of thwarting the United States in a practical sense. The American delegation that detained Abu Ghaith did not fly on the same plane by accident, nor was it an accident that the first stop was in Jordan, which could be relied upon to expedite the arrest in an international airport. Yet, "official Turkish sources" denied to al-Sharq al-Awsat that there was any deal with the Americans. On the other hand, another pan-Arab newspaper stated that its sources reported American, Jordanian, and Turkish intelligence agencies had "cooperated" in the arrest of Abu Ghaith (al-Quds al-Arabi, March 7). Unless we learn more from Abu Ghaith's trial, apparently the Turkish government is reluctant to cooperate publicly with the United States on confronting violent jihadist groups, but is still willing to cooperate "unofficially" in intelligence operations. 
Notes 
1. For example, "Sulayman Abu Ghaith at the Moment of His Capture: Nice, Respectful, Disappointed," (in Arabic) al-Watan (Kuwait), March 9, 2013, or "Arrest of Kuwaiti, Sulayman Abu Ghaith, the Spokesman for al-Qaeda" (in Arabic), al-Watan (Kuwait), February 2, 2013. One of the sources for al-Watan was the London-based Islamic Media Monitor (al-Mursad al-I'lami al-Islami), sometimes described as a detainees' rights watchdog focusing on Muslim detainees worldwide.
2. For allegations that Abu Ghaith founded the Wafa organization in Kuwait, see Civil Action No 02-CV-0828 (CKK), "Adil Zamil Mohssin Al Zamil, et al. versus The U.S. of America," U.S. District Court for the District of Columbia. Al-Wafa was designated by Executive Order 13224 as an entity that commits or poses a significant risk of committing acts of terrorism.
3. Evidently Abu Ghaith was in Turkey at least 33 days before a court ordered his release. See, "US captured Bin Laden son-in-law on the way to Kuwait," Hurriyet Daily News, March 7, 2013.
4. For one example, see "CIA Arrest The Son-in Law of Al-Qaeda's Leader During His Transit From Jordan For Kuwait" (in Arabic), al-Sharq al-Awsat, March 8, 2013. https://www.aawsat.com/details.asp?section=4&issueno=12519&article=720082&feature=#.UT41z9F34oY.
5. "Turkish main opposition party to government: Make al-Qaeda stance clear," Hurriyet Daily News Online, March 5, 2013.