How the CCP Mobilized a Cross-Border Disinformation Campaign Against the Czech Senate Speaker
Publication: China Brief Volume: 21 Issue: 7
By: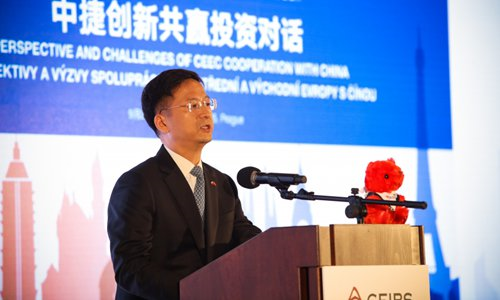 Introduction: Propaganda and Disinformation
Recent events in the Czech Republic (CR) offer an interesting case study in Chinese propaganda and disinformation. For the purpose of this article, the distinction between propaganda and disinformation is understood to be the following: Propaganda creates a strategic, mostly positive "grand" narrative that promotes a general agenda, designed to win people over. For the Chinese Communist Party (CCP), propaganda typically pushes sweeping claims that can include the historical role of the Party in liberating and developing China; the superiority of the CCP-led political system and the inevitability of China's rise.
By contrast, disinformation is a tactical (sub)narrative that is mostly negative and defensive in nature and aims to counter inconvenient facts or to subvert opponents' narratives. It is not chiefly designed to win people over, but rather to sow confusion and distrust. A typical example would be the various alternative "theories" about the origins of the coronavirus (China Brief, February 4), which seek to neutralize Beijing's initial mishandling of the pandemic. In practice, disinformation provides the tactical support for strategic propaganda narratives. Propaganda tends to be more permanent, while disinformation, which is constantly evolving, seems particularly well-suited to fast-paced and ephemeral online formats.
From "Economic Diplomacy" to "Rationalizing the Discourse"
The first phase of closer Czech-China relations was characterized by a steep rise in China's influence in the CR (2013–2018), marked by extensive "elite capture" and feeble resistance from the political and media establishment. During this time, public discourse on the bilateral Czech-China relationship was dominated by a grand and largely unquestioned narrative of "economic diplomacy" (China Brief, May 9, 2019), which claimed that closer political relationship with the People's Republic of China (PRC) would result in (yet unmaterialized) billions of dollars in Chinese investments.
This period ended after the 2018 collapse of the now-notorious CEFC China Energy (中国华信能源, Zhongguo huaxin nengyuan)—once hailed as a "flagship" company for Chinese foreign investment—and the disappearance of CEFC Chairman Ye Jianming (叶简明) (Sinopsis, March 11, 2019). News came that the state-backed CITIC Group would take over CEFC and oversee its investments in the CR (iHned, March 22, 2018). A range of tactical narratives emerged explaining that CEFC's fall was not really a crisis, but rather the random failure of a lone "faulty individual" (Ye), and that CITIC—an even bigger company than CEFC—would finally bring the long-awaited investments to the CR (Czech TV, March 23, 2018). But skepticism about China was growing, and even the pro-Beijing Zeman expressed mild dissatisfaction with the bilateral relationship in an early 2019 interview with the Chinese state broadcaster CCTV (Czech Radio, April 23, 2019).
The CEFC scandal marked a sea change in Czech-China relations. Positive propaganda could no longer be deployed without the support of disinformation (sub)narratives countering dissent. The financial conglomerate PPF—a large Czech company with substantial exposure to the Chinese market—orchestrated a campaign to "rationalize" the debate on China by planting pro-Beijing stories and attacking critical voices with media rebuttals and even legal threats. When this campaign was exposed in late 2019 it further undermined the reputation of pro-Beijing forces in the CR (China Brief, January 17, 2020).
The Vystrčil Affair
The new tide of disinformation in the CR coincided with the onset of the COVID-19 pandemic, leading to a new propaganda offensive: "economic diplomacy" was swiftly replaced with "face mask diplomacy" that aimed to paper over cracks in the Czech-China bilateral relationship (Aktuálně.cz, March 19, 2020).
Over the course of 2020, the so-called Vystrčil affair demonstrated how the CCP combined threats with disinformation to manage the crisis in bilateral relations. The incident also offers interesting insights into the cross-border coordination of disinformation campaigns, the role of United Front-linked organizations in the cross-border spread and obscurement of disinformation, and the way disinformation supports more overt forms of pressure such as "wolf warrior" diplomacy.
In late 2019, then-President and Speaker of the Czech Senate Jaroslav Kubera unexpectedly announced his plan to pay an official visit to Taiwan in 2020 (Czech TV, November 28, 2019). Kubera had previously been known for his good relations with the PRC and the pro-Beijing Zeman. It seems that Kubera was not fully aware of the political implications of such a trip. At one point, he apparently planned to visit Beijing on the same trip, which suggests that the Taiwan trip was not intended as a provocation (Aktuálně.cz, January 14, 2020). Nevertheless, his announcement drew the ire of both Beijing and its friends in the CR. Kubera came under strong pressure to cancel his trip from the Chinese Embassy in Prague and from the Czech President's Office (Czech TV, April 26, 2020).
Kubera suddenly passed away on January 20, 2020, not long after a one-on-one meeting with the Chinese Ambassador Zhang Jianmin (张建敏). Amid ensuing speculations, his widow found an unsigned letter from the Chinese Embassy, which threatened that an official trip to Taiwan would bring dire consequences for the CR (Aktuálně.cz, February 19, 2020; Sinopsis, February 20, 2020). The letter's discovery caused an outcry. Czech public figures—including Prime Minister Andrej Babiš—called for the Chinese ambassador to be declared persona non grata (iDnes, March 8, 2020). Kubera's successor, Miloš Vystrčil, declared that he would fulfill Kubera's legacy and pay a visit to Taiwan.
A shortage of protective personal equipment (PPE) during the first wave of the COVID-19 pandemic in the CR offered an opening for Chinese interests to stage a comeback. The former defense minister, Jaroslav Tvrdík, now a key pro-Beijing lobbyist and former representative of CEFC in the CR, partnered with Minister of the Interior Jan Hamáček, who was in charge of the crisis response, to secure medical supplies from China. (Sinopsis, March 19, 2020). Amid the pandemic, Vystrčil's Taiwan trip came to be seen as a move that could endanger medical supplies from China, with life-threatening consequences for the Czech population.
By late spring, questions had emerged about the quality and procurement of the Chinese medical supplies. These concerns would be vindicated almost a year later when the Czech Supreme Auditing Office issued a damning report listing all the failures of substandard medical supplies that had been sourced almost exclusively from China (Nejvyšší kontrolní úřad, March 2021). The Czech public's gratitude quickly gave way to skepticism and anger. Facemask diplomacy had failed to ease bilateral tensions.
In late August, Vystrčil visited Taiwan with a delegation of 89 Czech civic and political leaders. The visit was well-received by Taiwan, but Beijing was not amused. During a joint press conference with his German counterpart, the Chinese Foreign Minister Wang Yi (王毅) complained that the CR had crossed a "red line" and would pay "a heavy price" for Vystrčil's trip (PRC Ministry of Foreign Affairs, September 1, 2020; CGTN, September 2, 2020).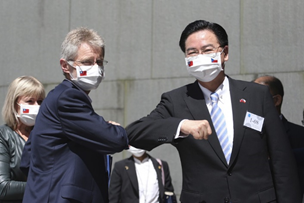 The Chinese embassy's January 2020 letter to Kubera listed vague economic punishments for the then-planned Taiwan trip. Yet given the minimal outcomes from the 2013-2018 period of "economic diplomacy," China had little credible threat. According to Czech analysts, China contributed to around 1 percent of the CR's total GDP, 0.42 percent of foreign direct investment, and 1.5 percent of Czech exports (VOA, September 5, 2020). Instead, the "heavy price" would consist of political pressure from Beijing's allies in Prague and a disinformation campaign orchestrated with the assistance of a cluster of United Front-linked organizations in Switzerland.
A few days after Wang Yi delivered his ominous threat in Germany, the Chairman of the Communist Party of Czechia and Moravia (KSČM) Vojtěch Filip was instructed in a video call with the head of the CCP International Liaison Department (ILD) Song Tao (宋涛) to "draw a clear line" (划清界限, huaqing jiexian) between himself and Vystrčil (ILD News Office on WeChat, September 9, 2020). Filip is a deputy speaker in the Czech Parliament and a minor political player. More consequentially, President Zeman announced at the same time that he would draw a "clear line" with Vystrčil and stop inviting the Senate President to the meetings of the highest constitutional representatives (iHned, September 6, 2020). This would have theoretically meant a major change to the Czech constitutional framework, although the actual impact has been hard to discern in practice.
The Swiss Connection and the Propaganda-United Front Nexus
A second part of the forewarned "heavy price" came in early November, when the editors of Aktuálně.cz, a major Czech news site, received two unsolicited emails originating in Switzerland that tipped them off to an obscure French website claiming that Vystrčil had been paid $4 million by the Taiwanese government in exchange for his official visit (Aktuálně.cz, November 11, 2020). The "evidence" consisted of a few deleted posts on Reddit and Twitter. Both emails were signed by unaffiliated Swiss citizens purportedly acting out of individual concern. Aktuálně.cz approached the Prague-based Project Sinopsis, which specializes in contemporary China research and has closely tracked Chinese influence operations in the CR.
Ralph Weber, a Swiss-based Sinopsis research associate, quickly established that the two emails had been sent by the principals of a pro-Beijing website, EurAsia Info (欧亚时报, Ou-Ya Shibao). This Chinese and English-language news outlet is based in Switzerland but is linked to both the CCP propaganda and the united front systems. Its leader, Zhu Ailian (朱爱莲) is a member of the World Association of Chinese Mass Media (WACMM, 世界华文大众传播媒体协会, Shijie Huawen Dazhong Chuanbo Meiti Xiehui) an international Chinese media grouping partnered with the All-China Journalists Association ACJA (中华全国新闻工作者协会, Zhonghua Quanguo Xinwen Gongzuozhe Xiehui), an organization embedded in the PRC propaganda system (EurAsia Info, April 20, 2017; China.org, February 28, 2018).
Zhu also serves as honorary and acting president of the European Jiangxi Hometown Association (欧洲江西同乡会, Ou-Ya Jiangxi Tong Xiang Hui), which also includes a leader of the top Czech united front group (Sinopsis, December 18, 2020; European Jiangxi Chamber of Commerce, October 8, 2017). While often overlooked, such diaspora groups are linked with China's united front and contribute to larger CCP influence activities in their countries that go beyond diaspora community-building work (China Brief, September 16, 2020). The Vystrčil affair presents another example of local united front groups participating in transnational, non-diaspora-focused influence activities.
The united front-propaganda nexus is most visible in EurAsia Info's links to the China News Service (CNS, 中国新闻社, Zhongguo Xinwen She), the CCP's main propaganda organ targeting overseas Chinese. Unlike most domestic and external news outlets, which are a part of the CCP propaganda system, CNS is a united front agency. It has been supervised by the United Front Work Department (UFWD) of the CCP Central Committee since 2018 (China Brief, May 9, 2019). Senior UFWD cadres often attend events that gather CNS-partnered Chinese-language media, such as the biennial Global Chinese Language Media Forum (世界华文传媒论坛, Shijie Huawen Chuanmei Luntan; China News Service, August 6, 2018). Partners abroad regularly reproduce CNS content. In this way, the CCP's information control extends to Chinese-language media outlets abroad.
CNS's media partnerships often go beyond content sharing, with some amounting to covert ownership (Australian Strategic Policy Institute, December 17, 2020). Besides direct partnerships and regular event programming, CNS cultivates its network of affiliates through international Chinese-language media associations. In 2009, CNS initiated the formation of the Global Chinese Media Cooperation Union (GCMCU,世界华文媒体合作联盟, Shijie Huawen Meiti Hezuo Lianmeng). Today, GCMCU counts some 700 members, with over 150 located in North America (Global Chinese Media Cooperation Union, accessed October 26, 2020; Global Chinese Media Cooperation Union, accessed March 27). It duly came to Eurasia Info's defense following the exposure of its links and activities by Western scholars last year (World Chinese Journalists, December 27, 2020).
Conclusion
A background check on the clumsy email "tips" to Aktuálně.cz exposed their connection to a web of influence machinery at the intersection between the CCP united front and propaganda systems. Although the results of this particular disinformation campaign were underwhelming, the organizational structure behind it is formidable. While the smear campaign against Vystrčil failed, it demonstrates the potential for the simultaneous deployment of disinformation, "wolf warrior" pressure tactics by Chinese diplomats and diaspora assets mobilization to punish individuals abroad who have run afoul of the CCP.
Research for this work was supported by the European Regional Development Fund through the Project "Creativity and Adaptability as Conditions of the Success of Europe in an Interrelated World".
Martin Hála is a Sinologist with Charles University in Prague, and the founder and director of Sinopsis.cz, a project that provides analysis of China-related topics in Europe.
Filip Jirouš is a Sinologist and researcher with Sinopsis.cz, where he focuses on united front work.
Petra Ševčíková is a Sinologist and IR specialist, and recently became a non-residential fellow with Sinopsis.cz, where she focuses on PRC united front and propaganda work in the Indo-Pacific and Europe.