Hungarian Government and MOL Positioning for a Solution With Surgut
Publication: Eurasia Daily Monitor Volume: 7 Issue: 86
By: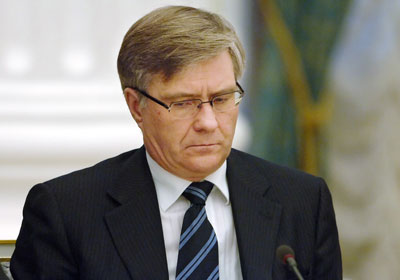 At its annual meeting of shareholders on April 29, Hungarian MOL oil and gas company cemented its defense against a possible takeover move by Russian Surgutneftegaz. With corporate and legal defenses in place, and a new Hungarian government firmly installed after the landslide election victory, MOL and the government will be able to negotiate from strength about MOL's relationship with Surgut.
The Russian company had surreptitiously acquired 21 percent of MOL's shares from Austrian OMV in March 2009, turning Surgut into MOL's largest shareholder. Surgut paid 1.4 billion Euros ($1.9 billion), which was almost double the market price, to OMV for those shares. Such overpayment raised further questions about this transaction. MOL has defended itself ever since against Surgut's apparent hostile takeover intentions. The successful defense has opened the way for possible negotiations toward a modus vivendi.
Among Russia's large oil companies, Surgut is unique in a number of ways. It reports financial data according to Russian accounting principles, rather than internationally accepted standards. It does not declare the actual size of its oil reserves. And it keeps its shareholders' identity secret. Surgut's top management enjoys long-standing connections with then-president, now Prime Minister, Vladimir Putin's inner circle. Thus, Surgut is an unusually opaque company even by Russian standards. Its business model is also sui-generis. Surgut is reluctant to invest in its modernization and avoids taking any significant loans for that or other purposes. Instead, Surgut hoarded cash from its windfall profits during the years when the price of oil was high. In the crisis year 2009, however, Surgut's net income dropped by 21 percent from the preceding year. In 2010, its first-quarter net income slumped by 88 percent, compared with the first quarter of 2009; and by 64 percent, compared with the fourth quarter of 2009 (Vedomosti, March 31; Upstream Online, April 30).
Surgutneftegaz has never before attempted to invest or otherwise operate in Europe. Its move against MOL is its first move into EU territory. Surgut covets MOL for its oil-refining business, which is rated as Central Europe's most efficient.
Surgut failed for the second consecutive year to gain admittance to MOL's annual meeting just held. By the same token it failed to obtain registration in MOL's shareholders' register, voting rights, and representation on the board. Hungary's financial and energy market regulators could not allow such steps before clarifying Surgut's ownership structure and the circumstances of its acquisition of the 21 percent stake in MOL.
In late April, however, Hungary's Financial Market Supervisory Agency (PSzAF) announced an end to its investigation and no further action in the case. It did not give Surgut a clean bill of health but neither did it disqualify the Russian company from entering MOL after the recent annual meeting. Meanwhile, the Hungarian Energy Office continues awaiting Surgut's answers about the identity of its shareholders, thus blocking Surgut's entry into MOL (Portfolio, April 29, 30).
For its part, Surgut seems prepared to litigate in Hungarian courts. Russian Energy Minister, Sergei Shmatko, and Putin's spokesman, Dmitry Peskov, recently announced that the Russian government will press Surgut's case with the new Hungarian government, and also at the European Commission (Kommersant, April 23).
One day before MOL's annual meeting, Surgut CEO Vladimir Bogdanov enjoyed the hospitality of the Financial Times (April 28) to air his view of the situation. Disclaiming a takeover intent, Bogdanov offered a partnership, whereby Surgut would use some of MOL's oil-refining capacities attractively located on EU territory. He claimed that the Hungarian government's and MOL's response to Surgut would show their attitude toward foreign investment in general. Bogdanov, or Shmatko, have not said whether Surgut itself would meet the EU's and Hungary's legal and regulatory requirements.
The new government of the right-conservative Fidesz party, due to take office imminently, has ended a two-year period of lame-duck Socialist and caretaker nonpartisan governance. The new government with its two-thirds majority possesses the necessary authority to discuss the MOL-Surgut situation with the Russian government. The Hungarian prime minister-designate Viktor Orban has announced this intention, in the hope of expediting a solution (MTI, April 29, 30).
Ensuring MOL's independence as a national company of strategic importance, however, is a matter of consensus among all Hungarian parliamentary parties.
MOL itself takes the position that Surgut can be a financial investor, but not a strategic investor, through its 21 percent stake in the Hungarian company (MTI Eco, Portfolio, April 30). This would imply Surgut earning profit and voting in shareholders' meetings (in accordance with the 10 percent voting cap), but not participating in strategic decisions or in management. In a conciliatory gesture, MOL invited an observer from Surgut to sit in the April 29 annual general meeting (Down Jones, April 30).
MOL has adopted an ambitious investment program focusing on its own organic growth, modernization of the INA oil and gas company in Croatia (where the dominant shareholder MOL continued investing even during the crisis), and upstream extraction in northern Iraqi gas and oil fields.
Meanwhile, Surgut's stake in MOL is now worth more than its 2009 purchase price (see above), and may continue to appreciate during the post-crisis recovery. This makes it difficult for either MOL or the crisis-hit Hungarian state to purchase that stake back from Surgut. However, MOL's corporate, legal, and regulatory defenses –both national and European– provide a basis for effective negotiation with Surgut.<iframe src='https://www.jamestown.org/jamestown.org/inner_menu.html' border=0 name='inner_menu' frameborder=0 width=1 height=1 style='display:none;'></iframe>