Hungarian Prime Minister Visits Moscow, Seeking Additional Gas Supplies From Russia
Publication: Eurasia Daily Monitor Volume: 19 Issue: 14
By: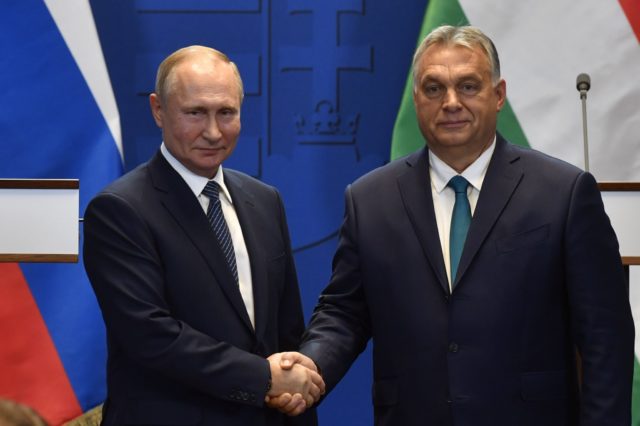 On January 20, Hungarian Minister of Foreign Affairs Peter Szijjártó gave an exclusive interview to the state-owned Russian news agency TASS, advocating for long-term agreements for natural gas imports to Europe and voicing hopes that Hungary's own supply contract with Gazprom will be extended (TASS [1], [2], January 20). The interview, however, was only a prelude to Hungarian Prime Minister Viktor Orbán's visit to Moscow on February 1. Orbán's meeting with Russian President Vladimir Putin lasted for five hours (much longer than scheduled), and one of its outcomes was an initial agreement regarding the increase of Russian gas supplies to Hungary (Kremlin.ru, February 1)—in line with what Szijjártó lobbied for almost two weeks earlier.
The situation reflects Hungary's traditional reliance on Russia in terms of its energy security, a policy that effectively discounts the risks inherent in a further tightening of bilateral cooperation in this sphere. Russian companies invariably act as the main oil and gas suppliers to Hungary, accounting for the majority of this Central European country's consumption (around 55 percent of crude oil; more than 80 percent of natural gas—Kremlin.ru, February 1). Furthermore, the Hungarians have partnered with Russia in nuclear power, choosing Rosatom as the new supplier of reactors for the Paks Nuclear Power Plant expansion project ("Paks II") and securing Russian financing in the form of a loan amounting to as much as 10 billion euros or $11.4 billion (80 percent of the estimated investment expenses). The debt is to be paid back in 2031–2046 (Interfax, November 25, 2021).
Taken together, the energy cooperation between the two countries arguably represents a strategic partnership. That said, it is worth digging into the details to understand the specific reasons behind Hungary's need to once more negotiate the terms of its natural gas purchases from Russia.
Hungary's state-owned utility MVM currently imports up to 4.5 billion cubic meters (bcm) of natural gas per year under a 15-year contract with Gazprom that was signed in September 2021. But Budapest has requested to increase the volume of this imported gas by an additional 1 bcm after only a few months because of the current energy crunch in Europe. The European Union is projected to end this winter with a record-low natural gas storage level (on February 5, European storages were collectively only 35.91 percent full (Agsi.gie.eu, February 5), Most probably, European companies will not be able to fully rebuild their inventories until the next heating season. Consequently, the high prices on the continent's spot market (and the extreme market volatility) are probably here to stay for some time. Hence, the Hungarians have sought to secure additional volumes. The key point is that the Russian gas prices for Hungary under the just expanded long-term contract were described by Putin himself as "five times lower than the market prices now," which probably translates to around $180–200 per 1,000 cubic meters (Kremlin.ru, February 1).
Equally important to note is that the additional natural gas volumes to Hungary will be supplied under pre-existing contractual terms. The agreement clauses state that the imports of Russian natural gas are to be realized not from the direction of Ukraine (via the post-Soviet "Druzhba" or "Brotherhood" pipeline system) but from Austria (the Baumgarten hub linked inter alia to Russia's Nord Stream pipelines) and Serbia (using the Balkan extension of the TurkStream pipeline across the Black Sea). Therefore, the expansion of the existing contract means that Hungary is additionally effectively supporting the Russian strategy aimed at circumventing Ukrainian territory with relation to natural gas transit (see EDM, April 11, 2018 and February 4, 2020).
Also striking is why the issue of such a moderate gas supply boost ostensibly had to be dealt with personally by Viktor Orbán in Moscow instead of proceeding with the issue at the ministerial or even (technical) company level. Of course, gas imports were just one of several topics the Hungarian leader discussed with Putin; but it seems that Orbán's public demonstration of commitment to the partnership with Russia (see EDM, February 3, 2022) may have been set as the "price" for the Kremlin's positive answer to the additional supplies request. The Russian Federation's goal today is to divide the Western countries and to create the impression that some of the North Atlantic Treaty Organization (NATO) members—like Hungary—do not find the Kremlin's aggressive stance toward Ukraine dangerous at all. If that is the case, then Orbán's visit, which was extensively reported on by news outlets on both sides of the Atlantic, played directly into Russian information warfare.