India Covets Comprehensive Reengagement With Central Asia
Publication: Eurasia Daily Monitor Volume: 12 Issue: 141
By: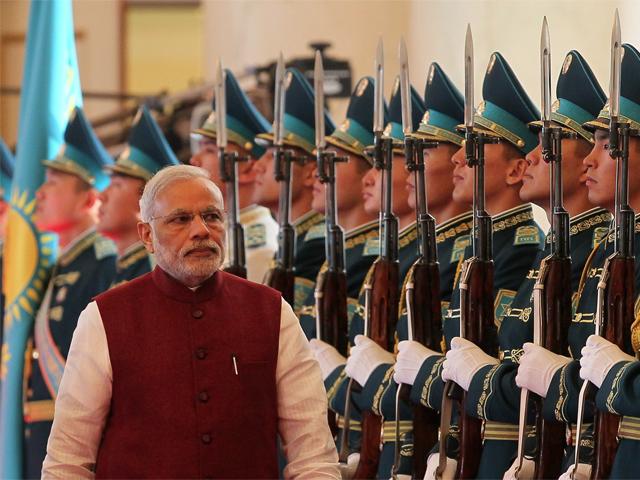 On July 6, Indian Prime Minister Narendra Modi kicked off his eight-day tour of Central Asia, visiting the region for the first time since taking office last May. The first country he arrived in was Uzbekistan. "I started my trip from here to underline the importance of Uzbekistan not only for the region but also for the whole of Asia," India's premier was quoted as saying by the local media. Unsurprisingly, the major issue on the agenda during an eye-to-eye meeting with Uzbekistan's president, Islam Karimov, was security. Since a series of bombings in Tashkent in 2004, the local government has so far succeeded in preventing new attacks and keeping the Islamic Movement of Uzbekistan (IMU), a Taliban- and Islamic State–affiliated terrorist group, at bay (Ca-portal.ru, July 14; Uza.uz, July 7).
Regarding India's economic relations with Uzbekistan, bilateral trade has increased twofold during the past four years. In 2014, it stood at almost $316 million, 21.2 percent more year-on-year, but there is still significant progress to be made. As Modi said after the talks with his Uzbekistani counterpart, New Delhi is particularly interested in purchasing locally produced uranium for its power generation industry. Last August, Uranium Corporation of India Ltd. (UCIL) and Navoi Mining and Metallurgical Combinat (NMMC) signed a contract that foresees annual supplies of up to 500 tons of uranium to India by 2019. NMMC produced 3,400 tons of uranium last year, which is nearly 50 percent more than in 2008 thanks to $120 million worth of investments made between 2012 and 2013. Yet, deliveries have yet to begin, with India currently building six nuclear reactors all of which will soon require full-time access to radioactive materials in order to generate electricity (Ut.uz, Stanradar.com, July 7; RIA Novosti, January 5).
The uranium issue was also discussed in Kazakhstan, where Modi and his delegation stayed on July 7 and 8. Kazatomprom and the Indian Department of Atomic Energy signed an agreement to supply 5,000 tons of uranium to the latter in 2015–2019. Moreover, the two leaders witnessed the launch of a first appraisal well in the Satpayev oil block in the Caspian Sea. In 2011, KazMunayGas, the Kazakhstani state-owned oil and gas company, sold a 25 percent stake in the block to India's Oil and Natural Gas Corporation (ONGC), following several years of intensive discussions. "Developing strategic cooperation with India is one of the key areas of the Asian vector of our foreign policy," Kazakhstan's President Nursultan Nazarbayev commented at a joint press conference. Last year, Indian-Kazakhstani trade reached $1.3 billion, compared with $682.5 million in 2013. Still, this is considerably lower than Kazakhstan's trade turnover with both Russia and China, in the range of $18–20 billion a year (Akorda.kz, Newskaz.ru, July 8; Kazpravda.kz, July 7).
In Turkmenistan, Modi's next destination, the head of India's government was likewise warmly welcomed by President Gurbanguly Berdimuhamedov. From Ashgabat's perspective, New Delhi is a key participant of the proposed Turkmenistan-Afghanistan-Pakistan-India (TAPI) pipeline, which is expected to transport 33 billion cubic meters of Turkmenistani natural gas by 2018. However, the security situation in Afghanistan—whose northern Faryab province, on the border with post-Soviet Central Asia, recently became the theater of violent clashes between government forces and the Taliban—remains a major hurdle to TAPI's implementation (Chrono-tm.org, July 18; Thd.gov.tm, July 11).
At a time when Ashgabat seeks to modernize its armed forces to better cope with growing threats to domestic stability and security, the two countries have discussed an eventual military partnership. Thus, despite its permanent neutral status, Turkmenistan looks poised to intensify military cooperation with such outside players as India and the United States (see EDM, March 13). In March 2015, the head of US Central Command, General Austin Lloyd, said that Turkmenistan's authorities had asked for military assistance.
India's defense ties are also developing with Kyrgyzstan and Tajikistan, both members of the Russia-dominated Collective Security Treaty Organization (CSTO) and home to Russian military deployments (Odnako.org, July 16; Sputnik.kg, July 13; Lenta.ru, March 30). The Indian government has a long-standing interest in the Ayni aerodrome, some 15 kilometers west of Tajikistan's capital, Dushanbe. In 2002, one year after the US and its allies launched an international operation against the Taliban, the Tajikistani and Indian administrations signed an agreement aimed at renovating the facility. It was further planned that the Indian defense ministry would use it for the stationing of its Mi-17 helicopters. While the renovation was completed in 2007, having cost New Delhi more than $70 million, Dushanbe has not yet authorized the lease of Ayni, most probably due to Moscow's opposition. Now that India is preparing to join the Shanghai Cooperation Organization (SCO) next year and enjoys Russia's full backing in this matter, the Kremlin's stance on Ayni could well change in New Delhi's favor. Yet, a bigger problem is China, which has, in turn, been pushing for Pakistan's accession to the SCO at the same time as India's (Radio Ozodi, July 27; Ng.ru, July 14; Kyrtag.kg, July 13).
During much of the 1990s, India was largely absent from Central Asia's political landscape and, despite its rising demand for imported energy, has failed since then to carve out a niche of its own in the local market—unlike Russia, China, the United States and key European countries. But with Narendra Modi as the new prime minister, it seems that India's strategy is rapidly shifting toward a diplomatic reengagement with Central Asia in political, economic and, especially, security terms. The world's most populous democracy is well-perceived throughout the region, for instance as a source of cheap know-how in information technologies and medicine. Yet, India will be hard-pressed to promote its own interests independently from its Russian and Chinese neighbors. Membership in the SCO and deeper bilateral contacts still represent a historic opportunity for India to leave its footprint in the heart of Eurasia.