Indian Security Agencies Target Popular Front of India
Publication: Terrorism Monitor Volume: 20 Issue: 18
By: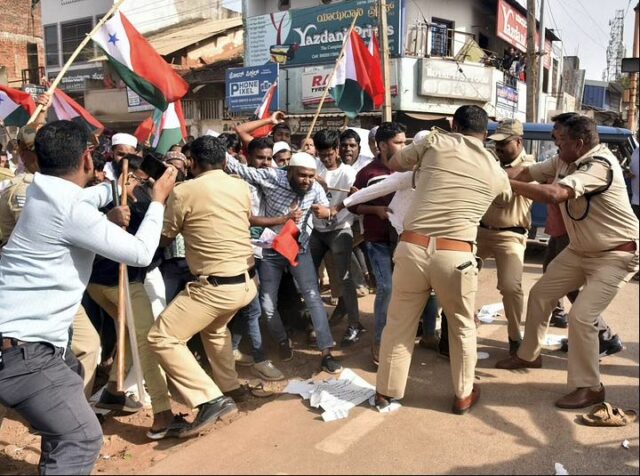 On September 22, an India-wide crackdown on the neo-radical Islamic movement, Popular Front of India (PFI), was conducted by the National Investigative Agency (NIA), Enforcement Directorate (ED), and various state police agencies. The raids led to the arrests of more than 100 top leaders of PFI from across eleven states and Union Territories. For example, PFI leaders, including its Chairman, OMA Salam, Delhi head Parvez Ahmed, Kerala head, CP Mohammed Basheer, national secretary, VP Nazarudheen, and national council member, Professor P Koya, were all arrested (India Today, September 22).
The raid on PFI began soon after some members were pressuring young women into wearing hijab to educational institutions. This occurred after the Indian state declared it mandatory to follow the uniform system strictly to ensure "religious neutrality". Therefore, it was alleged that this hijab controversy was an orchestrated conspiracy by PFI to instigate social unrest (The Hindu, September 22). During the raids, the police found PFI members in possession of some weapons and homemade explosive devices and more than 200 mobile phones, 100 laptops, and other evidence like papers, vision records, enrollment applications, and bank details were seized (India TV News, September 22).
In the past, PFI has been alleged to be involved in unlawful activities that created animosity between Muslims and Hindus. It had also declared a direct war against the ruling Indian government and resorted to anti-national activities. The Indian security agencies had registered cases under the Indian Penal Code and the infamous Unlawful Activities (Prevention) Act (UAPA), but the most recent trigger of unrest is related to events in Udaipur in the northern Indian state of Rajasthan (Telegraph, September 22).
PFI's Unrest in Udaipur and Beyond
On July 13, PFI members were suspected of killing a Hindu tailor in Udaipur. Through social media, the tailor had supported former National Spokesperson of the ruling party Ms. Nupur Sharma's blasphemous statements about the Prophet Mohammad (Hindustan Times, July 10). In another similar incident, a chemist, Umesh Prahladrao Kolhe, was killed in Amravati, Maharashtra by other suspected PFI cadres (Twitter/ANI, July 13). Further, in 2021, a member of PFI was also arrested and is currently being investigated for murdering an activist protesting against PFI Dawah activities (nia.gov, 2021; OpIndia, July 29, 2022). [1]
These incidents shined a spotlight on the PFI, which has emerged as an organization championing the cause of Indian Muslims over issues such as Ram Mandir, [2] Triple Talaq, [3] Hijab Ban, [4] Citizenship Amendment Act, 2019 [5] and, most recently, the comments made by the right-wing politician Nupur Sharma. Headquartered in New Delhi, the organization has an especially strong foothold in Kerala due to the significant migration between Kerala and Gulf countries, which influenced Kerala's Muslim community to become more religiously conservative. PFI has also expanded nationally by including in its fold like-minded groups, such as the Tamil Nadu-based Manitha Neethu Pasarai and the Karnataka Forum for Dignity. Given FPI's rapid expansion and ability to directly attack and vocalize its agendas, India is facing a hybrid threat, which is neither completely terrorist in nature nor entirely activist.
Indian security agencies also suspect PFI's involvement in several trans-national terror activities and criminal incidents in India (vifindia.org, 2022). Its cadres, for example, have been suspected of playing a role in the 2010 German bakery blast in Pune, whose case is being arbitrated by the Anti-Terror Squad, and the Maharashtra and Delhi Riots of 2019 (The Hindu December 4, 2010; Press Release Enforcement Directorate, June 1, 2022). Police have also arrested PFI members from Telangana who were providing weapons training and running militant camps (Twitter/ANI, July 7). In addition, security agencies suspect PFI's involvement in several political killings and forced religious conversions (Times Now, May 4). The same agencies have also claimed that the PFI sent youth from Kerala to Afghanistan, Syria and Turkey to join Islamic State (IS). Most claims of PFI violence rely on Indian security sources, which PFI denies.
PFI's objectives were revealed during a security operation by the police in Bihar during a raid on PFI members, which led to the recovery of an eight-page document titled "India Vision 2047" (OpIndia, July 14). This document mentioned terms like "coward Hindus" of India and emphasized the goal of PFI: to promote Islamic rule in India. This involves holding full-scale armed riots with the support of Turkey and Gulf countries as well as China due to its anti-India stand on several other diplomatic platforms. To achieve this, the PFI established training centers in Gulf cities and states such as Abu Dhabi, Jeddah, and Kuwait, where physical combat training was provided (The Daily Guardian, June 3). Although the recent extra judicial killings attributed to PFI point toward the group's violent intentions, the legal evidence to support such PFI goals is still mixed.
PFI's Trajectory and India's Responses
In the future, PFI aims to expand its activities by mobilizing the Indian Muslim youth. It wants to underscore that the Indian government is against Muslims and the only way to counter the government is by going on the offensive. The organization also aims to have one member at a minimum in every Muslim household. Given these plans, the PFI is emerging as a hybrid organization, combining elements of both militancy and religious activism.
The Indian government is contemplating a ban on the PFI, but the organization reinvents itself in response to government counter actions. In the past, it evolved from the Student's Islamic Movement of India to an offshoot called Campus Front of India (South Asia Democratic Forum, 2020). While the Indian government mulls its moves against the PFI, several state governments like Jharkhand and Karnataka have proscribed the group, while the Sufi Khanqah Association of Uttar Pradesh has appealed to the Home Ministry to ban PFI (Republic World, May 22). On July 31, 2022, an Interfaith Conference was conducted by the All India Sufi Sajjadanashin Council (AISSC) in Delhi to again demand a ban on PFI (The Indian Express, July 31).
Therefore, a political agreement appears to be emerging to address the PFI situation. Political and social leaders from all sides of the Indian political spectrum have realized that this organization's many offshoots have grown far too widely and have had an impact that goes far beyond regular politics. Despite the raids on PFI, these measures are seen as transitory and only partial because PFI members work on numerous fronts and in different independent capacities.
Conclusion
If the accusations made against the PFI are true, the Indian government's goals of outlawing or cracking down on the organization have certainly been unsuccessful. Further, if the government is planning to impose a ban on PFI, it must ensure that it is effective. An embargo on paper is unlikely to dissuade the individuals in PFI who serve important roles in the organization from continuing their activities even under another group name or independently. Unless the state targets PFI members in a manner that undermines their networks, resources, political will, and ability to regroup, the country is likely to find itself back at square one in dealing with PFI or its offshoots. The most likely next step, however, is still more legislative changes under the Societies Registration Act, 1860 (under which the PFI is registered). This could ensure that PFI does not reincarnate again, but it would likely be insufficient to mitigate the activities of its members whether they conduct activities in the name of PFI or in some other form.
Notes:
[1] Dawah is an Islamic practice of conveying the message of Islam sometimes to the extent of converting non-Muslims into Islam.
[2] Ram Mandir is a Hindu Temple in Ayodhya, Uttar Pradesh. The site was under dispute between Hindus and Muslims.
[3] The Supreme Court of India declared the divorce-related practice of Triple Talaq as illegal and null and void under the Muslim Women (Protection of Rights on Marriage) Act, 2019. This was considered an anti-Islamic ruling by certain Muslim leaders.
[4] In 2022, an educational institution denied entry to women students wearing Hijab by alleging it was not part of the school dress code, which led to statewide protests supported by the PFI.
[5] Citizenship Amendment Act, 2019 was passed to include offering Indian citizenship to the persecuted minorities in Muslim countries in South Asia. However, certain communal groups, including PFI, opposed it and engaged in political unrest.