Insurgency-Related Violence Reported in Kabardino-Balkaria, Dagestan and Chechnya
Publication: Eurasia Daily Monitor Volume: 7 Issue: 226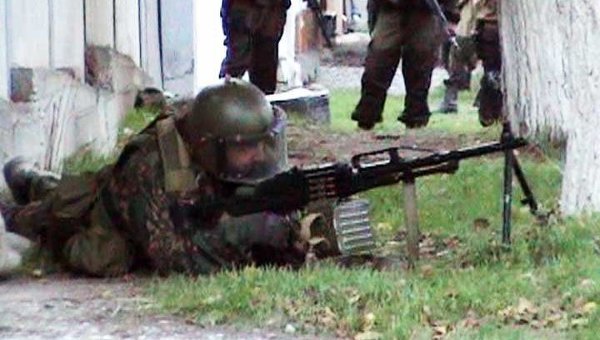 The chairman of the Spiritual Board of Muslims of Kabardino-Balkaria, Anas Pshikhachev, was murdered on December 15 in the republic's capital, Nalchik. An official with Kabardino-Balkaria's Investigative Committee was quoted as saying that two unidentified men arrived at the mufti's home, asked him to come outside and shot him at least four times. Pshikhachev died on the spot (Interfax, December 15).
A spokesman for the federal Investigative Committee, Vladimir Markin, identified the suspects in Pshikhachev's murder as Astimir Mamishev and Azparukh Shamaev, both of them Nalchik residents. Markin said Mamishev and Shamaev, who remain at large, were already wanted for attacks on law-enforcement officers (Interfax, December 16). According to the Investigative Committee, ballistic analysis suggested that Pshikhachev was shot with the same 9-millimeter pistol used to kill a senior prison inspector in Nalchik on November 28 (www.kavkaz-uzel.ru, December 16).
The Investigative Committee said in a statement that Pshikhachev may have been murdered for "his negative attitude towards radical Islam, and in particular, Wahhabism," which according to the committee, the mufti had displayed publicly on several occasions (Interfax, December 16). Indeed, the Kavkazsky Uzel website reported today (December 17) that Pshikhachev had frequently spoken out against religious extremism and had warned even before the October 13, 2005 insurgent raids on Nalchik that "Wahhabism can bring great harm to the republic." According to Kavkazsky Uzel, Pshikhachev had also condemned illegal actions taken by law-enforcement personnel against Muslims (www.kavkaz-uzel.ru, December 17). The head of the coordinating center of Muslims of the North Caucasus, Ismail Berdiyev, told Interfax that Pshikhachev had received death threats in the past. Berdiyev quoted Pshikhachev as saying during a recent meeting with the Kremlin's envoy to the North Caucasus, Aleksandr Khloponin: "They come, look me in the face brazenly and say: 'We have decided to kill you. What do you think of that?'" (Interfax, December 16).
President, Dmitry Medvedev, offered condolences to Pshikhachev's family. According to presidential spokeswoman Natalya Timakova, Medvedev called the murdered mufti "an outstanding religious figure of unquestionable authority who openly opposed extremism," adding that it was "clear that this heinous murder was committed because of his active stance" (Interfax, December 16).
Kabardino-Balkaria's President, Arsen Kanokov, called the murder of Pshikhachev a "heinous crime" and a "challenge to the whole society," and said the slain cleric was "a staunch fighter against extremism and paid for this with his life" (www.regnum.ru, December 16). Russia's Central Spiritual Board of Muslims called Pshikhachev's murderers "irreconcilable, bitter enemies not only of the Muslims but also of our entire multi-ethnic and multi-religious society [who] have once again tried to sow discord between our peoples and set members of different religious communities against each other." The board called on all of Russia's "traditional religious communities" and Russians generally "to resolutely rebuff extremism and terrorism" (Interfax, December 17).
The murder of Anas Pshikhachev was not the only killing of a cleric in the North Caucasus this past week. On December 11, unidentified gunmen murdered the imam of a mosque in the village of Gubden in Dagestan's Karabucakhkentsky district. Gazimagomed Gadzhimagomedov was shot outside his home and later died from his wounds in the hospital (www.kavkaz-uzel.ru, December 14).
In other insurgency-related violence in the region this week, a freight train was bombed in Dagestan's Derbent district on December 16. The locomotive was slightly damaged but the train was not derailed and no one was hurt in the incident (www.kavkaz-uzel.ru, December 16).
On December 13, unidentified gunmen shot a police officer to death in the village of Krasny Voskhod in Dagetan's Kizlyar district. That same day, one person was wounded and two captured in a shootout with police in Makhachkala (www.kavkaz-uzel.ru, December 13-14). On December 12, security forces conducted a special operation in the village of Buglen in Dagestan's Buinaksk district, during which three suspected rebels were killed. The National Anti-Terrorist Committee identified one of the three slain insurgents as Nabi Migibdinov, who allegedly headed a group of militants and was involved in a series of serious crimes, including the murder of seven women, four policemen and a forest ranger on the outskirts of the city of Buinaksk in August 2008 (www.kavkaz-uzel.ru, December 12).
In Chechnya, a Russian serviceman was shot and wounded when gunmen opened fire on a unit of Russian interior ministry internal troops in the republic's Urus-Martan district on the evening of December 15. That same day, attackers fired on a police checkpoint in Chechnya's Achkhoi-Martan district, wounding two local police officers (www.kavkaz-uzel.ru, December 16).