Integrating the Eurasian Union and China's Belt and Road: A Bridge Too Far?
Publication: Eurasia Daily Monitor Volume: 16 Issue: 91
By: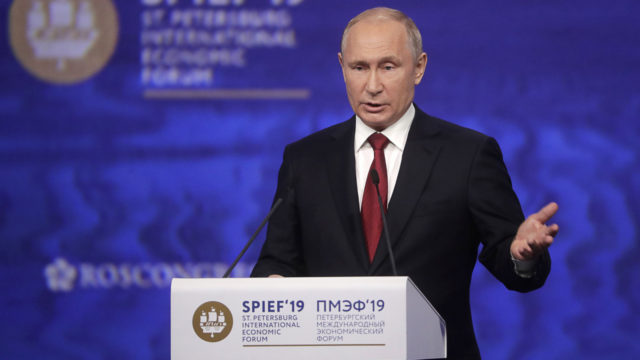 The 23rd St. Petersburg International Economic Forum, which convened on June 6–8, was, as every year, pronounced a huge success by the Russian authoriti­es. Certainly, the 19,000 participants from 145 countries and the 3.1 trillion rubles' ($49 billion) worth of contracts announced marked new records for this enterprise (Spbvedomosti.ru, June 10). But of course, much of the attention was focused on Russia-China relations, both because the two countries now look to be en­gaged in a full-scale confrontation with the collective West and because China's President Xi Jinping paid a state visit to Russia just prior to the Forum (see EDM, June 10).
Russia and China have continued to deepen their cooperation in recent years, with bilateral trade exceeding $100 billion for the first time ever in 2018 (TASS, January 13). While add­ressing the St. Petersburg Forum, President Vladimir Putin admitted, "We [Russia] have absolutely concrete plans for joint work, and we are comfortable with them [the Chinese]; I am sure we will be moving forward successfully" (TASS, June 7). Both Putin and Xi reiterated this point in even greater detail at the Russia-China Energy Business Forum, whe­re several flagship cooperation projects were presented (Kremlin.ru, June 7). But all the rhetoric failed to assuage doubts about the success of Russian-Chinese co­operation in what would theoretically be their most ambitious undertaking—a seamless and economically profitable integration of the Moscow-backed Eurasian Economic Union (EEU) with Beijing's Belt and Road Initiative (BRI).
Originally named "One Belt, One Road," the initiative to construct a network of trans-Eurasian road, rail and maritime links between China and Europe was announced by Xi back in 2013. Russian authorities welcomed the initiative from the very start. The Kremlin believed at that time that the BRI would result in a dramatic increase in transit flows via Russian territory, thus binding together not only China and Europe but also the five (including Russia) countries that currently make up the loose EEU bloc, under development since 2011. Putin praised the cooperation between China and the EEU, pointing out that goods entering either Kyrgyzstan or Kazakhstan can then continue on to Finland or Poland without crossing any customs borders before reaching the European Union. In turn, the Chinese offered Russia assistance in building roads and railways that might facilitate trans-Siberian transit (Vedomosti, August 21, 2018).
Yet, to date, this cooperation has resulted in only limited success. China's main goal was to promote exports from its western regions, namely Xinjiang, whose gross regional product may alone exceed that of all the post-Soviet Central Asian countries put together by 2027. The Russians, meanwhile, were fixated on rejuvenating the trans-Siberian route by constructing a high-speed railway from St. Petersburg all the way to the Far East. This project was always financially unreasonable. Its first planned section, the 475-mile railway from Moscow to Kazan, is estimated to cost 1.1 trillion rubles ($32 billion) (RIA Novosti, May 27, 2013). The Russians invited the Chinese several times to join the project and even repor­ted reaching a deal in 2016 (Nakanune.ru, May 25, 2016). But in June 2018, the Chinese railroad company CREEC politely informed its Rus­sian counterparts it "believes the high-speed rail line through Russia will never pay off" (RBC, June 20, 2018).
At the same time Moscow has tried to persuade Beijing to start utilizing a modern highway from northern Kazakhstan toward Orenburg, Ulyanovsk, Kazan and Moscow, leading from there either to Belarus or Finland. But this enterprise also turned sour in recent years. The Russians failed to complete the ill-fated Moscow–St. Peters­burg highway by 2016, as they planned; while efforts to build a new 326-mile-long ring road around Moscow has stalled, with the completion date pushed back to 2025 (Izvestia, February 27, 2019). And Russia never even started to build the section of the route between Volga region and Kazakhstan. After around five years of waiting, China has begun to reconsider the project, opting instead to rely on east-west routes via Kazakhstan, which has not only upgraded its highway network but has also constructed a modern Caspian seaport at Aktau, from where goods can be transported by ferry to Azerbaijan before continuing on by rail to Europe. The first Chinese train successfully traversed that route in February 2016 (365info.kz, February 17, 2016).
Speaking at the St. Petersburg Forum two weeks ago, Putin conceded that Russia "was late" in delivering on the transcontinental transit corridors it has promised for years. But he did not pronounce the project dead, claiming it still can move forward (TASS, June 7). The Kremlin leader's reassurances are highly doubtful, however. Russians are unlikely to be able to build the mo­re than 1,500 miles of reliable highway that will be necessary within the framework of the BRI in the next ten years. Even though funds allocated to road construction have been on the rise, fewer and fewer ro­ads are built in Russia each year. And there are at least two additional stumbling blocks that should be taken into account.
First are the growing trade tensions between China and the "collective West." No one can say for sure how far the current commercial conflicts may adva­n­ce—and therefore, there is no certainty in the future of China's trade with Euro­pe. The already somewhat risky investments worth billions of dollars in infrastructure projects in Russia and Kazakhstan will be entirely worthless without ever-growing volumes of Chinese and/or European goods going both ways across these routes. The second issue is the over­all cost of the overland BRI project: while the recent enlargement of the Suez Canal con­sumed only $8.2 billion to secure up to 600 million tons of additional transit ca­pacity (BBC News, August 6, 2015), the new trans-Eurasian "Silk Road" might be five times more costly without ever reaching even half of these transit volumes.
Putin's confession about Russia being "late" in delivering new infrastructure projects in Eurasia came soon after the EEU sum­mit in Astana, which marked both the 25th anniversary of former Kazakhstani president Nursultan Na­zar­bayev's famous speech calling for reintegrating the post-Soviet space and the 5th anniversary of the treaty establishing the Eurasian Union. But in light of growing Russia-Belarus and Kyrgyzstan-Kazakhstan tensions as well as the difficulties of implementing the Eurasian Economic Commission and the Court of the Eurasian Union, the partners preferred to deliver ceremonial spe­eches instead of addressing the Union's mounting problems. As such, both the BRI and the EEU projects, so far, look far from successful; and if they attempt to "reinforce" each other, their combined prob­lems will only increase.