Is Pakistan Truly Sending Military Aid to Ukraine for Its Fight Against Russia?
Publication: Eurasia Daily Monitor Volume: 20 Issue: 32
By: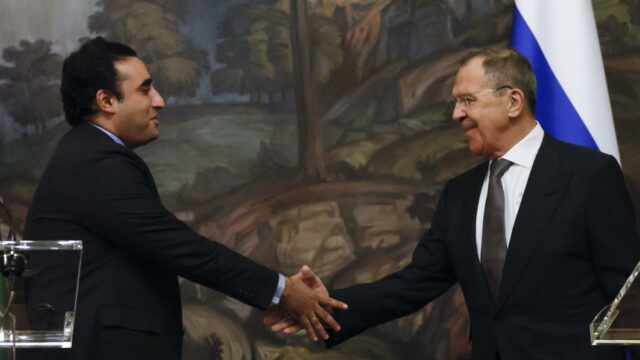 On January 30, Russian Foreign Minister Sergei Lavrov commended Pakistan for maintaining a neutral position in the Russo-Ukrainian war and vowed to fully cooperate with Islamabad in meeting its energy needs. Lavrov expressed his views at a joint press conference with his Pakistani counterpart, Bilawal Bhutto Zardari, in Moscow. Zardari, in turn, was invited to Moscow to hold official talks on the entire spectrum of bilateral relations and to exchange views on regional and international issues of mutual interest, including the war in Ukraine and the future state of affairs in Afghanistan (The News, January 30). The Russian foreign minister's remarks came a week after Islamabad and Moscow signed an agreement on the supply of Russian crude oil and oil-based products to Pakistan. During a meeting of the Pakistan-Russia Inter-Governmental Commission (IGC) on Trade, Economic, Scientific and Technical Cooperation in Islamabad last month, the two countries discussed a number of technical issues, including insurance, transportation and the payment mechanism for Russian energy supplies. Russian Energy Minister Nikolay Shulginov attended the IGC summit, with a special focus on energy cooperation (Dawn, January 21).
Some reports published in certain sections of the media, however, tell a different story about the growing relations between Moscow and Islamabad. For example, a report published in January 2023 by an Indian media outlet alleged that Pakistan planned to dispatch 159 containers of ammunition, including projectiles and primers, to Ukraine via a port in Poland in return for Ukrainian assistance to upgrade its Mi-17 helicopters. According to the report, "Islamabad-based arms supplier DMI Associates is working in collaboration with defense firms in Eastern Europe for transferring orders placed by the Ukrainian military" (Economic Times , January 9). Another report claimed that Pakistan is supplying weapons to Ukraine under a quid pro quo deal between Washington and Islamabad. Per the alleged deal, Pakistan was removed from the Financial Action Task Force's "Grey List" and the International Monetary Fund released funding to Islamabad in return for supplying weapons to Kyiv (Swarajya, January 12).
However, these recent reports about Pakistan's supply of weapons to Ukraine may not be grounded in reality. It is possible that they are part of a wider propaganda campaign aimed at damaging the strengthening Moscow-Islamabad relationship.
No doubt, Pakistan and Ukraine enjoy good defense relations. Indeed, Pakistani-Ukrainian cooperation on security-related issues goes back to 1996, when official diplomatic relations were established between Kyiv and Islamabad. Overall, the military and trade aspects of their relationship have been vital in strengthening and maintaining bilateral ties, with 39 percent of Pakistan's total imported wheat coming from Ukraine. In recent years, Pakistan has signed several acquisition and upgrade contracts with Ukraine for armored battle tanks (Pakistan Today, March 6, 2022). According to recent numbers, Pakistan's military has more than 320 Ukrainian T-80UD tanks for use. For its part, over the past three decades, Kyiv has concluded arms deals worth $1.6 billion with Islamabad. (Economic Times , November 1).
Yet, even with Islamabad's history of defense cooperation with Kyiv, Russia and Pakistan seem to be moving toward cementing their bilateral relations and burying their troubled Cold War history. Pakistan has yet to officially condemn Russia's invasion of Ukraine, continuing to walk a diplomatic tightrope. Moscow has appreciated Pakistan's neutrality. As such, in September 2022, Russian President Vladimir Putin declared Pakistan as Russia's priority partner in Asia during a meeting with Pakistani Prime Minister Shehbaz Sharif (EDM, October 5). At a time when Cold War rivals—Russia and Pakistan—are coming closer and their relations are strengthening with the signing of energy deals, such reports are purported to damage the bilateral relationship by casting doubts and suspicions on Islamabad's true allegiances.
In truth, the timing of the reports on Pakistan's defense cooperation with Ukraine is intriguing. Overall, many of these reports have largely been produced by Indian media outlets.
Since the break-up of the Soviet Union and the end of the Cold War in the early 1990s, India—Pakistan's regional rival—has been a hurdle in the smooth growth of friendly ties between Moscow and Islamabad. New Delhi has been a long-time ally of Russia, which has traditionally abstained from moving closer to Pakistan due to India's rivalry with its neighbor (Pakistan Observer, March 21, 2022). Now, geopolitical realities have changed. Today, India is a member of the Quadrilateral Security Dialogue, or Quad—a group consisting of the United States, Japan, Australia and India. The organization has been billed as an anti-China and anti-Russia alliance (Al Jazeera, May 24, 2022).
On the invitation of Putin, former Pakistani Prime Minister Imran Khan visited Moscow on February 24, the first Pakistani premier to do so in 23 years (The News, February 24). The visit coincidentally took place on the day of Russia's re-invasion of Ukraine last year. By meeting with the Pakistani official, Putin played the "Pakistan card" to bar India from taking a stance similar to the West over Ukraine. As such, New Delhi has taken a neutral position over the Ukraine crisis (EDM, March 14, 2022). All the Quad countries, except India, have vehemently condemned Russia's invasion of Ukraine. India even abstained from voting at the United Nations on the resolution condemning Russia over its all-out aggression (Hindustan Times, March 2, 2022). In this, it is ironic that, even as a member of the Quad, India maintains a position on Ukraine similar to that of its rival Pakistan and its competitor China.
In October 2022, Igor Morozov, a Russian senator and a member of the Federation Council's defense committee, claimed that Ukraine and Pakistan had discussed sharing technologies for creating nuclear weapons (RIA Novosti, October 28). Reacting to Morozov's allegations, the Pakistani Ministry of Foreign Affairs responded, "[Morozov's claim] is without any rationale and is entirely inconsistent with the spirit of Pakistani-Russian relations" (Express Tribune , November 1). Already possessing expertise on nuclear power, Ukraine does not need to rely on assistance from a developing country like Pakistan. It would make much more sense if Kyiv instead sought help from the United States or other Western states with far more advanced and sophisticated nuclear technology (South Asia Journal, November 7).
Given this, it seems that Morozov's statement may have been an attempt to damage relations between Moscow and Islamabad. It is indeed possible that such allegations are being levied against Islamabad in an effort to appease India. Nonetheless, the allegations of direct Pakistani military aid to Ukraine are without solid evidence, and their motive seems to be to decouple Moscow from Islamabad.