IS PUTIN'S ACCESSION AS UNITED RUSSIA LEADER AN ACT OF DESPERATION?
Publication: Eurasia Daily Monitor Volume: 5 Issue: 75
By: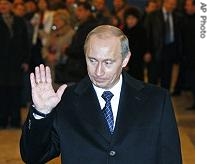 Observers have had nearly a week to analyze the significance of outgoing President Vladimir Putin's agreement to serve as leader of the United Russia party, a position in which he will serve concurrently with the post of prime minister, which he is expected to assume following Dmitry Medvedev's inauguration as president on May 7. Some observers, such as Expertise Foundation Director Mark Urnov, believe that Putin will be able to use these two positions to bring about a transfer of power, de facto or de jure, from the Kremlin to the Russian White House, and therefore guarantee Putin's continued preeminence in the Russian political system (see EDM, April 16). Others are less sure that such a transfer of power will be possible. Indeed, some observers see Putin's acceptance of the United Russia chairmanship as a sign that he and the siloviki, who had hoped that he would stay on for a third presidential term, are increasingly concerned about their future and somewhat desperately seeking ways to preserve their dwindling power base.
"The election of Vladimir Putin as chairman of 'United Russia,' according to the plan of the organizers of this long prepared and coordinated action, was supposed to symbolize the preservation by the outgoing president of firm positions in power," wrote commentator Vitaly Portnikov. "Putin, the prime minister and head of the ruling party, will become a real counterweight to Medvedev, the president; and the power tandem, about which there was so much talk following the elections for a new head of state, will gain a real nomenklatura meaning. But Putin's decision to head the party without even becoming a member of it is, in fact, more of a demonstration of his uncertainty about his future and, even more [a demonstration of] the uncertainty of his inner circle about its future."
According to Portnikov, Putin's move to head United Russia would have made more sense if United Russia had the same kind of dominant role in the current Russian system that the Communist Party had had in the Soviet system under Leonid Brezhnev, that is, "if its leading role were locked into the Russian constitution; if its members were united, even if only nominally, by at least some kind of ideology …; if it had cells that allowed the chairman of the party to exercise direct influence on every enterprise, every court, every institution; then it would be possible to say that Putin really needed the post of United Russia chairman." Today, however, there are "several nomenklatura parties" in Russia, and Unified Russia itself lacks a binding ideology, given that it was formed from various groups within Russia's political power structure that continue to compete with one another inside the party. According to Portnikov, the fact that Unified Russia has been unable to come up with even a "display" party program is evidence of the absence of its members' interest in what is commonly accepted outside Russia as political activity. This means, he wrote, that United Russia is not so much a political party as "an association of careerist interests."
At the collapse of the Soviet Communist Party, which, as Portnikov noted, was a "much more serious structure than United Russia," clearly demonstrated that "careerists always orient themselves towards the winners. And if Dmitry Medvedev becomes that winner, then United Russia will become his party. And it is completely understandable that the new president is not seeking to throw himself into the arms of a party positioning itself as the [ruling power]. After all, both this party and the State Duma itself, in which United Russia has a majority, have always been controlled from the presidential administration––and Medvedev doesn't know that? Nor is the [presidential] administration moving out of the Kremlin."
Putin obviously understands as well as Medvedev the dominant role that the Kremlin administration has played, wrote Portnikov, so why did the outgoing president decide to accept Unified Russia's leadership position? "In a situation in which Putin may be unsure of his prime ministerial capabilities, the post of chairman of United Russia may appear to his entourage as the chance for another apparatus maneuver," Portnikov wrote, noting that in his capacity as United Russia leader, Putin would be able to assume the dominant role in tandem with Boris Gryzlov, the State Duma speaker and leader of the United Russia majority in the State Duma. The problem with this for Putin, Portnikov said, was that if United Russia's deputies in the Duma decide that Medvedev's power is rising and that Gryzlov is "preventing them from demonstrating their devotion," they can simply vote to replace Gryzlov as speaker, just as Medvedev can fire Putin as prime minister.
"Vladimir Putin's misfortune is that for the eight years of his presidency he sincerely believed that that television and glorification could substitute for a real political process," wrote Vitaly Portnikov. "And now, when he absolutely needs that political process for self-preservation, he is confronted by the vacuum he himself fostered" (www.grani.ru, April 17).