Isa Yamadaev Says Hit Squads Have Order to Kill Him Before New Year's
Publication: Eurasia Daily Monitor Volume: 6 Issue: 215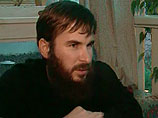 Isa Yamadaev – the younger brother of former Vostok battalion commander, who was shot dead in Dubai in March, and of State Duma deputy Ruslan Yamadaev, who was shot dead in Moscow in September 2008– has asked the Russian head of state for protection after publishing an open letter to President Dmitry Medvedev claiming that hitmen have arrived in Moscow, where he now lives, and plan to kill him before the end of the year.
In the open letter, which was published in the newspaper Moskovsky Komsomolets, Yamadaev wrote that he was forced to appeal to Medvedev, the guarantor of the Russian constitution and the rights of Russian citizens, via the newspaper because he could no longer remain silent: "My brothers are dying one after another," he wrote. "And this hunt is not being carried out by savages in the Amazon jungles, but in the capital of our homeland by outwardly respectable officials wearing $200,000 Bovet watches who love to appear on television and discuss their great deeds. However, behind their outward luster is hidden treachery, cynical lies, greediness and a panicked fear that the time is coming for them to answer for all of this," he complained.
In July, an anonymous member of the Yamadaev clan told the Kavkazsky Uzel website that an unsuccessful attempt on Isa Yamadaev's life had been made in Moscow. In his open letter to Medvedev yesterday, Isa Yamadaev repeated that allegation, writing: "In July of this year, a hired killer tried to murder me, but thanks to the police, for whom their oath, officer's honor and legality are not empty words, I survived … Today, those who committed that crime are behind bars awaiting trial."
Moskovsky Komsomlets quoted an anonymous source in Russia's special services as confirming that members of Chechen "death squads" had arrived in Moscow with the task of assassinating Isa Yamadaev. The source said that several hit teams had arrived for that purpose in the Russian capital last week (www.mk.ru, November 19).
Kavkazsky Uzel today (November 20) quoted Isa Yamadaev as writing in his blog that he had learned from "reliable sources" that several groups had come from Chechnya with orders to eliminate him before New Year's. "I decided to appeal to the president of Russia, Dmitry Anatolevich Medvedev, through the pages of Moskovsky Komsomolets in an open letter in order, as far as possible, to somehow have an influence on the arbitrary rule created by the gang of people who got their hands on power in Chechnya. I am not the only one on their list for liquidation, and the list of those who have fallen victims of these killers is very extensive," he explained (www.kavkaz-uzel.ru, November 20).
On November 16, the court hearing in the Sulim Yamadaev murder case in Dubai was postponed until December 17. An Iranian and a Tajik are on trial in the emirate. The Iranian, who has been identified in media reports as a former horse groom for the Chechen President Ramzan Kadyrov, is accused of criminal complicity by monitoring the movements of Yamadaev from Dubai International Airport to his Dubai apartment, pointing out Yamadaev's apartment to other suspects, who are at large, and supplying the murderers with the pistol used to kill him. The Tajik is accused of conspiracy. The two men have pleaded not guilty. During a court appearance on August 31, the two suspects reportedly alleged the involvement of Adam Delimkhanov, the State Duma deputy, former Chechen deputy prime minister and Ramzan Kadyrov's chosen successor, in the plot to murder Sulim Yamadaev. Two Russian brothers believed involved in the shooting fled Dubai (www.khaleejtimes.com, November 17; www.thenational.ae, Associated Press, October 26).
In addition to Sulim and Ruslan Yamadaev, other critics and rivals of Ramzan Kadyrov have been killed in recent years. Earlier this year, Umar Israilov, a former member of Kadyrov's bodyguard detail who claimed Kadyrov had tortured him in a secret jail and who gave testimony to the European Court of Human Rights about the Chechen leader's alleged human right abuses, was shot to death in Vienna. In July, Natalya Estimerova, an activist in the Grozny office of the Memorial human rights group, was seized outside her apartment building in the Chechen capital and found shot to death several hours later in neighboring Ingushetia. The Chechen leader has denied any involvement in any of these murders.