Islamic State in Khurasan Province Exploits Tajik Martyrs to Recruit in Central Asia
Publication: Terrorism Monitor Volume: 20 Issue: 18
By: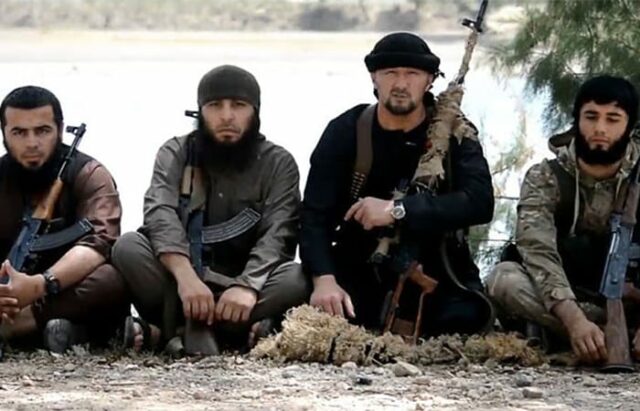 On June 18, Islamic State in Khorasan Province (ISKP) militants attacked a Sikh place of worship, or gurdwara, in Kabul, killing two people, although Islamic State (IS) touted a much higher casualty total (The Hindu, June 19). IS formally claimed the operation through its Amaq News Agency outlet and stated the raid against the "temple for Hindu and Sikh polytheists" was intended to avenge the Prophet Muhammad following recent blasphemous comments made by Indian politicians (Twitter/@Minalami, June 18). These comments about India drew considerable attention. However, there was another prong to the IS media strategy in revealing the attacker as "Abu Muhammad al-Tajiki," which received much less commentary (NDTV, June 20).
In 2022, ISKP has ramped up its outreach efforts to target potential supporters in Tajik communities throughout Afghanistan and the broader region (Caravanserai, May 9). IS and its supporters have accordingly expanded propaganda production in the Tajik language and have framed the Taliban as Pashtun-centric and hostile towards Afghanistan's other ethnic groups. This involves specifically noting the Taliban's oppression of and violence against Tajiks, while presenting ISKP as the vehicle for smashing Central Asia's arbitrarily drawn borders, destroying the Tajik government, and forming an IS province in Transoxiana (Jihadology, June 22, 2020). ISKP matched words with action on May 8 when a volley of rockets was fired at Tajikistan that galvanized supporters online (Twitter/LucasADWebber, May 11). Moreover, ISKP has made it a point to highlight martyrs of Tajik ethnicity, who are extolled as examples of courage, devotion, and self-sacrifice to the IS cause.
ISKP's History of Revering Tajik Martyrs
ISKP has a history of touting the presence of Tajik fighters among its ranks and celebrating their sacrifice in carrying out martyrdom operations. This kind of ethno-linguistic signaling, however, is not exclusive to ISKP or to Tajik militants (Deccan Herald, November 10, 2021). For instance, ISKP often reveals the kunyas of militants to indicate their Baloch, Uzbek, Uighur, Indian, or other ethnic, linguistic, and national backgrounds (OpIndia, October 9, 2021; Hindustan Times, March 12). Yet, ISKP's Tajik-targeted media efforts feature prominently and provide a human connection by creating Tajik jihadist role models for sympathizers. Such role models have included:
Abu Bakr al-Tajiki, who conducted a suicide bombing outside the Afghan Supreme Court in Kabul in 2017;
Abu Abd al-Rahman al-Tajiki and Ibrahim al-Tajiki, who were part of a five-man force that assaulted the Daud Khan Hospital in Kabul in 2017; and
Abu Aisha al-Tajiki, who raided a TV station in Kabul, also in 2017 (Twitter/@Rita_Katz, February 8, 2017; Jihadology, March 9, 2017; Twitter/@WarObserver97, November 8, 2017).
Meanwhile, in 2020, Ahmed al-Tajiki and another operative killed scores of people at a gathering in Kabul, and that same year Ahmad Tajik, Abu Bakr Tajik, Ismail Tajik, and Idris Tajik were among a large team that attacked Jalalabad prison (Twitter/@NatSecJeff, March 6, 2020; India Today, August 4, 2020). The latter operation was featured in the fourth installment of IS's "Makers of Epic Battles" video series, which profiled ISKP. The series also spotlighted a Tajik insurgent who threatened the government in Dushanbe and called out President Emomali Rahmon by name (Jihadology, July 20).
Abu Muhammad al-Tajiki and ISKP's Expanded Tajik Media Apparatus
The ISKP-aligned Tajik media and communications space became abuzz when the Amaq News Agency released the name and photo of Abu Muhammad al-Tajiki. The Tajik language pro-ISKP online ecosystem produced an array of visual and audio propaganda praising him and calling for others to follow his lead. The Al Azaim Tajiki media outlet, which translates official IS media into Tajik, further published its own claim of responsibility in Tajik Cyrillic. [1] In addition to this, translations of the claims in IS's standard Amaq format were circulated through tens of channels and bots that publish precise Tajik language translations of official IS media statements, which seem to be provided by I'llam Media Foundation. [2]
The Life of Khurasan group, which provides supporters with regular inside information and updates from IS-K militants and recruits for ISKP, also superimposed its logo over the photo of al-Tajiki and even made it the display image for the group's Telegram channel. [3] Further exemplifying the importance of a Tajik ISKP fighter conducting such an operation, some Telegram channels, such as Al Azaim Tajik and Sadoi Shaykh, had al-Tajiki's photo and the claim as their 'pinned message' for days.
The Sadoi Shaykh network even produced a 14-minute-long audio statement about the operation featuring a photo of al-Tajiki. [4] The audio was shared widely by Tajik Telegram channels, including Al Azaim Tajik, Ummah of Muhammad, and Sadoi Shaykh. The Movarounnahr Telegram channel also released a version of the audio seemingly by Yusuf Tajiki, who was a well-known ISKP member and propagandist, with a custom-made image celebrating Abu Muhammad al-Tajiki.
Conclusion
Abu Muhammad al-Tajiki's photo was featured prominently on two different pages in the June 23 issue of IS's official al-Naba newsletter (Jihadology, June 23). This is yet another instance where Tajik fighters have received multiple rounds of promotion from the IS's central media apparatus to ISKP's own propaganda outlets, and then to Tajik-language networks under the Al Azaim umbrella and a number of other media groups in the Tajik IS milieu. Given ISKP's increased efforts to broaden its appeal with Tajiks, it is likely the group will continue to use Tajik and other ethnic militants to conduct high-profile attacks, produce propaganda, and recruit fighters from these non-Pashtun ethnicities.
Notes
[1] Al Tajiki Group on Telegram, June 19.
[2] Al Azaim TJ on Telegram, June 20.
[3] Life of Khurasan on Telegram, June 21.
[4] Sadoi Shaykh on Telegram and YouTube, June 20.
[5] Movarounnahr on Telegram, June 22.